Our curated list of not-so-tourist attractions for the inquisitive event marketer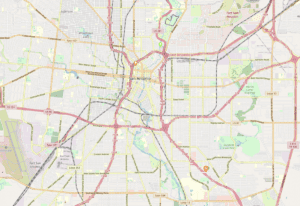 Looking to make the most of your bleisure time? Our "Experiential In" series brings you the scoop on popular event destinations and the unexpected sites of interest and inspiration that make them tick. From groundbreaking culinary adventures to eclectic art installations to, as you'll see below, artistic bike rides, consider it a dose of professional development for the full-time experience builder.
This month, we're hitching a ride to San Antonio, home to the Alamo, stunning natural caverns and an abundance of meeting and exhibition space, including a 1.6 million-square-foot convention center. In a city where Indigenous, Mexican, Tejano, German, Irish and Czechoslovakian influences collide, and rich history meets a modern culinary and arts landscape, boredom is not an option. On this journey, we'll skip tourist attractions like the iconic River Walk and the city's array of historical landmarks in favor of a few lesser-known locales. Now, crack open a Topo Chico—we're headed to San Antone.
---
More From This Series:
---
San Pedro Creek Culture Park
Location: 715 Camaron Street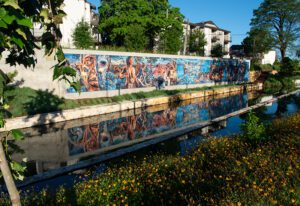 San Pedro Creek, which was heavily utilized during the Spanish Colonial era and is billed as the birthplace of San Antonio, is in the midst of a $175 million redevelopment that will transform the site from a concrete drainage ditch into a dynamic urban green space. The first phase of the project was completed in 2018 and features installations from prominent local artists spanning murals, ceramic art, tiled benches and historical text and poetry. When the development is complete, the area will encompass an easily accessible, paved two-mile stretch offering hiking and biking trails, and a variety of public artworks by local and international artists.
Experiential nods: Art, wellness, culture
More info: spcculturepark.com
---
Hotel Emma
Location: 136 E. Grayson St.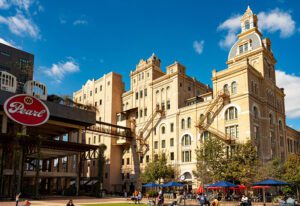 Not quite hidden, but certainly the crown gem of the renowned Pearl District, Hotel Emma is a luxurious riverfront hotel and culinary destination that was once a 19th century brewery. The building boasts a timeless ambience that fuses historical elements and raw materials with ornate modern touches. When it comes to hosting a meeting on-site, the website says it best: "Just because there's business to attend to doesn't mean you want to sit in a windowless room for hours on end longing for sunlight and fresh air." The venue's artfully designed event spaces offer just that. To boot, Hotel Emma's culinary offerings, open to the public, are out of this world. Supper, a farm-to-table restaurant; Larder, a locally sourced food store located in the hotel's old fermenting cellars; and Sternewirth, an upscale tavern and "club room," all located within the hotel, are not only some of the most notable eateries in the district, but in the entire city. Visitors can also to get lost in the Library, a grand space with vaulted ceilings that is home to a 3,700-volume collection hand-picked by San Antonio author and anthropologist Sherry Kafka Wagner. Oh, and do yourself a favor and Google the origin of the hotel's name—it's delightfully scandalous.
Experiential nods: Culinary, architecture, experience design
More info: thehotelemma.com
---
Camp Hot Wells
Location: 5423 Hot Wells Way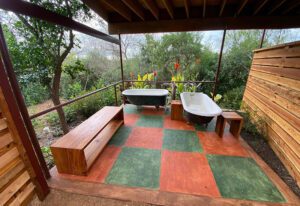 San Antonio is like a living, breathing history book, and while Camp Hot Wells is a brand-new local establishment, it's no surprise that the property it sits on has a storied past. Hot Wells was originally a bathhouse where late 19th and 20th century well-to-dos could enjoy hot sulfuric waters that flowed from the resort's well. It burned down several times over the decades, ultimately leaving the area in ruins. But Camp Hot Wells, a hot springs bathhouse and bar, has brought new life to the property. Located next to Hot Wells of Bexar County park, the establishment features foot soaking pools, private sunset baths in clawfoot tubs, a meticulously curated selection of wine and craft beer, light bites, picnic tables and plenty of reclaimed wood throughout. Membership is currently required, but it's free to sign up, and both the estate at large and a private garden are available for event rental. Relaxing, rustic and surrounded by natural beauty, this spot may be just the ticket for uncovering your next big idea.
Experiential nods: Mindfulness, experience design
More info: camphotwells.com
---
Mural Ride
Location: 302 E. Grayson St.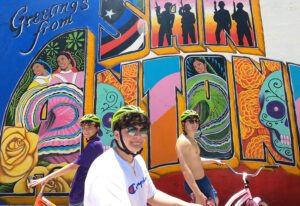 Downtown San Antonio is pedestrian-friendly, but you can bypass the crowds and add some cardio to your day with Mural Ride bike tours. Led by local guides, the tours take participants on an up-close-and-personal journey through some of the city's most iconic murals and street art installations—plus some hidden gems along the way. Packages range from free options with around 50 participants, to private tours with an intimate group and the option to add food, to corporate programs designed for team-building. Important selling point: there's no uphill pedaling involved.
Experiential nods: Team-building, art, culture
More info: sanantoniomuralride.com
---
More to Explore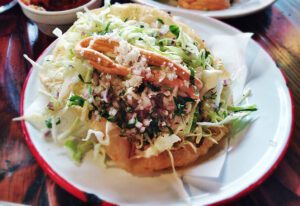 Local event agencies: Goen South, Freeman, The RK Group
Neighborhoods worth a stroll: Southtown (1800s-era German architecture, repurposed warehouses, art galleries, culinary immersions); Market Square (the largest Mexican market in the U.S., spanning handmade crafts to gourmet cuisine); St. Mary's Strip (live music, countless restaurants, a millennial magnet)
If you eat one thing: Puffy tacos—the city's signature Tex-Mex dish
Fun fact: Established in 1891, Fiesta San Antonio is a vibrant 11-day festival held each April that encompasses a wide range of events designed to celebrate the city's diverse heritage
Won't find it anywhere else: The world's largest pair of cowboy boots, a 35-foot-tall installation that kicks it just outside of the North Star Mall
Photo credit: iStock/Sean Pavone (featured image); iStock/Fotografia Inc. (Hotel Emma); Camp Hot Wells; San Antonio Mural Ride; T.TSeng (puffy tacos)
This story appeared in the Spring 2023 issue