Traveling on business? Have a half-day to yourself? In this series, we explore popular event destinations and mine our sources for lesser-known sites of inspiration. Consider it a dose of professional development for the full-time experience builder.
With the 15th annual Experiential Marketing Summit just around the corner, May 3-5 at McCormick Place, we hit up our sources in the Windy City (shout-out to the folks at Chicago's own agencyEA) for their recommendations. This one-time mobster's paradise delivers more than good hotdogs and insults at The Wiener Circle. There are historic neighborhoods to explore, food binges to be had at Fulton Street Market, and, if you're staying the weekend after the Summit, the Chicago Beer Classic takes over Soldier Field on May 6.
There's a lot on the agenda this year for EMS, but if you've got a few hours to play, here's where we'd send you in the Second City, baby.
Odd Obsession 
Location: 1830 N Milwaukee Ave
For the movie buff, this old-school film library and video store is a goldmine. It boasts more than 25,000 titles on DVD and VHS. Owner Brian Chankin told the Chicago Tribune, "There's just so much that hasn't been digitized for streaming, and probably never will be," a main reason he opened the store. You can rent DVDs and VHS tapes by the night or week (about $2-$4) or there's always the "free stuff" bin.
Experiential nods: cinema, retro references, pop culture
More info: oddobsession.com
---
The Violet Hour
Location: 1520 N Damen Ave
With its pre-Prohibition-style artisanal cocktails and set in the hipster-foodie Wicker Park neighborhood, this James Beard Award-winning bar offers seasonal cocktails, a rotating mural and a single light bulb marking its entrance. The space itself is divided into three "salons" and offers high-backed blue leather chairs, candlelight, a marble bar and chandeliers for you to sip your "Words of Wisdom" under (Modest Vodka, lemon, egg white, Ruby Port and Cherry Heering). The Violet offers advanced cocktail classes, too.
Experiential nods: themes, food & beverage, ambience
More info: theviolethour.com
---
Urban Kayaks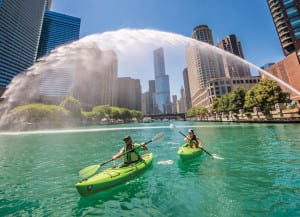 Location: 300 W 19th St.
If you're looking to exercise and see Chicago from a fresh viewpoint, then urban kayaking is right for you. Founded by two brothers and a best friend, it has expanded its launch points and offerings, and operates daily tours and intro clinics (at the Riverwalk) during weekends in April and everyday starting May 1. The group currently offers two tours, a Historic Chicago Tour for 1.5 hours with views of classic architecture and history ($55/person) and a Sunset Tour ($60/person).
Experiential nods: wellness,  team-building unconventional engagements
More info: urbankayaks.com
---
Andersonville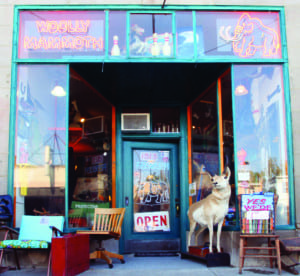 Location: 20-minute drive from the heart of Chicago
This historic Swedish neighborhood offers vintage shops, comic stores, low-key bars, the Blue Theatre (featuring large-scale puppetry—with free admission), the classic Esquire barber shop, the Swedish American Museum and more. Worth a stop: Woolly Mammoth Antiques and Oddities shop (1513 W Foster Ave), a quirky, morbid collection of taxidermy items, old medical items, skeletons and vintage hats, with prices ranging from $5 to $10,000.
Experiential nods: culture, vintage, décor
More info: timeout.com/chicago/andersonville
---
Restoration Hardware Concept Store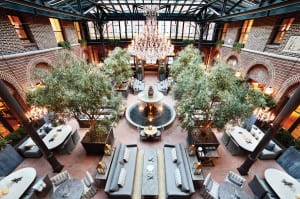 Location: 1300 N Dearborn Pkwy
This elegant, 70,000-square-foot concept store located in the low-traffic Gold Coast neighborhood in a circa 1914 building offers brand experiences, furniture, décor, plus a gallery, rooftop garden, performance stage and the Three Arts Club Café, with an espresso bar and wine room. The idea? Blurred lines between retail, home and hospitality—a concept described by Restoration Hardware ceo Gary Friedman as a "field of dreams" when it opened in 2015.
Experiential nods: retail experiences, brand immersions, hospitality
More info: chicago@rh.com
See also:
• Turn Your Next Business Trip Into an Idea-Generating Adventure With These Under-the-Radar Attractions
This story appeared in the April 2017 issue