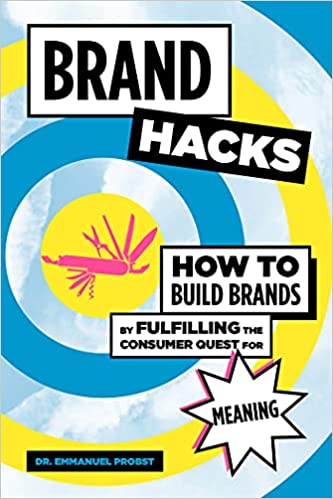 Trends fade away but meaningful brand moments can last a lifetime. In "Brand Hacks: How to Build Brands by Fulfilling the Consumer Quest for Meaning" (PowerHouse Books, 2021), consumer psychologist and market research professor at UCLA Dr. Emmanuel Probst reveals why marketing campaigns built around fads often fall flat. Instead, he argues, the most successful brands bring personal, social and cultural meaning to consumers' everyday lives. Because, as Probst puts it, "Trends will fade but these meanings will endure because our quest for meaning is a lot more profound than our next social media post." 
Across 10 chapters, Probst leverages his own insights as well as in-depth research in consumer psychology, interviews with industry-leading marketers and case studies to offer simple brand hacks that help brands deliver meaning, whether they're world-class companies like Coca-Cola or underdogs striving to be category leaders. In the following excerpt, Probst explains how brand purpose isn't a one-size-fits-all strategy—it only works for companies that can authentically back up their positioning—and how brands driven by a higher mission are aligning with modern consumers' values.
---
CHAPTER 6: FREE AGENCY AND ACTIVISM 
We seek purpose
We often feel guilty about buying goods and services that we don't need. Therefore, we increasingly define ourselves not by what we have or want, but by what we believe in and the causes we champion. To counter guilt, we seek purpose by making a positive impact on the world around us. As consumers, we are getting tired of tacky advertising and gimmicky marketing tactics and aspire to buy products that reflect a positive attitude.
In "The Purpose Economy: How Your Desire for Impact, Personal Growth and Community is Changing the World," Aaron Hurst defines purpose as "empowering people to have rich and fulfilling careers and lives by creating meaningful value for themselves and others." He argues the "information economy" is slowly being replaced by the purpose economy, whereby workers are driven by a higher mission, beyond producing wealth and being efficient and productive. Hurst's ideas stem from management guru Peter Drucker, who long ago established the construct of "purpose-driven business." In Drucker's view, companies needed a raison d'être, a higher mission to outlast competition.
CASE STUDY: Patagonia
Patagonia embodies brand purpose, living by its mission statement of build the best products, cause no unnecessary harm, and use business to inspire and implement solutions to the environmental crisis. Patagonia has built its brand on the stance that people should consider the impact of consumerism on the environment, encouraging them to buy only what they need. It instigated the "common-thread initiative," encouraging people to recycle, repair, and re-use. In a Black Friday advertisement, Patagonia even told consumers "Don't buy this jacket," tapping into the growing trend of anti-consumerism. Patagonia supports over 1,000 grassroots environmental organizations worldwide and donates 1 percent of its sales revenue to the preservation and restoration of the environment. 
We seek a source of truth
In November 2016, Oxford Dictionaries announced "post-truth" as the word of the year, which is defined as "relating to or denoting circumstances in which objective facts are less influential in shaping public opinion than appeals to emotion and personal belief." I often remind my students that in marketing, perception is the truth. As of late, this thinking has expanded to politics and information in general. Over- whelmed with all the banter from tweets, radio hosts, journalists, and so called "experts," we can't decipher what is true from distorted facts and blunt lies. The 2021 Edelman Trust Barometer shows that trust in leaders, societal institutions and the media is at a record low.
Arguably, we are all prisoners of our own social graph and filter bubble. Social graph is a term coined by Facebook that describes our online and offline ties. Algorithms engineered by social media platforms dictate our social graphs, by selectively guessing who we should follow and what information we should pay attention to.
The search terms we use to access information paired with sophisticated algorithms used by online publishers put us in a "filter bubble," whereby we become isolated from viewpoints that contrast with our current opinions, ideas, and culture. The more we feed the algorithms with clicks and "likes," the more these algorithms reflect back our own image, progressively trapping us in a house of mirrors. In the post-truth era, we tend to read news that comforts us and reinforces our bias, rather than opening our minds to new perspectives and opinions. In sum, algorithms seemingly give us access to a plethora of options, but tend in fact to restrict our choices and dictate who we should be.
We expect brands to act
and make an impact
In 2016, foreign actors used Facebook and other social media platforms to spread false information for the upcoming general election. In the meantime, data consulting firm Cambridge Analytica used some data it had improperly obtained from Facebook to build and maintain voters' profiles. This led to the outrage of users worldwide, from which Facebook still hasn't fully recovered.
Consumers increasingly will buy or boycott a brand based on its position on an issue. And brands are feeling the pressure: The 4As (American Association of Advertising Agencies) conducted a study on value-based marketing; 67 percent of participating advertising agencies reported that their advertiser clients are more interested in value-based marketing and corporate responsibilities because of changing American values.
CASE STUDY: Nike
In September 2018, Nike contracted former San Francisco 49ers quarterback Colin Kaepernick, who arguably lost his NFL career by kneeling during the national anthem in protest over police brutality. Nike's campaign, released during the NFL season opener features Kaepernick's voice and the tagline "Believe in something, even if it means sacrificing every- thing," in reference to his protest. The campaign caused much political commotion, with some lighting their Nike sneakers on fire while others wore their Nike outfit as a mark of allegiance. We could argue that by taking a political stance against then-President Trump—who criticized both Kaepernick and Nike for hiring Kaepernick—Nike closed the door to a 150 million strong potential market, or half of the US population. But Nike has been urging consumers to believe in themselves for 30 years, so this campaign is just its latest provocative iteration.
A risky move, you would say? The reality is Nike was already a somewhat politically polarized brand. So are The New York Times, Starbucks, and CNN on the left and Trump hotels, Fox News, and Papa John's on the right. In the end, Nike's stance reinforced its brand purpose, increased its exposure through extensive press coverage and boosted its saliency.
The voice of women
The voice of women in the workplace and in society in general has greatly evolved over the last few years, for the better and for good. There have been many defining moments and personalities that contributed to raising women's status as of late. The most prominent in my mind are Sheryl Sandberg's book, "Lean In: Women, Work, and the Will to Lead" and the Harvey Weinstein scandal. Lean In guides women on what to do to triumph in the male-dominated workplace. It has sold 4.2 million copies and still sells about 12,500 copies a month. The book turned into a cultural phenomenon, leading to the creation of "Lean In circles" enabling women to discuss the application of the book's principles.
The Weinstein scandal first surfaced in The New York Times and New Yorker magazine in October 2017. Both media outlets reported that Weinstein had been accused by dozens of women of rape, sexual assault, and sexual abuse. Since then, thousands of other women came forward to denounce the inappropriate behavior and abuse by powerful men in the workplace. Hundreds of high-level executives have been terminated from their employment, corporate policies have been strengthened, watch dog groups have been created, all stemming from the Weinstein scandal.
CASE STUDY:

 

Always #LikeAGirl campaign
Consumer packaged goods is an extremely competitive category overall, and feminine hygiene is no exception. Procter & Gamble's Always brand needed to appeal to the next generation of consumers to fend off growing com petition from rival brands that were gaining traction with millennial girls.
Always' communication had focused on the functional benefit of its product, which is a race to the bottom. "Always absorbs 6 times more than you need." Says who, clinical research? Why not 5 times? Or 7? Am I going to get charged 6 times more and waste 5 times more absorption than I need? Is there any brand that absorbs 7 times for the same price? Pointless.
Always needed to build a fresh perception for its brand around a concept that would be meaningful to young girls: confidence.
"Girls first come in contact with Always at puberty, a time when they are feeling awkward and unconfident, a pivotal time to show girls the brand's purpose and champion their confidence," says Judy John, chief executive officer and chief creative officer/ of advertising agency Leo Burnett Canada. Research conducted by Leo Burnett revealed that over half of women experienced a decline in confidence at puberty. "Like a girl" is a phrase that had been used in derogatory terms for ages. The opportunity for Always was to change its meaning to a term of confidence and empowerment.
The main creative execution is a video that captured people interpreting what "like a girl" meant to them. The campaign constructed around the video was an empowering message for women, stressing that "like a girl" should be a powerful and meaningful statement they should embrace. The video has been seen over 85 million times in 150-plus countries. Always is no longer the brand for absorption. It has become the brand for women's empowerment.
A word of caution on implementing brand purpose
Purpose is not a one size fits all brand strategy. It only works for certain categories and companies that have the authenticity to back it up. Some brands, like National Geographic, were created around a strong purpose. Nat Geo's purpose rings true because it was founded on the fundamental belief that science, storytelling, and exploration can change the world.
Other brands can adopt a purpose that is credible and believable. Walgreens is one of the nation's largest pharmacies. It supports its local communities through supplier diversity, environmental responsibility, community service, and outreach.
The last category is made of brands that cannot credibly adopt a purpose and/or are hypocritical. "You can't reverse into a mission and values through marketing," says Alex Weller, Patagonia marketing director for Europe. "The organizations that are struggling with this are probably the ones that are thinking about marketing first."
Marketing columnist and former marketing professor Mark Ritson sums it all up: "Do customers want purpose-filled brands? Sometimes. In some categories. Depending on how it is done. A lot of time they don't give a fuck. And usually most segments will not pay more." 
Featured photo credit: erhui1979
This story appeared in the December 2021 issue