The Essence portfolio of events and brands is growing, and so is the festival footprint
The Essence Festival of Culture presented by Coca-Cola, better known as Essence Fest, celebrated its 29th year as the place to be for brands looking to connect with Black audiences, especially Black women. Last year, 170,000 people streamed through the convention center and nighttime concerts at the Caesars Superdome each day, generating roughly $300 million for the city of New Orleans—making it the largest festival in per-day attendance in the world.
This year's Essence Fest, held from June 29 to July 3, centered its theme on the 50th anniversary of hip-hop. The five pillars of hip-hop (lyricism, djing, graffiti, dancing and historical knowledge) were interactively woven throughout the festival footprint with activations like trivia contests with prizes, a hip-hop dance video game where players kept up with the steps on-screen and a graffiti wall where attendees could "tag" their names. Activities and hip-hop-inspired art were strategically placed along the main walkway providing a cohesive feel as attendees moved through the convention center floor. It was also omnipresent in the sponsors' brand activations.
"Once we set the tone, the brands show up!" said Erika Bennett, cmo, Essence Ventures. "Our approach is about co-building. We need to ensure that sponsors' goals are front and center, but also that they understand how to translate their goals into the footprint and the experience we are trying to create for our audience."
This year highlighted major firsts for Essence Fest: It was the first time Essence Ventures showcased its newest brand acquisitions, Beautycon and Afropunk. The team launched a new app to engage attendees that will also be used for all upcoming events to communicate with consumers after the event. Michael Barclay II, evp-experiential at Essence Ventures, said it's part of a "phygital" (physical + digital) strategy to help reach and engage the Essence community beyond the in-person events all year long.
It is also notably the first time Essence has leveraged the entire convention center floor solely for Essence Fest, creating a more spacious experience for attendees and also more real estate for brand activations. Here, we bring you a tour of top experiences from Essence Fest 2023.
---
From the Essence Fest Archives:
---
Afropunk-Blktopia
Despite a very small footprint in 2022, Afropunk expanded to Blktopia, a fully interactive space with Afrofuturistic imagery and installations, as well as an off-site skate park and nightly New Orleans-inspired "Krewe Ball" with djs and performances.
"It was important to the Afropunk team to tell the story of Afropunk because it's introducing the brand to a completely different audience," said Barclay, acknowledging its existing solid niche fan base. He points to "The Origin Tunnel" at the entrance, which featured towering screens narrating the brand's evolution with captivating video footage from its international concerts, combined with static images detailing its mission and reach (Agency: Chem Creative).
Beautycon
Beauty has always been fundamental to the festival, but this year was an opportunity to relaunch and create excitement around Essence Ventures' larger upcoming Beautycon events in Los Angeles and New York. The experience at Essence Fest 2023 was heavily geared toward content creation, especially the "Creator Studio," using mono-colored cubes decorated with upscale furnishings that attendees used for video demos, podcast recordings and photo shoots.
The booth merged physical and digital, leveraging a branded 360-degree "beautycam" and large screens displaying social media posts featuring #Beautycon. The team purposefully chose easily buildable and transportable design elements since this is a traveling event (Agency: Mark Stephen Experiential Agency).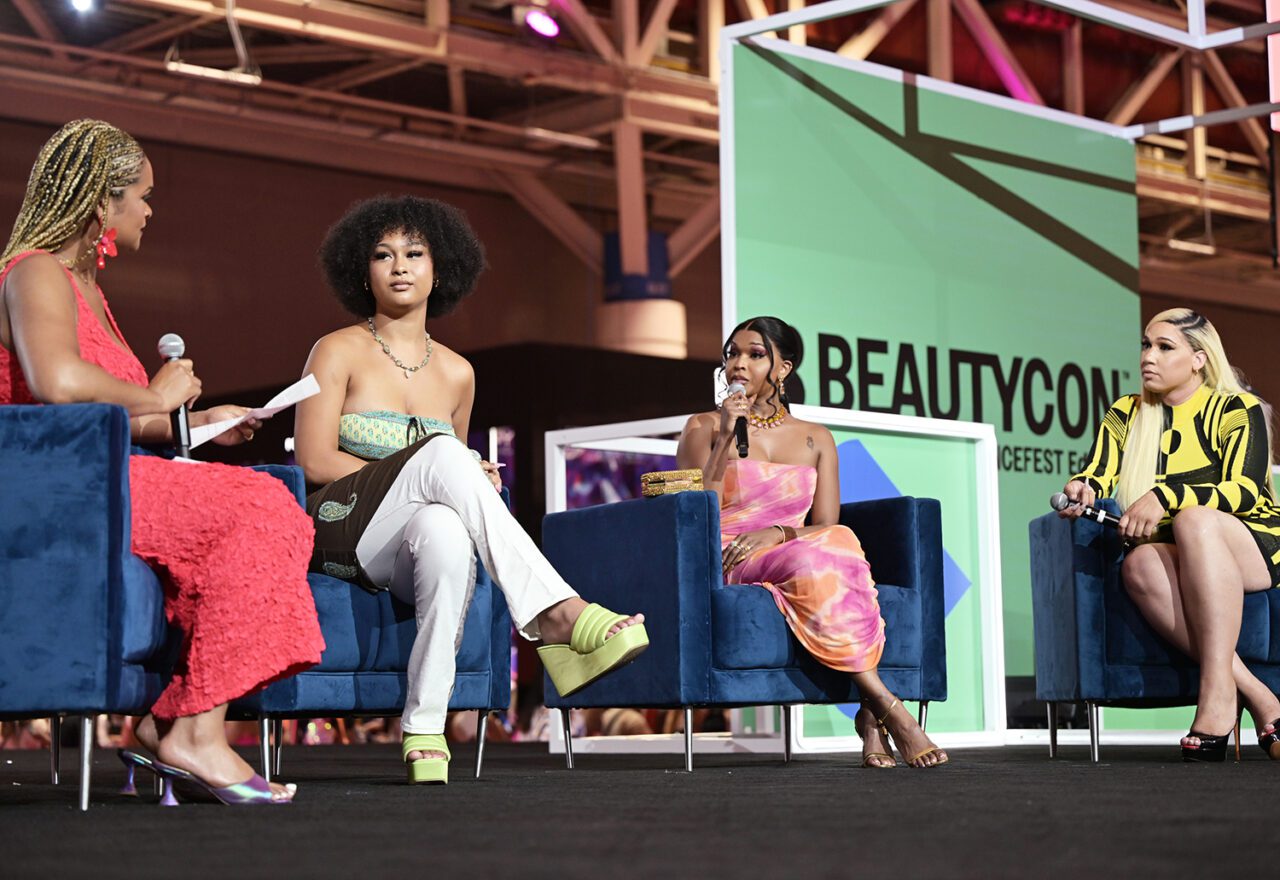 Photo credit: Marcus Ingram/Getty Images for Essence
Coca-Cola
Coca-Cola has been an Essence Fest sponsor since the event's inception and has prime real estate as the presenting sponsor. The brand's stage is the cornerstone of its presence, providing a steady programming schedule of celebrity speakers, popular performers and interactive games like hip-hop karaoke throughout the three days. On either side of the branded stage were #TakeATaste counters offering samples of various Coca-Cola products. Along with the overall hip-hop theme, the programming and signage throughout the space promoted the new season of Coca-Cola's co-branded Facebook Watch series with Essence, "If Not for My Girls."
Photo credit: Erika Goldring/Getty Images for Essence
Check out Coke's stage experience:
Disney
Baby-pink sequin Minnie Mouse ears were the must-have accessory of Essence Fest 2023. To get this coveted item, attendees filled out a short questionnaire on their phones using QR codes posted along the line or via paper hand-outs from volunteers. The lines moved quickly and efficiently, so once inside, with ears on, attendees could stop at numerous photo opportunities featuring the theme parks and movies. "The Little Mermaid" set featured an under-the-sea backdrop with 3D animated coral to interact with. A swampy setup for "Tiana's Bayou Adventure" generated excitement for the new Walt Disney World Resort ride, along with vacation giveaways and a store selling various Disney princess merchandise.
Photo credit: Erika Goldring/Getty Images for Essence
L'Oréal
For its first time at Essence Fest, L'Oréal leaned into the hip-hop theme with an enormous gold boombox facade featuring images of cassettes as internal decor naming each separate brand under the L'Oréal umbrella. The guiding design question was, "How do you make each brand feel unique yet part of a larger experience?" As visitors waited in line, a stage for demos was visible from all angles and branded with a life-size gold cassette, "The Beauty Mixtape," that incorporated individual brand logos—Maybelline, Carol's Daughter, Dark & Lovely, Garnier (Agency: Mark Stephen Experiential Agency).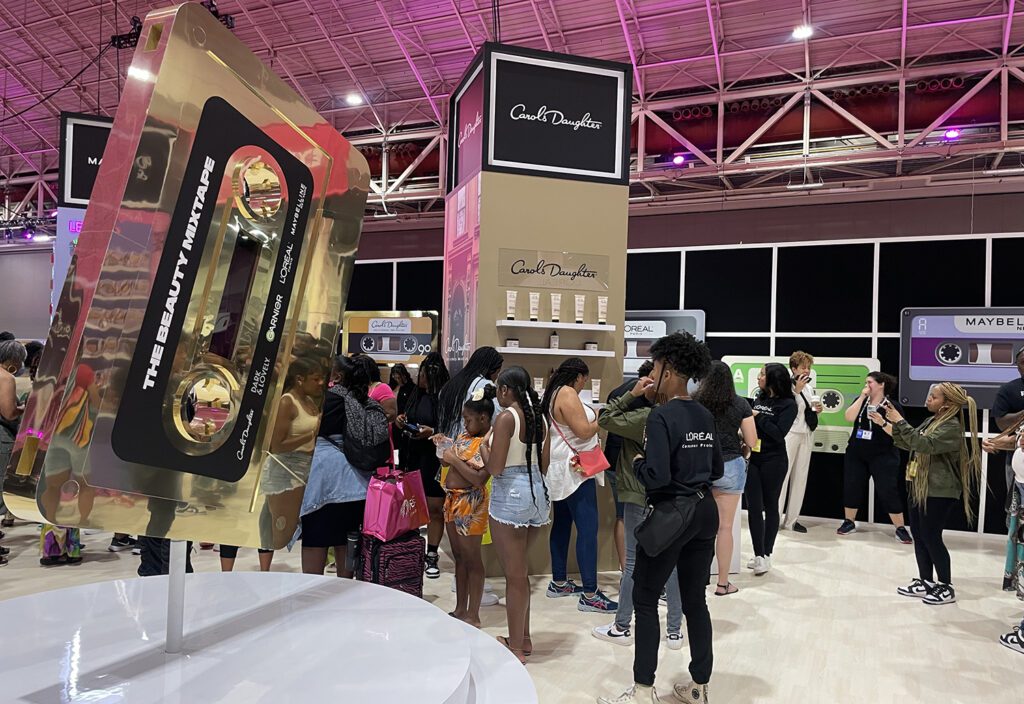 Mielle
Mielle's presence grew from 2022 to capitalizing on existing brand recognition among Black women. The brand's signature pink color was ever present from the entrance of the experience, to the internal decor and on the metallic pink bags that became ubiquitous throughout the halls. A social media photo opportunity featured a gold throne with a neon sign in script that read, "From One Queen to Another," a line that was also imprinted on bags paying homage to founder Monique Rodriguez, who recently sold the brand to Procter & Gamble. The staff had to be agile in managing flow by temporarily shutting down the line and instead giving samples outside of the activation space.
NYX
NYX also made its Essence Fest debut. The popular activation offered hip-hop-themed eye makeup touch-ups followed by a photo opportunity and a goodie bag. A fish-eye lens camera captured visitors in a neon light tunnel referencing the '90s music video aesthetic of Missy Elliott (one of the festival's headliners). Flow of traffic and line management became critical while attendees waited for a makeover.
"We think about how to get logistics right as a first-timer… a guiding strategy so they show up well," said Mark Testa, founder and creative director at Mark Stephen Experiential Agency. That includes communicating early on the amount of product needed for an attendee base of this size, as well as being open to making adjustments to aspects of the experience like traffic flow on a daily basis.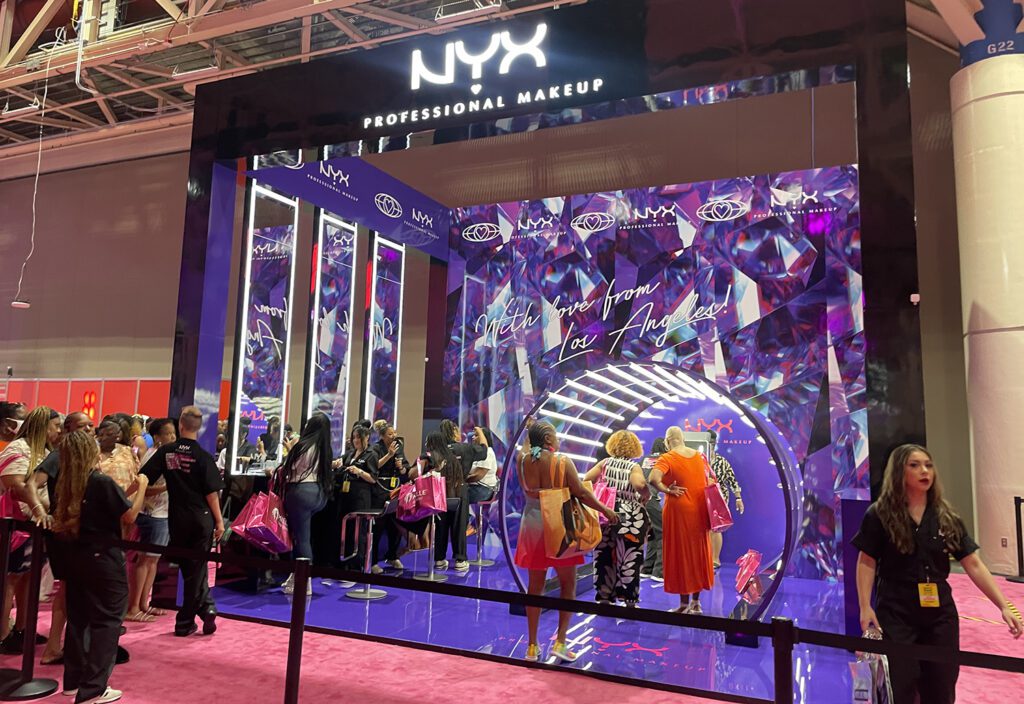 TIAA
TIAA's first activation at Essence Fest amplified its #RetireInequality campaign, which is focused on closing the 30-percent gender retirement gap and on the "54 percent of Black Americans who, due to a system of inequities, don't have enough savings to retire." The "Legacy Studio" design brought the idea of "creating a legacy for yourself" to life by pairing a celebrity "legacy maker" with a different statistic about economic inequality. Musician Wyclef Jean's space was a production studio to tease a campaign song he's releasing, while designer Fe Noel's dress made of (faux) $100 bills highlighted the gender disparity in retirement. Attendees loved the mirrored studio where they danced with choreographer Sean Bankhead (on-screen) to encourage taking steps to make "retirement moves." TIAA also curated panels and talks on the adjacent Global Black Economic Forum (GBEF) stage (Agencies: Vivi by Jack Morton; The Martin Agency).
Trust Black Women/SisterSong
SisterSong is a rare nonprofit sponsor, but as a national reproductive justice network for women of color, it prioritized Essence Fest 2023 to reach its core demographic of Black women. The activation, in front of the GBEF stage, promoted the longtime "Trust Black Women" campaign. "We knew bags and shirts with the words 'Trust Black Women' would be the draw," said Monica Simpson, executive director of SisterSong. "We wanted it to be vibrant, to see 'Trust Black Women' clearly and to incite conversation." Many visitors shared personal experiences with the booth's volunteers and also signed a "Reproductive Justice Pledge" that was written along the back side of the booth for passersby to read.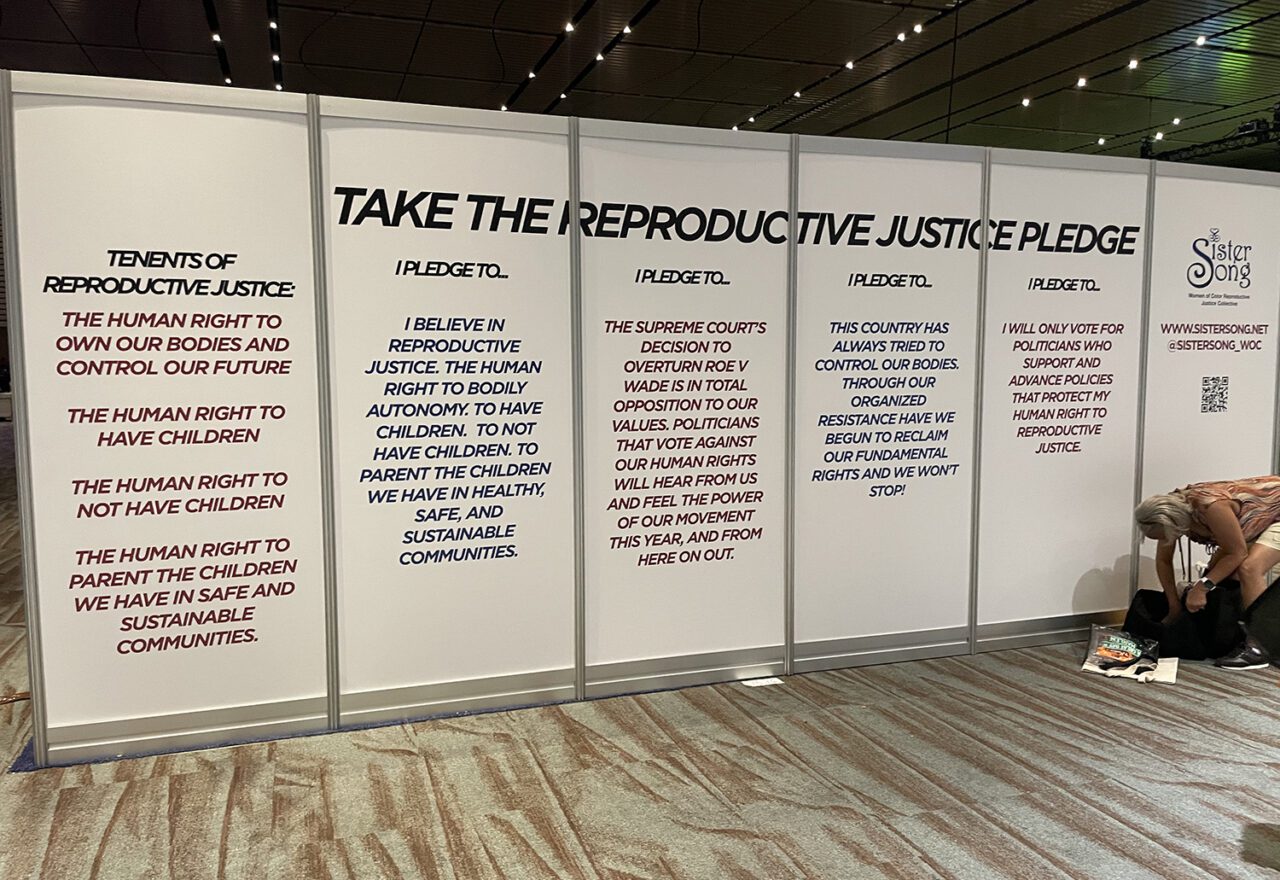 Wellness House
Wellness House was brought on-site this year, bringing together national wellness brands and small businesses. La Roche-Posay and CeraVe activated for the first time at Essence Fest with skincare education, a social media photo moment and full-sized products in clear fanny packs, which are recommended by security for nighttime festival concerts. Independent entrepreneurs were also part of the activation, offering free crystal or ancestral readings and other esoteric wellness services. Testa of Mark Stephen Experiential Agency emphasized that clients wanted to ensure there was comfortable seating, which is lacking in the convention center, as well as private spaces for more intimate, one-on-one health conversations with practitioners on-site.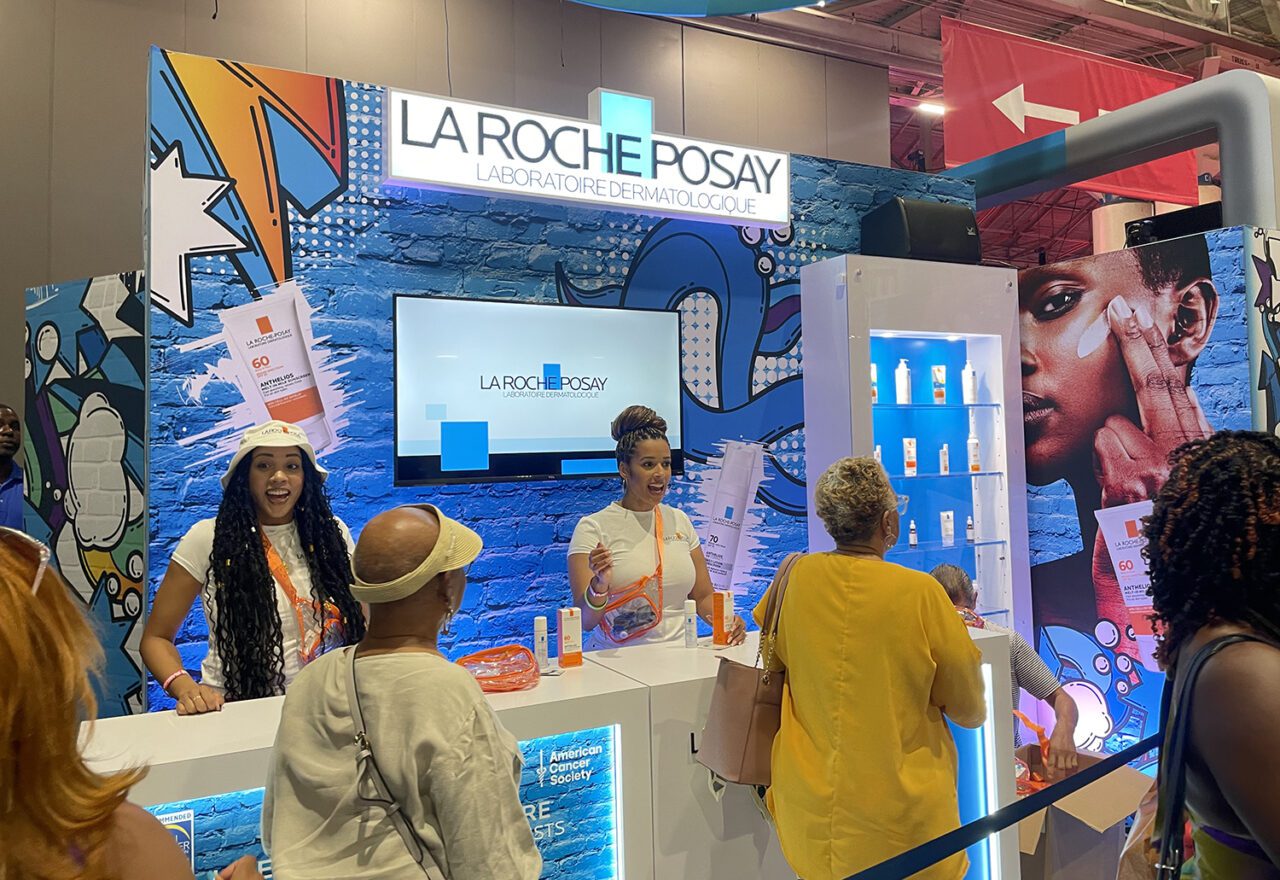 CHECK OUT MORE SCENES FROM ESSENCE FEST 2023: