Online shoe and apparel shop Zappos.com kicked off its multi-year title sponsorship of San Francisco's famous Bay to Breakers footrace, May 15-17, with an array of unconventional engagements meant to highlight the quirky nature of both the brand and the race.
In the two days leading up to the May 17 competition, consumers could participate in a number of activities at the Zappos.com Bay to Breakers fitness, nutrition and technology expo. While shoes and apparel were for sale, the brand focused its efforts on the experiential elements of the expo, which included a GIF station and a social photo-sharing wall, as well as more unorthodox engagements, such as a human-sized hamster wheel that generated the power to operate an almond butter machine.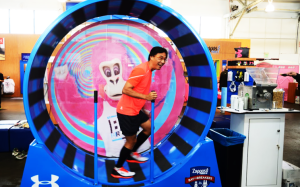 Zappos also teamed up with Recordsetter.com to offer attendees the chance to break a whole host of funny world records, including the largest potato chip-sharing circle and greatest number of blow-up seals tossed at an event.
The highlight of the brand's engagements, however, was the Magic Checkout experience, developed by Zappos Labs. Using RFID technology, Zappos.com tagged all merchandise available for sale. When consumers were ready to make their purchases, they were asked to stand on an RFID-powered mat, which scanned all of the merchandise in less than one second. With the assistance of Square's credit card processing technology, shoppers were able to complete their checkout in a matter of seconds in most cases (16.1 seconds was the record), eliminating long checkout lines.
"We want to make these events much more about live experiences, versus keeping it transactional," says Catherine Cook, awareness marketing and public relations associate at Zappos.com. "We feel like we're going to create longer, better relationships with our customers by saying, 'have some fun with us.' So we're in it for the long-term relationship." Agency: Wasserman Media Group, New York City.
Related links:
• Why Choosy Brands are Choosing GIFs