It was a tough job, but somebody had to do it. This February, my family and I traveled to Orlando to spend two days at Disney World. Our mission: Test out the new MagicBand—the RFID-enabled bracelets that promise park goers a "more carefree" visit.
RFID bands are not new to this industry, of course, but with its $1 billion price tag and all of the marketing magic of the "The Disney Way" behind it, we wanted to see first-hand how the brand made use of the technology, and how it affected our overall experience. Namely, could it make those epic long lines shorter? Could it make the "Happiest Place on Earth," well, happier? And what can event marketers learn from one of the masters of experiential marketing as it takes its brand into the technology era?
I took a toddler to Disney World so you don't have to. You're welcome. Here we go.
It starts with an intuitive site.
Our experience started online, where we booked a three-night stay at one of the Disney resorts. We created a profile on the My Disney Experience website, and that became our all-inclusive portal for all of our planning, from managing our hotel itinerary to buying park tickets and meal plans to ordering MagicBands. Much like its live experiences, the site is intuitive and thoughtfully designed.
Reminders get attendees excited.
Once we booked our tickets, we started receiving emails encouraging us to take advantage of the add-ons we had access to through the My Disney Experience website, which included the ability to order our MagicBands, pre-order a photo package that gave us unlimited professional photos taken throughout the park (they could be instantly downloaded from the site), and pre-purchase a meal plan. One email reminder gave us the option to check into our hotel online (making the experience ever-more streamlined), and featured a countdown clock to get us excited about our vacation.
Direct mailings still have a place.
A few weeks after the hotel was booked, we received a box in the mail with a personalized 40-page vacation-planning guide. And it was nice. The guide was beautifully printed. The box was foil stamped and featured a Mickey Mouse-shaped flash drive embedded in a die-cut hole. Once plugged in, the flash drive glowed green, a clever visual cue that tied to the design of the scanners throughout the park that feature the same Mickey silhouette and also glow green when your MagicBand is scanned. The flash drive launched the My Disney Experience website and opened right onto our personal account page. Which leads to the next point…
Personalize everything.
Disney leaves no stone unturned when it comes to personalizing its communications. As someone who has covered or worked in marketing for more than 25 years, I still felt special after receiving these seemingly small but important gestures. The vacation planning guide embedded specific dates into the copy, for example, opening with "We're super excited that you're coming to visit us in February." My confirmation details and key dates were also printed in the guides. And the highlight: we got to pick from seven colors for our MagicBands (I was blue, my husband grey and my daughter pink) and then customize them with our names. Yet another beautiful box arrived weeks later with our customized bands, also embossed with our names.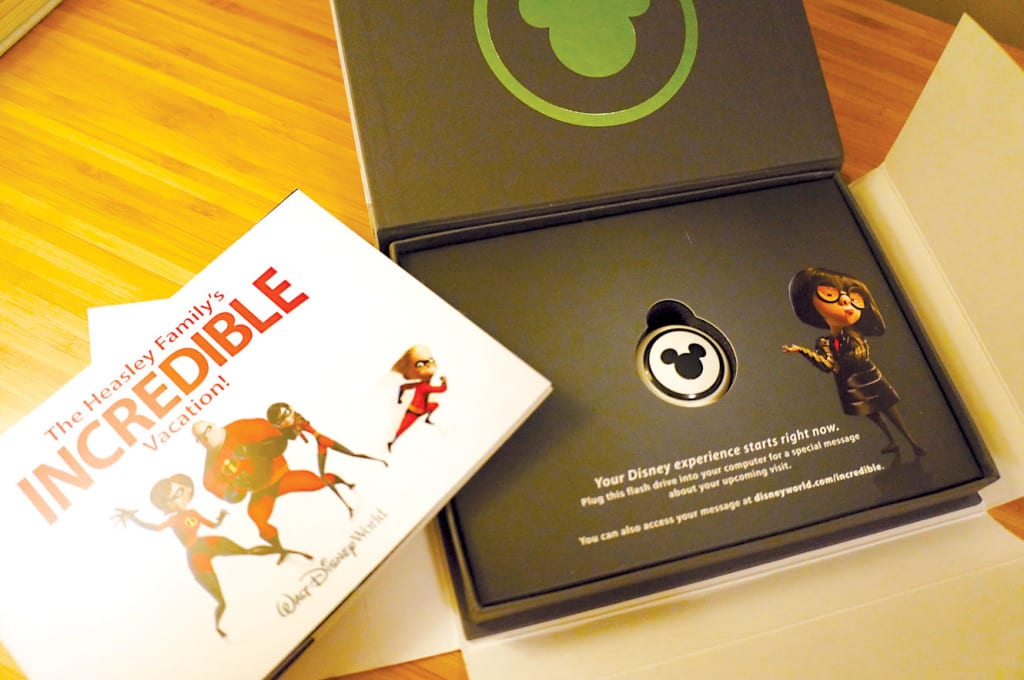 Wow them with technology.
We didn't take advantage of it but we could have booked a lunch or dinner reservation through the My Disney Experience website at Be Our Guest restaurant. Be Our Guest is the park's only (for now) RFID-activated cafeteria where you pre-select your meals and then, as you arrive, your wristband sets your order into motion. The bands also enable the hostesses to greet you by name (surprise!) and then invite you to be seated anywhere because, as if by magic (but really the RFID technology), your food will find you.
Focus on fixing the pain points.
Yes, the MagicBands are the bobble that's getting most of the attention, but the real story here is that they unlock a digital infrastructure that has forever changed how people will experience Disney's parks. And that means eliminating some of the friction caused by the parks' long wait times for rides. The new system tackles this from the My Disney Experience website where you can select up to three rides in advance, and the times you'd like to go on them (a companion app lets you take the site with you and make changes on the fly). The sooner you book your vacation, the sooner you have access to the rides you want. Even with the reservations, we still waited 30 minutes for one of the rides. But without it, it would have been an hour and a half. Have you ever tried to make a toddler stand still for an hour and a half?
Offer the band as a perk.
MagicBands are issued free to people who stay at a Disney World resort hotel or to season pass holders. Otherwise, you can purchase one for about $12 online or at a Disney store, and then activate it online. Disney also offers embellishments that turn the basic band into a personalized fashion statement, and therefore, also a keepsake. Would we have stayed at a Disney resort just for the free bands? No. But the fact that they can be used to make everything easier (because that's what vacation is all about, right?) is a selling point. Oh, and my daughter loved wearing the thing.
Streamline the spending.
The MagicBands are linked to your credit card, so all you have to do to buy merchandise or meals throughout the park and at your hotel is swipe your band and enter a four-digit code. Less time hassling with credit cards and receipts means more time engaging with "cast members" and enjoying the experience. It also makes it dangerously easy to spend. And spend we did. According to the L.A. Times, Disney boosted its income year over year by 20 percent (to $805 million) through "higher attendance and spending in the parks." Don't say I never gave you anything, Walt.
Don't forget to say Thank You.
Several weeks after the bags were unpacked and the Mouse Ears were stashed in a box, we received another mailing from Disney. This time, a thank you card—personalized with our names on it, of course—that included a sketch of Mickey Mouse on a piece of heavy card stock, "hand signed" by Mickey himself. A thoughtful keepsake to remind us of our trip… and get us excited about the next one.