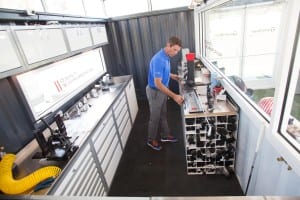 Serious golfers invest in equipment to get better, so to give them that advantage, and offer a PGA tour-caliber club fitting experience, TaylorMade Golf took a pro-shop on the green. The mobile Tuned Performance Studio debuted at the PGA Merchandise Show in Orlando in January. TaylorMade then activated the studio at the Camelback Golf Club in Scottsdale, AZ, April 9-20, and at the Annual Haggin Oaks Golf Expo, April 25-27 in Sacramento, CA. It will continue on tour through 2014.
Created out of two adjoining shipping containers, the studio includes two areas: an eight-foot by 20-foot build shop and a 16-foot by 20-foot retail shop, all outfitted with custom lighting, flooring and a mobile driving range or hitting bay experience outside. On-site, golfers can purchase products exclusive to the Tuned Performance Studio, like high-tech gear, t-shirts, sweatshirts, leather club head covers and hats. They can demo TaylorMade's newest products and technologies with an expert technician, get a custom fitting through the brand's proprietary application, order a club to their specifications and then watch as clubs are built before their eyes. (Fun fact: TaylorMade's logo is slanted at 13-degrees, representing the standard angle of the clubface as its positioned on the shaft. Studio elements were designed to honor this 13-degree theme, from the window angles to the seams along the furniture custom built for the shop.)
"We wanted to deliver the golfer a better experience when they try our products, where you get the best technology, the best service, and you're able to have instant gratification," says Brad Holder, director of marketing at TaylorMade Golf. Build: Boxman Studios, Charlotte, NC.