Recognizing the Best Designs in Experiential Marketing
At Event Marketer, we like to give credit where credit is due. So last fall, we renamed the Event Design Awards The Experience Design Awards to better reflect the caliber of work being created and submitted across this award program's 14 unique categories. Smart event designers have always been skilled in the art of transforming marketing goals into impressive and strategically designed spaces. But more and more, the event designer's skill set has evolved to encompass a much wider range of talents. From "shareable" footprints thoughtfully designed to be a catalyst for measureable social media impact, to innovative technology interactives that boost dwell time and impressions, to pop-up shops that are so effective at driving sales you'd think they were real retail stores, events have become experiences with event designers leading the evolution. Indeed, the days of the merely pretty exhibits are long gone, and in their place are the programs you're about to discover—the winners of the 2015 Experience Design Awards. They are on the cutting-edge of the XD movement, and we congratulate them, one and all. Download our full list of winners below, or check out all our in-depth profiles of this year's winners (plus more than 1,000 best-in-class case studies) by subscribing to the industry's only case study database, Campaign Finder.
> Download the Full List of 2015 Winners
> 2016 Awards Now Open For Entries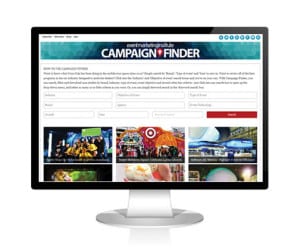 Subscribe to Campaign Finder, the world's first experiential marketing case study search engine, and get access to the world's first experiential marketing case study search engine. Campaign Finder gives you unlimited access to a growing database of more than 1,000 award winners and best-in-class case studies for your brainstorming session, CMO pitch, team meeting and more. Search, filter and download case studies by brand, category of business, type of event, event objective and other key criteria.
This story appeared in the Feb/March 2016 issue