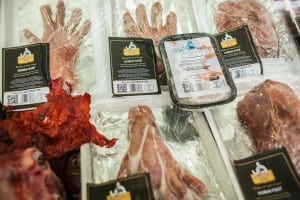 Resident Evil is a household name in the gaming world, but in promoting the Oct. 2 release of the latest version, Resident Evil 6 "No Hope Left", developer Capcom wanted to make sure a wider audience was introduced to "the dramatic horror experience of 2012." So, Capcom activated a pop-up event designed to resemble a human meat market that took place Sept. 28 and 29 at the famed Smithfield Market in East London.
Over the two days the doors were open, visitors experienced the world of Wesker & Son, the fictional butcher in Resident Evil 6 with "a penchant for human flesh." But fear not, the products available at Wesker & Son Resident Evil Human Butchery including "peppered human and lemon sausages" and "J'avo caught human thigh steaks" were made from animal meat sculpted by food artist Sharon Baker. Consumers were invited to sample and purchase the meats and—yes—take them home to cook and eat. (Authenticity was key here.) In a philanthropic twist, all of the proceeds from the sale were donated to the Limbless Association, which provides information and support to the limb-loss community.
In addition to visiting the pop-up, consumers could sign up to attend two days of lectures at St. Bartholomew's Hospital Pathology Museum in London to hear from experts that brought several of the game's themes to life. This included Dr. Morgaine Gaye, a food futurologist who discussed future trends in meat consumption, and Professor John Oxford, one of the world's leading virologists who discussed whether the video game's "C-Virus" could ever become a reality. Fans of Resident Evil could follow the game release action on a Twitter account set up for Wesker & Son, which featured promotions for giveaways.
"It wasn't to be shocking or a horror for no reason, but something that was really engaging and something people could interact with," Adam Merrett, Capcom Europe's UK manager-p.r. who handled the program, told Buzz. "When you got there, it smelled like death because of the meat that was there and it just kind of brought it to life—it made it that real." Agencies: Full Fat and Miss Cakehead, London.