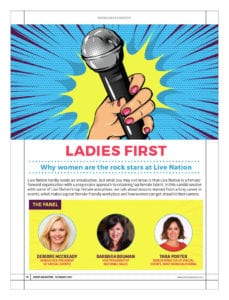 Live Nation hardly needs an introduction, but what you may not know is that Live Nation is a female-forward organization with a progressive approach to retaining top female talent. In this candid session with some of Live Nation's top female executives, we talk about lessons learned from a long career in events, what makes a great female-friendly workplace and how women can get ahead in their careers.
The Panel:
Deirdre McCready, svp-special events
Barbara Bouman, vp-national sales
Tara Porter, senior director-special events, Northern California
Click HERE for the roundtable.