Recognizing the Best Use of Design and Technology in Experiential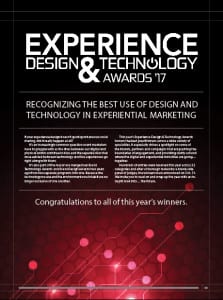 If your experience design doesn't spark spontaneous social sharing, did it really happen at all?
It's an increasingly common question event marketers have to grapple with as the lines between our digital and physical worlds continue to blur, and the separate silos that once existed between technology and live experiences go right along with them.
It's also part of the reason we merged our Event Technology Awards and Event Design Awards two years ago from two separate programs into one. Because the
technology we use and the environments we inhabit are no longer exclusive of one another.
This year's Experience Design & Technology Awards honors the best practitioners across a wide variety of specialties. It especially shines a spotlight on some of the brands, partners and campaigns that are pushing the boundaries of engagement, and providing clarity around where the digital and experiential industries are going—together.
Hundreds of entries were received this year across 22 categories and after a thorough review by a brand-side panel of judges, the winners were announced on Oct. 31. We invite you to read on and wrap up the year with an in-depth look into… the future.
Congratulations to all of this year's winners.