Corporate happy hours are a fantastic way to strengthen team bonds, foster a sense of camaraderie, and celebrate company achievements. In order to plan a successful corporate happy hour, it's essential to create an atmosphere that's not only fun and engaging but also reflective of the company's unique brand and values. This is where the right décor and furnishings come in. From stylish lounge furniture and eye-catching lighting to custom branding elements and more, CORT Events has the essentials for creating a one-of-a-kind event that perfectly reflects a company's personality and culture.
More Than a Bar: It's Personalization at Its Finest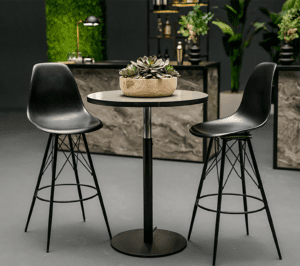 During a corporate cocktail hour, the bar area is a crucial component for creating a comfortable and relaxed environment for employees to unwind and engage with each other after a long day at work. Not only does it offer drinks, but it's also a space that promotes conversation and helps build relationships between colleagues. The bar can serve as the starting point for creating a community within the workplace, where individuals can bond over shared interests, goals, and experiences.
To create a more personalized experience, there are numerous ways to customize the bar area. From small details like custom drink menus and branded coasters and napkins to larger items like the furnishings, everything can be tailored to fit the event's theme or brand. The Maxim Bar, for example, is a stylish and highly functional option that's perfect for any type and size of event. It features a classic black-framed bar, gray marble laminate on the front and sides, and LED underside lighting. For an interactive experience, its top can be customized with a whiteboard appliqué that can be added to the top, front, or side of the Maxim Bar. This can be used to promote a menu or to engage attendees in creative ways.
Another way to make the event more personalized is by using the "Build Your Round Bar Table" feature. This innovative option allows event organizers to select from a variety of choices such as black or chrome, hydraulic or star base, and then choose a color that best fits their design. This level of customization helps events stand out and leaves a lasting impression on attendees.
When it comes to seating options, the Chelsea Black Barstool with a Tower Base is an ideal choice. Its modern and minimalist design is both comfortable and stylish, adding to the overall ambiance of the event and helping to build a truly unique and memorable experience for guests.
The bar area is not just about serving drinks, but rather about fostering a sense of community and connection among employees. By customizing the bar and seating options, event organizers can make the experience more personal and memorable for attendees.
More Than Seating: It's an Atmosphere
Seating is undoubtedly an essential aspect of any corporate cocktail hour. Guests need to feel comfortable and relaxed, which sets the tone for the event. A well-designed seating arrangement can make a significant impact on the atmosphere, from the overall mood of the event to the level of engagement between guests.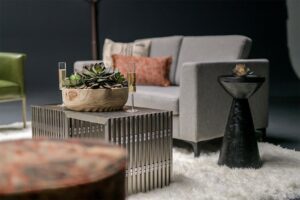 For those who prefer a more intimate setting for small group conversations, we recommend the Cordoba Loveseat and Regis End Table combination. The Cordoba Loveseat features plush cushions that provide optimal comfort, while the Regis End Table offers a sleek and stylish surface for drinks and snacks. These pieces are perfect for creating an inviting and cozy atmosphere that encourages guests to relax and engage in meaningful conversations.
For those looking to add a touch of elegance and sophistication to their spaces, our Lena Chair and Wagner Chair are both excellent accent pieces that are sure to impress. These chairs are designed with a sleek and modern aesthetic and are perfect for adding a touch of glamour to any corporate event.
Finally, with its sleek and modern design, consider the Thira Table. This table is sure to complement any space and provide a functional yet stylish addition to a corporate event.
More Than Details: It's a Transformation
During a corporate cocktail hour, the ambiance that's created can make the event unforgettable and leave a lasting impression on guests. It should reflect the company's unique brand and values, and convey the message it wants to convey through the event.
One way to do this is by incorporating greenery. Adding natural elements like plants can make a significant impact on the atmosphere of an event, and create a warm and inviting feel. This is especially true if you're aiming to create a sleek, modern look or a casual, laid-back feeling.
CORT Events understands the importance of creating the perfect ambiance for a corporate cocktail hour and offers a wide range of decorative items that can achieve just that. One such item is the eight-foot, faux Havana Palm Divider. With its towering height and lush green leaves, it makes the perfect statement piece to add a touch of the exotic to events, transporting guests to a lush, tropical paradise.
There's also the Succulent Bowl, a great option for adding a pop of color and texture to an event space. The bowl features a variety of succulents that add a touch of natural beauty as a centerpiece or accent piece to the event.
By incorporating greenery and natural elements into a corporate cocktail hour, event organizers are creating an experience that goes beyond just the details and transforms the space into a warm, inviting, and visually stunning environment that will leave a lasting impression on guests. CORT Events works to help achieve that transformation.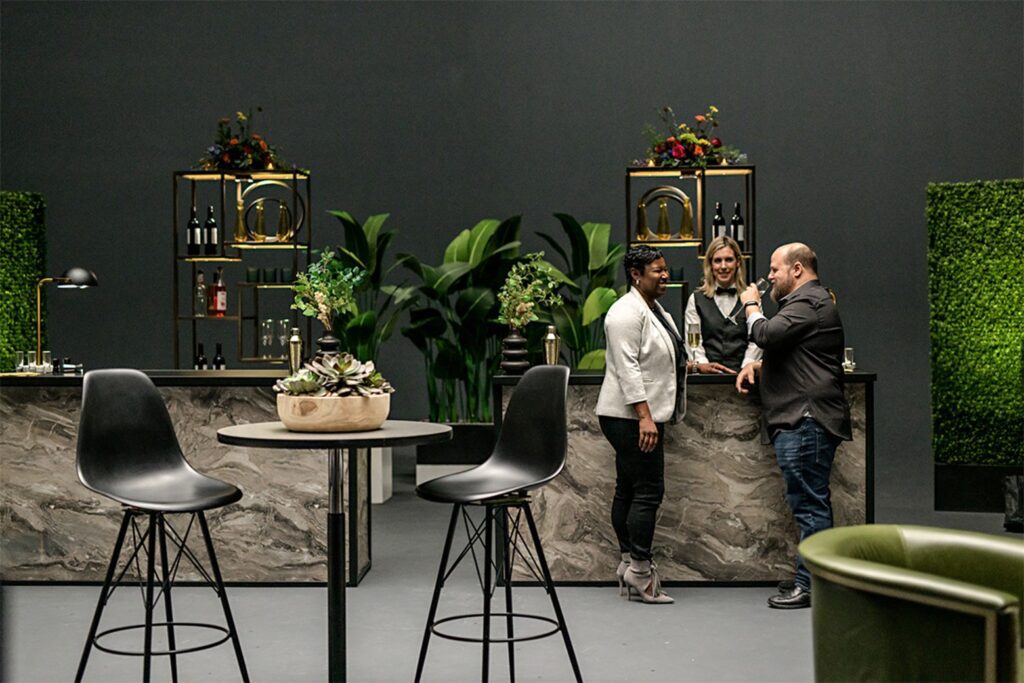 More Than Service: It's a Partnership
Hosting a corporate cocktail event is no small feat. It requires careful planning and a commitment to excellence. And CORT Events is more than just a service provider; it's a partner in all clients' success.
The team is dedicated to creating an event that exceeds expectations and goes above and beyond to ensure that the event reflects a company's unique culture. This means taking the time to get to know clients and their business to deliver a tailored experience.
CORT Events is committed to providing clients with more: More than just furniture and first-class service. More than just tables and fast turnarounds. With CORT Events, expect more connections, more agility, and more responsiveness, and a partner that is dedicated to helping achieve client goals.
It's not enough to just meet expectations. CORT distinguishes itself by delivering experiences that are truly unforgettable.
Discover a dependable, responsive partner that is committed to client success. Don't settle for just an event—choose an experience that will live on long after the last chair is loaded into the truck.
---
To learn more about CORT Events, click here.