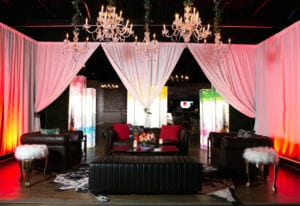 Each year, CORT Events hosts several elaborate, exclusive, VIP experiences for distinguished friends and guests. To wrap up 2018, CORT Events headed to Dallas for the most jaw-dropping party of the year in the events industry. Everything is bigger in Texas and, at Color Me CORT, that meant being bolder than ever before. We channeled Dallas's wild side for a refined evening of daring design and spectacular entertainment.
We let our imaginations run wild and worked alongside the Perfect Surroundings design team to embrace the vibrancy and diversity of Dallas. Hosted at Venue Forty|50 in Addison, Texas, with some new, amazing products, dazzling ideas and a team executed our inspiration to perfection, Color Me CORT was bigger and bolder than any other VIP event we've held.
Our clients know we can deliver on an incredibly chic classic black-and-white evening, so we decided to showcase the unexpected and demonstrate the ways that we make color classy. Every inch of the event space was soaked in color to add to the overall ambiance of the event. To delight the more than 250 VIP guests in attendance, including LeeAnne Locken from the Real Housewives of Dallas, we blended 2018 trends with what's hot for 2019 and surprised guests with lively entertainment and prizes throughout the evening.
Evan Carbotti, owner and designer at Perfect Surroundings, said, "Color Me CORT allowed us to showcase how a color-filled event can be just as refined as a black and white event. We had so much fun playing with the colorful options CORT offers and leaning into Dallas' wild side for an event that was unexpected and engaging."
The CORT Events team mixed classic and modern design elements and allowed seating to feel irregular and fun. Mixing traditional Fielding chairs with Hayworth cocktail tables, and sleek Baja Sofas with versatile Beverly Bench Ottomans, made the space feel eclectic yet comfortable and curated. Six hexagonal seating arrangements encouraged guests to flow through the room, meeting and mingling with new faces as they went. The event space also played up the indoor/outdoor trend by blending the indoor space with a quieter outdoor patio, designed with unique configurations of the modular Dune collection. Luna columns adorned with beautiful graphics added a touch of personalization while bathing the room in a warm glow, and unpredictable combinations of accent pillows added a level of vibrancy throughout the venue.
America's Sassiest Lifestyle Guru, Steve Kemble, facilitated the evening's entertainment, including singers, dancers and disco ninjas who revved up the dance floor. Attendees received prizes throughout the night, including a Dallas food tour, a Ritz Carlton spa package, Apple products and designer travel gear.
CORT Events is always excited for a new challenge and we used our eye for design and foresight into 2019 trends to wow at our most colorful VIP event yet.
To learn more about CORT's event rental collections, visit cortevents.com.
—Kevin Dana, CORT