Inside the methodology and the motivation with head of events Scott Schenker
The subject line on the email only contained two words: One Microsoft. But the impact of the message would inspire one of the most prolific event organizations in the industry to completely rethink the way it does events.
The note arrived in the inboxes of all of Microsoft's more than 100,000 employees on July 11, 2013. In it, then ceo Steve Ballmer outlined a realignment strategy for the entire company that encouraged employees to "… rally behind a single strategy as one company—not a collection of divisional strategies," "…reshape how we interact with our customers, developers and key innovation partners" and "…contribute to activating high-value experiences for our customers."
Scott Schenker had started at Microsoft just a few months before Ballmer's email, joining the company after a three-year run at SAP as vp-global events. As Microsoft's new general manager of events, his first order of business would be to translate the One Microsoft vision into a reality that could be felt and experienced across the company's event portfolio. And frankly, to take a good hard look in the mirror and assess what would work in the new One Microsoft era—and what wouldn't.
"When I arrived, we were focused on operational excellence. And there's nothing wrong with that in the slightest—at the end of the day, that's the core of what we're supposed to be doing," Schenker says. "But it's not necessarily something to celebrate any more than we celebrate that the power turns on when we flip the switch. We recognized that our operational centricity was not enough to either differentiate or to drive the connection to corporate and marketing strategy."
What would drive that connection, Schenker says, was a marketing mindset—a dedicated effort by the event team to deliver more audience-centric event strategies, drive business impact and reshape the portfolio around what he calls the four "Ps" of experience marketing: place, purpose, pride and promotion.
It was an approach that would not only re-engineer the way the event organization operated, it would dramatically change the face of the portfolio in a way that could not have exemplified the idea of One Microsoft more clearly.
---
---
'RALLY BEHIND A SINGLE STRATEGY'
The transformation was necessitated as much by corporate mandate as it was by the business Microsoft recognized it was in. In a cloud first, mobile first world, technology companies are no longer in the business of selling individual products—they're selling connected solutions and unified experiences across devices. Perhaps serendipitously, Microsoft's own products and technologies had also become more synchronous with one another. "The increased connection of our own product sets almost demanded the increased connection between our event moments," Schenker says. The task at hand: to transform all the formerly disconnected moments into one—and one that made sense.
The team started by looking at its entire portfolio on an axis to determine which were one-product events, which were One Microsoft events, which were awareness events and which were loyalty events. Once all of the events had been plotted, the team discovered that in the bottom corner of the axis, there were six events in the same quadrant, and that they had more in common than they had differences. "We asked, what would it look like if they came together into something that looked more Microsoft centric than product centric?" Schenker says.
It's a question that, prior to Ballmer's email, might have gotten shot down as quickly as it was spit-balled. But in the era of One Microsoft, it felt like an appropriate strategy. It wouldn't come without its challenges, but it would ultimately map back to the larger corporate mandate.
"There's still muscle memory and legacy that comes into play for anyone in the organization who is used to the way they'd done their events in the past, the way they delivered their content in the past, the way that they've interacted with their audience in the past. But if somebody were to stand up and say, 'I have to have my own event,' they were going to be spitting into the wind of the organization," says Schenker.
With everyone in agreement that they were indeed all One Microsoft, the event team moved into action as key facilitators for the product and event teams who had previously been at the helm of the six separate shows. Schenker's team worked with dimensionalized attendee personas to help guide more audience-centric experience design decisions. For instance, asking how a person named Bill with specific IT needs might go through the event and how it would differ from Jane who is a developer.
---
"We recognized that our operational centricity was not enough to either differentiate or to drive the connection to corporate and marketing strategy."
---
A strategic manifesto was created to give everyone from general managers to agencies and suppliers a list of "rules" that would guide decisions around the event. For example, that the event must be a storytelling environment, a rule that would manifest itself in the types of demos, keynotes and content at the show. Or that every experience should have a call to action. Staffers at a Windows demo, for instance, would wrap up with recommendations for attendees for other sessions they might enjoy.
The team streamlined and simplified the on-site branding and exhibit design process for all of the disparate groups by giving people "something to react to, versus asking them to develop it first," says Olga Lymberis, the company's director-event and digital marketing.
Historically, each event team would hire its own agencies and suppliers, create its own look and feel and interpret the style guide any way it wanted. Lymberis created one style guide and worked with the groups to understand their business requirements. Then her team translated those business requirements into a design plan. "The look and feel was taken out of their hands so they could focus on the business," Lymberis says.
To simplify it even further, the team created standard modular booth kits that product owners could choose from and customize, for instance creating a mix of demo stations, theaters and lounge areas suitable for what they needed to accomplish at the show. Lymberis even required that suppliers provide 3D renderings of the exhibit spaces, specifying that the elevation shouldn't be a top-down perspective, but what a five-foot-seven person would see when they walked in. "You need to give each group the confidence that they could see their respective areas," Lymberis says.
---
---
The style guide also offered clear examples on what to do, what not to do and a narrative element that explained what Microsoft's voice was, so stakeholders could understand the tone, the language and feeling they wanted to evoke at the show.
"We all had the same goal in mind. The journey to get there was letting go of some of the ways we controlled things in the past," Lymberis says.
And so, with the support of general managers across the entire Microsoft organization, Schenker's team combined its six standalone, one-product events into one, bringing its TechEd, Management Summit, Exchange, SharePoint, Project and Lync Conferences under a new event that was named Ignite.
Ignite would become part of an annual portfolio that would include four major external customer and partner events, including: Convergence, Microsoft's annual business decision-maker event, in Atlanta, March 16-19; Build, its developer event, held in San Francisco, April 29-May 1; Worldwide Partner Conference in Orlando, July 12-16; and for IT decision-makers, Ignite, May 4-6.
'RESHAPE HOW WE INTERACT WITH OUR CUSTOMERS'
Held in Chicago's McCormick Place, Ignite immersed 23,000 attendees into the One Microsoft message with a series of suspended graphics, super-sized fabricated logos and staircase graphics that leveraged the vivid colors and the squares of the brand's logo as a consistent visual cue. In the keynote arena, massive square screens and suspended square set pieces echoed the logo.
Fleets of temporary staffers wearing bright Microsoft-branded t-shirts offered directions and other support to attendees navigating the show. Prominent calls to action like "Spark the future" and the hashtag #MSIgnite reinforced the One Microsoft message the team wanted for the show.
"That sense of place is incredibly important," says Schenker. "When I was on the agency side, I'd bring a total stranger into an event and ask them where they were. If they couldn't tell me, I knew I had a problem."
With all the attention on creating a Microsoft-centric experience, was there a concern that attendees wouldn't get the depth they had been accustomed to at the individual events? "Absolutely," says Schenker, whose team communicated early and often across its event communities to respond to concerns and to be as transparent as possible about the new direction. Long-time attendees' concerns were further addressed through an attention to volume and diversity of content, to the tune of more than 1,000 educational sessions and a "choose your own adventure"-style schedule that offered everything from deep dives and certification to broad strokes.
Microsoft ceo Satya Nadella delivered the keynote speech along with several other members of the executive team. But customer stories took center stage as well, as a means to engage what were once separate event communities, and as a way to give context to Microsoft's growing ecosystem of products. Soccer team Real Madrid, during Nadella's keynote, walked attendees through the mobile app it developed with Microsoft for its fans. Alaska Airlines, Godiva Chocolates and Accuweather could all be found on-site as well, showing how Microsoft's solutions are helping their businesses.
"One of the marketing strategies was to be more customer obsessed and use more customer stories. We brought that to the event," Schenker says.
---
---
All of the session content was available online 24 hours later to anyone free of charge. "Content is something that's not hostage, it's something that we share," Schenker says. And anyone registered could watch sessions in real time online, from the comfort of their hotel room or from any of the bars and restaurants concocting special Ignite cocktails just for the event.
Meet the expert areas, product-specific areas and a "meet the speaker" welcome reception offered attendees access to the gurus and influencers that had attracted them to previous events. And to facilitate those "unintended learnings" that are the hallmark of successful live events, the event team created multiple lounge areas, including a few Xbox gaming stations.
It all mapped back to a focus on audience-centricity, the number one criteria on Schenker's list of what creates a successful marketing mindset. "We believe very much in audience, not just attendees," he says. "Attendees are a part of our audience, but they are a transactional subset of our audience and to focus only on them is to miss a broader subset of our audience."
To keep that total audience in mind, sessions were live streamed from session theaters and studios at the conference, including one dedicated just to customer presentations. Online audiences in some cases received access to more personalized content than live audiences, through pre- and post-broadcast Q&As with presenters.
Tying it all together on what else but mobile devices, tablets and PCs, was the MyIgnite show app where attendees could create their schedules, watch conference content, network with other attendees and get key updates throughout the show. Microsoft's OneNote was integrated into the app so that audiences could take notes attached to specific sessions, and then send them to themselves or a colleague through the app. And social networking platform Yammer (acquired by Microsoft in 2012) was integrated for real-time chatting.
'CONTRIBUTE TO ACTIVATING HIGH VALUE EXPERIENCES'
Even though the world might remember it as "May the Fourth be With You" day, Ignite still trended in the top 10 across social media on May 4th, the first day of the show.
Attendee sentiment seemed to trend up as well, with 90 percent of attendees agreeing post-event that Microsoft was a technologically innovative company. "We look and measure the events with three filters: what were our objectives, what were our audience's objectives and what was the satisfaction the audience had," says Schenker. "And from our objectives, we did very well. We saw a movement in people's perceptions of the company. We saw movement in people's likelihood to act, likelihood to recommend, beliefs of us as a leader in certain key categories. And we saw a decline in people's perception of other competitor's leadership in those areas."
Schenker is a big believer in tracking competitor perception at his shows, because he believes the net score "detractors" are just as important as the promoters. For instance, pre-event, 68 percent of attendees agreed that Google is a leader. Post-event, that number dropped 11 points. IBM's position as a leader dropped to a negative 12. "When we talk about results and impact, this is what we talk about," Schenker says.
To boot, the show sold out four weeks before the first day, and the expo show floor sold out four months before the show. Yet despite all the early markers of success, Schenker still has mixed feelings. "I'm disappointed we could not get more people into this venue and give them access to the content," he says. "But you have to assess and know when bringing more people in will weaken everyone's experience."
Next year's show in Atlanta (Sept. 26-30) is slated to be bigger, and Schenker is happy about that. "I like to think that we'll become what the community needs," he says. "They already told us that more people wanted to come than could attend, so we will be larger in the future."
---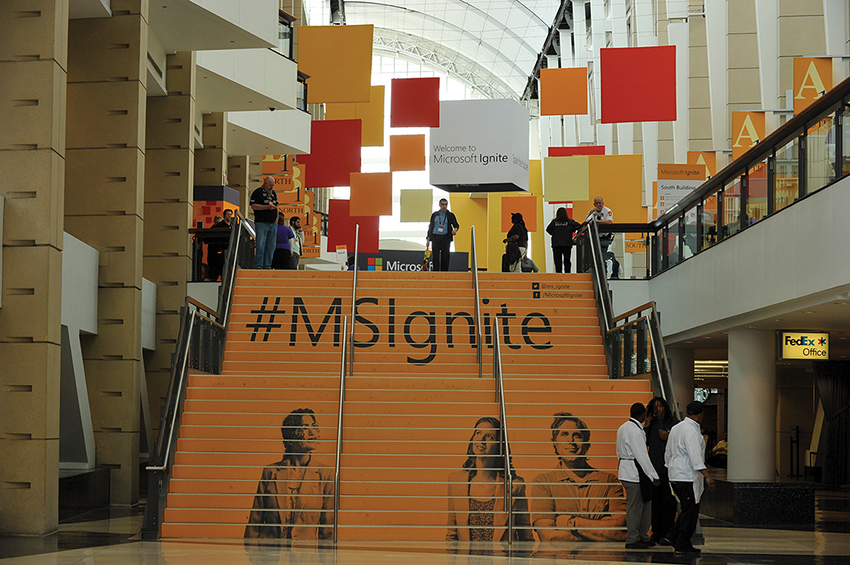 ---
The event team will use a mix of baseline, pre- and post-event surveys (offered 72 hours before and after the event) and show data ranging from individual session feedback to lead generation data to make improvements, and determine if the event ultimately delivered on the second piece of the marketing mindset: to understand and drive business impact. To this point, Schenker is passionate about tracking the distinction between diagnostic data and business impact. "You don't say, 'As a result of this event, we had an 80 percent satisfaction.' That's not as a result of the event, that's a diagnostic of the event. As a result of the event, we had some change in belief, some change in intent, some change in action, some change in something measurable."
And when it comes to business impact, he also doesn't believe in year-over-year comparisons because "unless you have exactly the same audience, who's been isolated for a year, year-over-year is not the best comparison." Net Satisfaction scores should also be measured with a critical eye. "I don't believe there's as much of a correlation between NSAT for the event and the changes we're looking to make to the business," he says. "You may be unhappy with the event, but still feel that you learned something that makes you more likely to buy. NSAT is simply event related and we're not just event related any longer, right?"
All of the data Schenker determines is relevant will filter up to support a "portfolio mindset" that drives the entire team to constantly clarify and refine all of its events so that the entire portfolio is offering the right kind of show to the right type of audience. And that all of it maps back to the company's strategy.
"There are events that are in the business of events and there are events that drive the business you're in. We're not in the events business," says Schenker. "We're in the empowering every person and every organization on the planet to achieve more business. Therefore, my events need to tie to that very directly."
Indeed, Ignite makes a compelling case that events can be powerful communication platforms for a renewed corporate vision. And that what might be a disparate portfolio of events with autonomous audiences, can, in fact, come together. As one.
Gallery: Inside Microsoft's Inaugural Ignite Conference
See also:
• Microsoft Defines the Four Ps of Experiential Marketing
This story appeared in the December 2015 issue