The last four years have seen explosive growth in events catered to the growing cannabis industry. The yearly High Times Harvest cup has become a staple event for the biggest brands in cannabis. This proto-industry has begun to take notes from their mature industry counterparts when it comes to event and experience marketing. The High Times Harvest Cup awards exhibitors in different categories ranging from best strain to best booth. Brass Knuckles blew away the competition this year with its three story shipping container based activation which won first place in the category "Best Booth." The activation surprised consumers as much as it did the judges through its opulent and unmatched aesthetic. Each floor throughout the building held a different purpose while also maintaining a cohesive brand experience.
The Retail Store
The heaviest trafficked floor of the booth was the first floor which acted as a retail store and sampling area where patrons could try all of the different vape flavors the brand had to offer. The design of this room took heavily from wild west pioneer town elements with varnished wood, brass posts, and warm ambient lighting. To add to this rough and tumble feel, historic anti-marijuana propaganda posters where displayed around the floor as a tongue in cheek statement against the current political climate around cannabis.
The Executive Lounge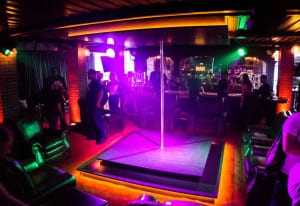 By invite only, patrons were able to access the heavily guarded second floor. Consumers that walked into the second floor were immediately presented with a cozy, dimly lit lounge which housed, classic brick columns, executive leather couches and an open bar made of rich mahogany and other varnished wood. Taking many stylistic elements from the first floor, the aesthetic of the second floor inherited many elements from the prohibitionist underground speakeasies of the 1930s. Even though patron's were technically outdoors and 15 feet off the ground, the strategically placed lighting and distinct furniture choices truly gave the illusion that they were transported into an illegal speak easy bar of the prohibitionist era.
Here is what one excited patron said about the booth "I have been a fan of Brass Knuckles since they entered the market. They don't cut corners with their product, and by the looks of their Booth here today, they don't cut corners with anything."
The Rooftop Experience
Brass Knuckles used the rooftop floor as a secondary lounge area where patrons could take a break from the desert heat by resting under a large 35-foot shaded canopy while listening to music provided by the onsite dj. On top of this, patrons were also granted an unparalleled view of the entire festival grounds as well as an clear view of the event's main stage.
Overall
A fully functional three floor building would have been impossible to create using standard construction techniques and the brief three-day installation time. This sort of engineering really speaks to the versatility and modularity of shipping containers. Container-based activations are bound to be the future of event and trade show marketing. Agency/Fabricator: Acme Made In America Furniture Provided by: Bungalow Event Rentals
See also:
• Creating Crazy: The Art of Building Footlocker's "Crazy" Trade Show Booth
More info:
• Agency/Fabricator: acmemadeinamerica.com
• Furniture Provider: bungaloweventrentals.com