Tell us about Shiloh Events, and why and how you founded the company.
I'm deeply passionate about the events industry. My ultimate dream is to have a positive impact by delivering peace to a stressful and chaotic industry. Visualizing, planning, executing, and transforming lives through events is what I live for.
This vision led me to start Shiloh Events a decade ago. "Shiloh" was chosen deliberately, because it means "peace" in Hebrew. Our mission is to shoulder the burdens of planning for our clients, providing them with a sense of calm and focus.
With over 15 years in the industry, we've partnered with renowned clients such as Zoom, where we co-founded their annual flagship conference, Zoomtopia, as well as collaborating with LG for their exclusive VIP events, Samsung for their trade show ancillary events, and many more esteemed corporate partners.
Describe your agency—what makes it unique and how are you different from the competition?
Shiloh Events is a comprehensive event agency, offering a wide range of services in strategic program development, consultation, management, and experiential program design and execution. Our expertise spans user conferences, product launches, sales kick-offs, incentive events, trade show services, VIP events, roadshows, and virtual/hybrid events.
A differentiator is our ability to elevate our clients' programs from tactical to strategic in 2 ways:
We provide a distinct service of launching proprietary events for our clients. From devising a full event strategy—complete with goals, objectives, revenue and sponsorship plans, content direction, site selection, target audience identification, and marketing tactics—to executing the premier event, we're a one-stop solution.
For clients with existing events or event marketing initiatives, we offer additional comprehensive strategic program management services, where we consult on content structure, registration pricing models, custom craft sponsorship packages, and collaborate closely with our clients to operate their program as if it were a standalone business.
Given your agency's successes, what approach and philosophy do you take to business?
Our event agency's philosophy revolves around two foundational pillars:
People and Culture.
The events industry isn't for everyone, especially with its inherent chaos, stress, and unpredictability. Genuine passion for events is the driving force that keeps us going during late-night crises, gives us compassion for each other, and helps us to stay dedicated when events don't go as planned.
Originally, my hiring focus was on skills and capabilities, but I realized the importance of mental resilience and passion as it separates those who merely do the job for pay from those who would go the extra mile.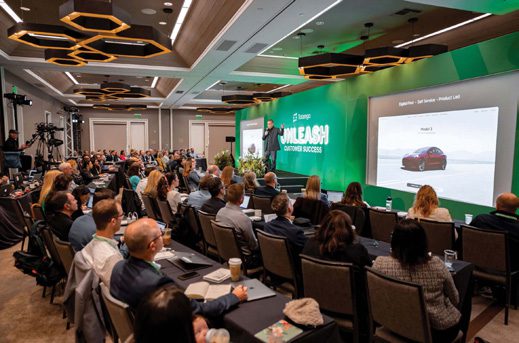 The second pillar of culture is equally valuable. At Shiloh Events, we're committed to fostering a culture of excellence, honesty, communication, and partnership. We have a culture book outlining core values and ten cultural elements we aspire to embody. While these values are crucial, they're just words on paper unless we live them out authentically.
It's not easy to find the right people and build a strong culture, but it's essential. We prioritize these two elements because we want to ensure that our growth is both sustainable and true to our core values.
For me, it's my life's passion. I deeply believe in our culture and it's a philosophy I carry out effortlessly. But it's crucial to have a team that shares this vision so that we're in alignment on what kind of events agency we want to be.
Having the right people and a strong team culture makes us more successful because when we enjoy the work and are aligned, we deliver high quality results. We truly understand and invest in our clients' events. This approach has helped us build solid, lasting relationships with our clients, making their events stand out.
---
CONTACT INFORMATION: