Describe your agency—what makes it unique and how are you different from the competition?
G7 is a marketing agency that harnesses the power of entertainment. We meet fans in the moments they crave, creating memories they want to share.
We were founded in 2010 and quickly began our relationship with Ram Trucks as their music marketing agency—and that partnership is still going strong today. Shortly after, we added our talent booking practice which really sets us apart from other experiential agencies. One of our first clients was Cisco, another decade-long client relationship we are proud to continue.
Our ability to remain nimble and forward-thinking has allowed us to thrive during the past years of change and uncertainty in our industry. We have a "get it done" mentality that clients appreciate, and take a fun, human-first approach to business.
At the end of the day, our team is obsessed with entertainment. It's at the core of everything we do both inside and outside the office. We support our team's passion through a live music stipend, so we always have boots on the ground checking out new acts and seeing firsthand what is moving audiences.
What are some of your most notable talent bookings and how does your agency remain a key player in that industry?
When you work with G7, standing ovations come standard. We're home to two past IEBA Corporate Buyer of the Year winners, and have a full team dedicated to providing clients with insight into what's hot now and what's next. So, it's no surprise that experience is the bedrock of our success, along with deep industry relationships.
Our expertise provides a 360-degree approach from ideation to execution. We book live music performances, speakers, hosts, comedians, and more. Recently, culinary and wellness have been some of our top areas of focus for clients. Notable bookings include Beyonce, Michelle Obama, Bill Belichick, Richard Branson, Katy Perry, Foo Fighters, Guy Fieri, and Jim Gaffigan.
Because we're independent and not tied to a specific talent roster, we can focus on the best interests of our clients and match the right talent with the right event or campaign. Our goal is to elevate events through entertainment, and we make the process painless so clients can sit back and enjoy the show.
Describe a recent project that was aimed at reaching a specific target audience, and explain any tactics used to achieve your objective.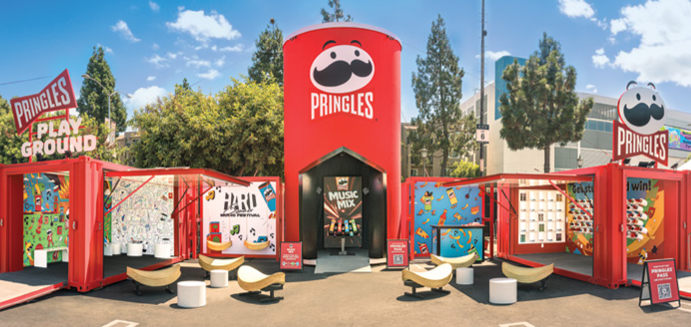 We recently had the opportunity to partner with Pringles to create a music centric experiential program that would connect with Zennials. As a brand that inspires playful curiosity and adds moments of ingenious fun to the everyday, Pringles needed an activation that would inspire joy. The program kicked off at Rolling Loud Miami before traveling to Hard Summer Los Angeles. The final festival will be Life is Beautiful in Las Vegas.
When fans visit the Pringles Playground, they can mix their own music in a giant Pringles can, play games, and win prizes. But the real magic lies in how we tied in festival artists to be a part of the fun. We brought music artists such as Armani White, Lola Brooke, Deorro, and others to the footprint, so fans could meet and mingle with their favorite performers. Digital extensions included a Spotify connect quiz, where consumers could find their Pringles flavor match, multiple sweepstakes, and content created by artists and influencers.
---
CONTACT INFORMATION: