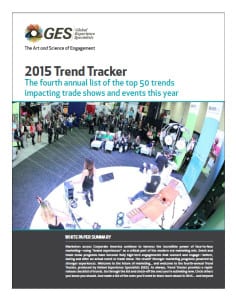 The industry's most downloaded piece of content is back, the annual Trend Tracker list of the year's top 50 trends, available as a free download (a $195 value) this month only.
Marketers across Corporate America continue to harness the incredible power of face-to-face marketing—using "brand experiences" as a critical part of the modern era marketing mix. Event and trade show programs have become fully high-tech engagements that connect and engage—before, during and after an actual event or trade show. The result? Stronger marketing programs powered by stronger experiences.
Welcome to the fourth-annual Trend Tracker, produced by Global Experience Specialists (GES). As always, Trend Tracker provides once again a rapid-release checklist of trends. Go through the list and check-off the ones you're activating now. Circle others you know you should. And make a list of the ones you'll need to learn more about in 2015… and beyond.