VIRTUAL PLATFORMS INDEX 2023
CAMPAIGN: 2022 Fan Forum
CLIENT: Brentford Football Club
AGENCY: BlueJeans by Verizon
BACKGROUND
Brentford Football Club was promoted in 2021 to the Premier League, the highest tier of English football. With in-person events resuming after a hiatus during the pandemic, Brentford was looking for a way to spark interest in their fan forum again, which allows supporters to interact with senior club representatives and gain an understanding of the club's strategies for the future, both on and off the field.
THE CHALLENGE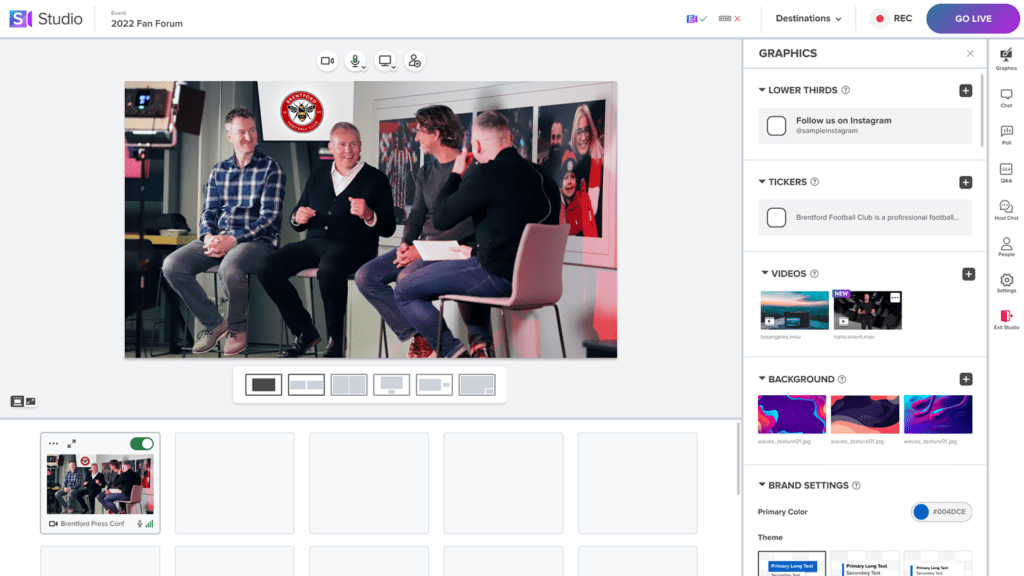 Brentford wanted to attract a large turnout for its Fan Forum and provide the best possible experience for attendees. "Why restrict the number of participants to the venue's capacity? We decided a hybrid event would open up the forum to more fans by giving them the flexibility to participate in person or online from anywhere," says Sally Stephens, Fan and Community Relations Director.
THE SOLUTION
Choosing a virtual event platform was straightforward, according to Technology Director Mike Morris. "BlueJeans offered a unified platform for our events and in-house meetings — and it easily integrated with our existing IT infrastructure," he says. Importantly, BlueJeans Events offered all the capabilities the club needed for the Fan Forum.
THE RESULT
The result was a resounding success. More than 500 supporters attended the 2022 Fan Forum — doubling the capacity of the club's venue, thanks to the inclusion of online participants. Using BlueJeans Studio, the virtual production platform for BlueJeans Events, the team was able to easily create and manage live streams. "Muting the presenters, switching between videos and graphics, and ending a stream were simple," says Morris. "It was easy to navigate around the platform, enabling us to focus on creating an engaging event." The platform also made it simple to add different backgrounds and graphics to the live stream in real time. This allowed partner logos to be displayed prominently throughout the session. Event breaks and messages could also be uploaded throughout the evening. With the great success of the forum, Brentford's hybrid events are here to stay and will play a key role in the club's quest to remain successful on and off the field. "It's the future for our events, allowing people to participate from the comfort of their homes or anywhere else if they're unable to attend in person," says Stephens. "We plan to use BlueJeans Events and Studio again in the future."
---
CONTACT INFORMATION: