College students lend credibility to top brands as on-campus ambassadors
College students are a desirable demographic for marketers who each fall pack up their samples and head to dormitories, quads and student centers around the country. Some sponsor parties or other fun events. Others have forged a deeper, more enduring connection with the college crowd by enrolling students as on-campus ambassadors for their brands. Turns out this is a pretty smart move. According to the 14th annual College Explorer study by re:fuel agency and Crux Research, the college crowd wields $545 billion in total annual spending power, including $163 billion for spending on food, cars, clothing and more. And who better to lend credibility to a brand than a fellow student?
Here are three college ambassador programs that aced the test when it comes to marketing ingenuity for the university crowd.
Delta Air Lines
Delta Air Lines entered into multi-year agreements with nine colleges that enlist on-campus college student ambassadors, one from each of the colleges, to help integrate the brand more holistically into campus activities such as freshman move-in day, midnight madness events and tailgating, all to form a deeper connection and build its loyalty program with these savvy future fliers.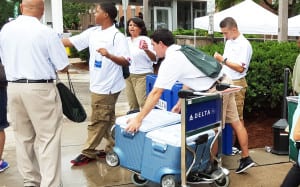 Delta recruited the students over the winter, then sent them on an eight-week internship at the airline's Atlanta headquarters that included a week in New York City for a deep dive into its brand marketing.
"The interns added a cool layer of insight of what it is like on campus and what we should be doing there in terms of messaging," says Annika Schmitz, general manager of sponsorships and social media  at Delta. "Now they are acting as our eyes and ears on campus and helping us with plans" (Agency: Octagon, Norwalk, CT).
Ford
Ford's College Ambassador Challenge returned, this time at eight colleges and in partnership with Zipcar, the car-sharing network that already operates on 475 campuses across the U.S. At each of the eight colleges, a team of four people comprised of a captain and three members competes in challenges that rev up the brand's visibility across campus as they share their experiences on social media.
Their first challenge was to create an Instagram video depicting a day in the life of a college student, then bring in the most votes for it. A second challenge involved creating a "Drive for a Difference" test-driving event at their schools in which students could go for a spin in three different Ford Zipcar vehicles. Ford donated $20 for each test drive to the charity of the team's choice. A final challenge sent the students on a social scavenger search in which they captured photos with the car and were judged on creativity, brand relevance and social engagement.
Winning team members, if they are seniors, get to interview for a full-time position at Ford, and if they are juniors, will have an internship at the company. "One of the benefits of this program is that it has been able to identify students who are interested in a career in automotive and have a passion for working at Ford, and bring interesting and new ideas to our marketing and sales organization," says Amy Green, marketing development specialist at Ford, who adds that one of last year's interns recently accepted an offer.
Essence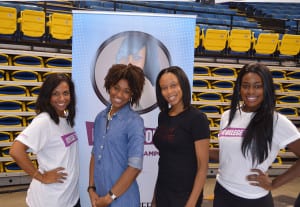 Essence launched its College Ambassador Search, an effort to identify three students to represent the 45-year-old brand on three campuses. The ambassador search grew from the magazine's annual Essence College Tour, which traditionally brought a day of workshops, clinics and visits by editors and advertisers to three campuses.
"Many of these students have grown up with Essence. It is a staple in their homes. We were looking to build programs and brand extensions to connect with that millennial audience," says Jocelyn Langevine, director of digital sales development at Essence.
"We could go out and hire college-age editors, but we were looking for someone who wanted to be connected to our brand. Providing that authenticity is key for us."
The campus ambassadors spend eight to 10 hours weekly creating videos and social and blog content for essence.com in return for a stipend, a one-year subscription to the magazine, invitations to Essence events and discounted and free merchandise.

*This article was originally published in 2015 and is updated periodically
See also:
• Digital Content Amps up Ford's College Ambassador Program
• Panera Embeds Student Ambassadors on Campus
• How to Cultivate Authentic Brand Ambassadors
This story appeared in the December 2015 issue