When USG Corporation, manufacturer of building materials for the construction and remodeling industries, began looking for a platform to activate an overhaul of the company brand, it saw parallels between the Olympic Games and the "plan to win" strategic vision it had laid out for the company. So USG secured itself as Olympic sponsor of Team USA (and Team Canada) for the Olympic and Paralympic games in Sochi in 2014 and Rio in 2016, giving the brand rights to emblazon those universally-recognized five rings on company materials, as well as access to the team and athletes to serve as promotional ambassadors.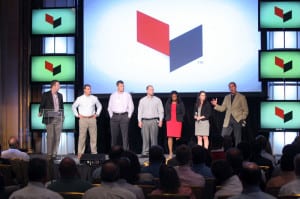 For USG, the sponsorship offered an opportunity to re-energize the company and grow the business domestically and, importantly, internationally. But the sponsorship also offered a key moment for the brand to rally the troops after a challenging set of years following the 2008 recession that included dramatic restructuring, and to do so with an internal announcement its employees would never forget.
The brand developed a top-secret strategy involving a seven-city live simulcast announcement on Oct. 1, complete with pre-produced and live video segments, a surprise brand ambassador training mission and post-event brand immersion parties, all designed to turn the page toward a new chapter for the company, all in one powerful day (Legacy Marketing Partners, Chicago; Resolution Productions Group, Chicago, handled).
"When you look at the journey that the athletes go on to get to Olympic Gold, it's very similar to the journey that USG has been on; we've had to overcome adversity, we've had to really think about changing our game plan," says Linda McGovern, vp-marketing at USG. "We wanted to make sure that people understood this was not just about a new logo; it was a much bigger initiative that was very tied to our business strategy, and the vision for the corporation."
Enlisting Employees
This mission had executive support, but USG wanted it to have bottom-up support as well. Two days prior to the actual launch day, USG flew 40 employees hand-picked by James Metcalf, ceo, to a leadership summit in Colorado Springs, CO, home of the U.S. Olympic Team training grounds. USG sent each a FedEx invite with few details to their homes to keep the mission under wraps.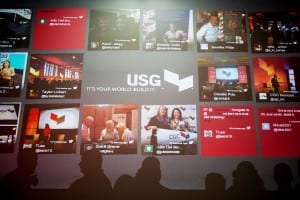 "We talk a lot at USG about leadership at every level and the fact that no matter where you are in the organization, or what level you're at, you can influence the people around you, and so we picked people from our plants, from our distribution center, from our international operations, from our home office, 40 individuals at different levels within the organization, and with different years of experience," McGovern says.
Over the course of the two days, the weekend prior to the Tuesday announcement, these chosen employees were immersed in training sessions on the new brand messaging and how to leverage it within their local markets. USG created hashtags and trained the ambassadors on social media and on its own internal Yammer site. There were Olympic experiences that paralleled business principles, like Judo (understanding how to deconstruct and overcome the competition with laser focus) and Paralympic volleyball (allowing one to see where their weaknesses are, and overcome them).
Equipped with a rebranding toolkit, the ambassadors were then divided and posted at the seven announcement sites the following week—Atlanta, Baltimore, Chicago, Dallas, Los Angeles, Mexico City and Toronto—where they would help engage and influence their peers. Their responsibilities eventually will also include presentations at their offices, and volunteer missions at events leading up to the Winter games—all to help activate the new brand and sponsorship.
Rumors Fly
The day of the simulcast, employees gathered on-site for what they thought was a routine meeting with the executive team. Since it was uncharacteristic for the company to have a second meeting of this type, naturally, rumors began to fly. Once employees were seated, the meeting opened with celebrity broadcaster Greg Gumbel on the screen. The simulcast featured interviews with Gumbel, Metcalf and McGovern, each "slowly unraveling and peeling back the onion."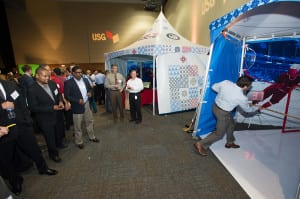 "I think people were astounded," McGovern says. "We reflected on the fact that the journey we'd been on as an organization hadn't been easy, but that we're going to come up stronger, that our plan to win, our strategy, is working, and now we have a new brand."
Throughout the simulcast, the lighting concept slowly changed over to the brand's new colors and logo. Video played in-between live news segments, and the event wrapped with a live Q&A featuring Olympic athletes. Employees then enjoyed an hour-long after-party painted in the rebranding and featuring experiences designed to drive home the messages from the simulcast. There were medal-winning Olympic athletes on-site for a step-and-repeat photo shoot; video games and a dramatic FeedMagnet Word Cloud display that pulled in tweets from employees all over the country.
A Fresh Start
USG also crafted in-office surprises. When employees walked into work the next day, their offices had been transformed through big and subtle changes, all reflecting the new brand—everything from the carpet runners to a new website and an internal Intranet site launch. The brand even plans to make use of elevator display space, by featuring the face and profile of each company ambassador on a rotating schedule.
At their desks, employees' phone screens were changed over to the new logo, screen savers on computers were converted, and then, each employee received a box on their desk, containing a new book on the brand, pens, note pads and key chains. USG employees the very next day were able to start fresh, pen in hand, with a new brand and a lasting dose of inspiration on the brain. Gold medal effort.
From the November/December issue
This story appeared in the Nov/Dec 2013 issue