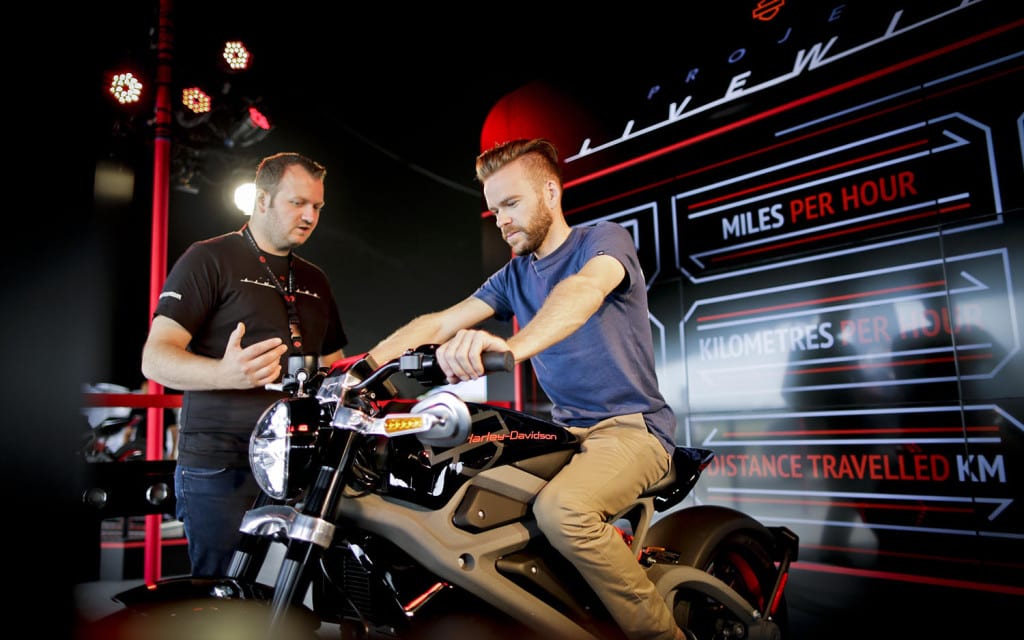 Harley-Davidson's Project LiveWire Experience Tour, which last year reached more than 15,000 Americans, has unplugged its electric motorcycles, slipped into its leather jackets and helmets and headed out for a spin through Asia and Europe. The tour, which launched with media and invitation-only consumer rides at Malaysia's Sepang International Circuit on Feb. 25, will continue through the fall and includes 13 stops in Canada and the U.S.
As an iconic international brand, Harley-Davidson is well versed in the challenges and opportunities of going global. For its 110th anniversary in 2012, the company activated large-scale celebrations around the world that culminated at its Milwaukee headquarters and even included a Papal blessing at the Vatican. However, Project LiveWire is its first large-scale global product campaign. The goal: to introduce LiveWire prototype electric motorcycles to new riders and to gain insights from a global audience on its first foray into electric motorcycle technology.
"We want to show the forward thinking of Harley-Davidson and provide perhaps what is for a lot of people an unexpected move by us," says Matt King, integrated communications manager at Harley-Davidson. "We see Project LiveWire as an opportunity to show the world what Harley-Davidson is capable of dreaming about and eventually producing."
The global Project LiveWire experience has the same look and feel as the brand's domestic tour, which sent two fleets of 11 LiveWires around the country for influencer events, consumer engagements and test drives on city streets. For the less adventurous, a stationary demo model offers a simulated riding experience that syncs with a visual display of a giant wave image as riders rev up the bike. Attendees also can try on a concept helmet, a possible accessory for the LiveWire, with a built-in Google Glasses-type of monocle display. Other engagements include a Twitter-activated vending machine dropping Harley-Davidson swag (translated into the local language, of course) and social-media sharing stations for attendees to upload photos of themselves on the bike.
But as smart event marketers know, translating your swag into the local lingo is hardly all there is to taking a U.S. program global. Three tips from Harley-Davidson on how to weather your first foray into international waters:
1. Adapt To New Challenges
One of the biggest challenges for the tour is product-related. Since the LiveWires are in pre-production and not yet for sale, in some countries they couldn't be ridden on public roads. In Malaysia and Europe, for example, the test drives will take place on closed-course locations instead of on the streets, necessitating additional legwork to locate those venues. In Canada, they can be used on public roads, but with limited approval for a defined period of time.
Another challenge: the fleet is somewhat smaller than it was in the U.S., which means fewer bikes for more riders. So in Europe, consumers can enter a contest for a chance to be one of the first 1,000 people to ride Project LiveWire at one of five locations in the U.K., France, Germany, Italy and the Netherlands from May to August.
2. Get Feedback
Consumer and dealer feedback, a major component of Harley-Davidson's domestic LiveWire tour, remains as important as it was last year as the brand seeks input from potential riders in emerging markets. "They see our brand from a different lens and we want to get all that feedback," King says. "We are very serious about producing electric motorcycles, and as we study the technology and hopefully help propel it along and wait for it to mature, we are gathering the information to understand what is a successful Harley-Davidson electric motorcycle really going to be able to deliver to the customer."
3. Don't Go It Alone
Harley-Davidson's experienced internal staff manages the entire tour, including the main logistics of the event, however it does rely on agencies to develop and produce marketing support materials, signage and partners in local markets as necessary to handle logistics such as security, trash pick-up, building concert bandstands and more. For the 110th anniversary celebration in Rome, Harley-Davidson actually worked with the Vatican.

Related links:
• Harley-Davidson Takes Project LiveWire Global
• Inside Harley-Davidson's Prototype Feedback Tour
This story appeared in the August 2015 issue