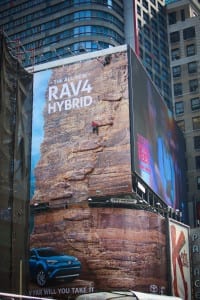 Toyota's RAV4 Hybrid vehicle has done well with city dwellers, so to reinforce that relationship while simultaneously making a statement during the New York International Auto Show, Toyota asked consumers to look up. Way up.
From March 22-24, the brand transformed two billboards at 47th street and 7th avenue in Times Square into a custom fabricated 3D rock wall and then challenged four people to climb it. Three professional climbers and one novice ultimately scaled the 10-story-tall by 100-foot-wide climbing wall. The novice, Christina Fate, a Team Toyota rally car navigator, was "put to the test" after completing a four-week training program (all captured on film which Toyota leveraged across its platforms to drive buzz). The live-action billboard highlighted the RAV4 Hybrid's "How Far Will You Take It" theme, which aims to tap into consumers' passion for adventure.
"We wanted to create a buzz throughout New York City during the auto show especially that had people talking more about the RAV4 Hybrid vehicle than they were talking about, perhaps, some of our competitors that were at the auto show," says Jack Hollis, gvp-marketing at Toyota USA. "As a brand, we keep trying to push the envelope on new things and first-evers and that's what we did here—that's how we're 'going places.'" Agency: Saatchi & Saatchi, Los Angeles.
QUICK FACTS: TOYOTA'S SCALABLE BILLBOARD
117 — Hand holds installed
2,400 — Construction hours
6,000 — Weight of the build-out, in pounds
10-15 — Minutes it took for a pro to climb
WATCH: Christina Fate Trains for the Ultimate Climb