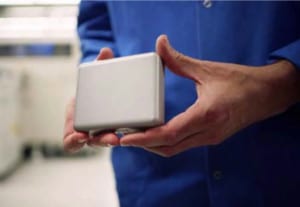 For years marketers have relied on video, surveys and anecdotal data to gauge in-booth engagement on the show floor. At the New York International Auto Show April 1-12, Toyota leveraged beacons—small, silent trackers that captured attendance, dwell time, inbound and outbound traffic flows and engagement at specific zones. While beacons are expert at helping to drive frictionless experiences, in this case, beacons drove frictionless data collection.
How it worked: A geo-fence was dropped over the booth, recognizing 60-plus beacons installed underneath vehicle displays and within key engagement areas. Beacons searched and pinged (anonymously) anyone with a Wi-Fi-enabled smartphone device that stepped within a pre-determined radius of each beacon (100 feet, in this case). Each smartphone represented a unique visit, and the configuration of beacons enabled exact location tracking through triangulation (George P. Johnson handled).
Among reporting results was a heat map of engagement based on zone. But it went even deeper than that. Overall booth analysis metrics included unique vs. repeat visitor stats, impressions (passerby plus pass-through plus dwell visitors), bounce rates and the number of visitors within an allotted time.
We chatted with Don Johnson, Toyota's auto show engagement manager, for the scoop on the brand's beacon strategy.
EM: Was this your first experience with beacons?
DJ: We used them at our National Dealer Meeting last year. We have all these displays inside our auto salon, and we talked with our IT department about how we have static displays, but can't push anything to attendees. So we implemented beacons, and when a dealer approached a certain vehicle we pushed that dealer a video and some information on that vehicle. We also had it when they approached certain food stations—their name would come up on a TV with the first vehicle they ever owned. It was something different, a conversation starter.
EM: What were your goals in implementing beacons at the show?
DJ: We do research at all of our major auto shows, at-event research and post-event research, and one of the things we're always interested in is trying to find out how people interact with our display—where they enter, where they leave, where they spend time and how much time they spend, because then we can take that information and say, "You know what, this engagement over in the corner, it's not getting much activity, let's pull that off the floor. Let's put a different engagement on the floor." We get information from our product specialists from our research, but it's more opinion-based. This is fact-based.
EM: Where do you see beacon technology headed in events and exhibits?
DJ: The opportunity for the consumer to participate and get information that they want I think is huge, and a huge win. We have a lot of displays at malls and sporting events where there's not necessarily a product specialist there, so now with beacons and an interactive wheel stand app, you can do a bunch of different things. The technology allows it to be a much more interactive experience.