What the Daytona 500 is for auto racing, the International Consumer Electronics Show is for event marketing. CES has become an unofficial annual kick-off for this industry—with big brands, big budgets and big experiences uncorked in Las Vegas the first week of January.
For many an event marketer, CES is not unlike an economic forecast. The show is used to get a feeling of budget lifts, what's happening, who's doing what (and why)… and where experiential marketing is going. After all, where else can you spend the morning with Intel and LG, the afternoon with Samsung and Under Armour and then wrap things up with Audi and American Express before dinner? Exactly.
After more than a decade, nobody can cruise CES like we can. Not only do our editors know how to cut from North Hall into South Hall quicker than most LVCC security guards, we have the inside scoop on where all the action is. The challenge, obviously, is that there's a whole lotta action. And so this year we've decided to give you a taste of 10 notable experiences, from Intel's all-new kit to Samsung's in-booth experiential rooms to Audi's caged monolith. Here we go.
10. Polaroid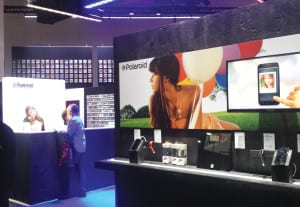 Yeah, we didn't know either. The reincarnated Polaroid is now a global manufacturer of smartphones and televisions. Here in the U.S., the company is mounting a comeback using its line of social media-inspired shareable printing products. At CES, it all came to life in a well-conceived (and constructed) booth that mixed old with new—reclaimed barn wood mixed with LED stripes, old school materials blended with new-age mod cues. Design and Build: Skyline.
9. Belkin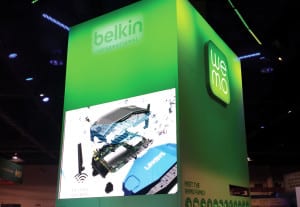 If you were walking too fast in South Hall, you may have missed it. But if you slowed your roll, you would have seen that the Belkin footprint was actually three booths in one: one space designed and built for Belkin, another for Linksys and a third for the WEMO division. And it all worked—each had a dedicated area with its own look and feel—as all three blended together inside one space. A great lesson in spatial division.
8. American Express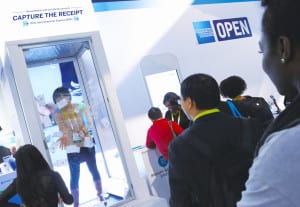 For its OPEN small business unit, Amex tapped into the CES 2015 audience with a booth designed to show off the tools and solutions available to businesses that use American Express. The anchor: a "Capture the Receipt" gamification experience in which contestants had 30 seconds inside an air booth to grab as many business expense receipts as possible. Then they matched codes from the receipts against a monitor (and in front of an audience) to win gift cards and t-shirts. Gets our award for the booth with the best emcee at CES—and we give Troy huge bonus points for explaining to attendees why the hell American Express was even at CES in the first place. "For those who are wondering why we're exhibiting at this trade show, we're here because many of you are business owners and we wanted to come here and spend some time with you." Mom was right—telling the truth does feel good. Agency: Momentum Worldwide.
7. Panasonic (Most Improved)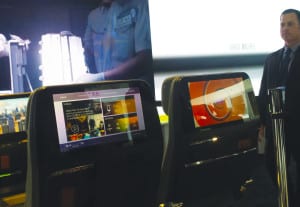 For years, our CES reports ripped Panasonic's exhibits to shreds. But with an all-new kit, the company has finally slapped us across the face and silenced us. The slick, high-tech area brought to life the many facets of the Panasonic brand, from televisions right through to nanotechnology.  In the center of the space was a huge social wall (possibly) borrowed from the company's stadium solutions group. Overall mantra for the exhibit: "Building the foundation of connectivity." And the company did just that, with connected home zones and a flow that was smooth, presos that were informative and some "living" demos (in an Adventure area, for instance, Spartan athletes gave demos of the company's outdoor and rugged cameras, headgear and earphones) that proved action-packed. Featured the company's full camera line, security products and retail-smart SKUs. Also showed off what 8K content will look like when the 2020 Olympics upgrades the definition of its broadcast (in case you were wondering, it looked pretty good). Design and Build: Czarnowski.
6. LG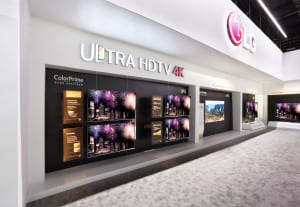 With one of the largest product inventories of any exhibitor at CES 2015, LG gets our kudos for designing a thoughtful blend of space, flow and experience into a footprint chock full of kitchen appliances, audio solutions, washing machines, wearables and, of course, about a zillion models of televisions. Brought its "Innovating for a Better Life" tag to the floor. From our entrance point, we walked into a space with a kitchen zone on the left, followed by a wearables area and then a smart audio section. On the right, vacuums, fridges, washers and a premium Black Diamond kitchen line. From there, it was all about the  televisions, from the 98-incher to the 8K bad boy to the "Perfect Black" Ultra HD. Earns extra points  for the spacious and open center area. But then loses those extra points for Ashley Kleinstein, the p.r. person manning the media check-in desk who told us when we arrived a little early for our scheduled tour that we'd have to come back, "because I haven't eaten all day and I need to eat." We skipped the tour. Design and Build: The Taylor Group.
5. Samsung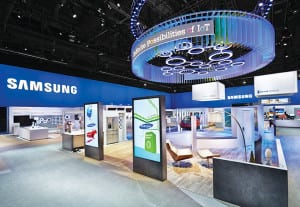 The biggest footprint at CES 2015, an iconic white fortress seen from virtually all corners of Central Hall. The refreshed Samsung booth featured a wraparound blue ribbon across the top of the interior walls, a nice (and needed) dash of color to the hospital-white structure. New this year, a series of three b-to-b "experience rooms" bringing Samsung products to life within offices, hotels and TV/digital signage settings. Nice job accenting the sea of televisions with dedicated spin-off areas. Example: A wireless audio room featuring curved walls and speakers hanging from the ceiling. Designer: MDLab. Builder: MC2.
4. Microsoft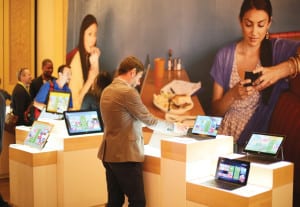 For years our editors watched as Microsoft's many product groups activated CES individually, with dozens of meetings and events peppered all around Vegas. No more. The company's push to create experiential "alignment" between products and messages was realized at CES 2015, where it created a Microsoft Experience Center at The Venetian. Like a mini executive briefing center, for the first time a single environment brought together 16 Microsoft stakeholder groups (including Retail, Office, Lumia, Windows 10 and others) under one unified brand and voice. The environment (managed by a single logistics team) featured a hip, central welcome lounge in which each product group demonstrated products. And there were also some 60 breakout rooms (up from 30 last year) used for more than 700 scheduled meetings with partners, prospects and clients. Editor's note: Sometimes it's worthwhile to point out the small stuff—the power strips in the Experience Center were international power strips and one of the welcome lounge's check-in counters was built lower to accommodate wheelchair-accessible guests. Agency: FreemanXP.
3. Sony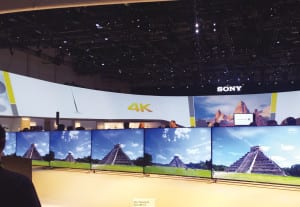 The gorgeous new kit from Sony was designed as a circular environment that you literally stepped into. The natural color scheme provided the backdrop for a string of different zones that spanned televisions, imaging, PlayStation, sound, mobile and an incredible private Life Space UX zone showing off the home of the future (people waited in line for up to two hours to get into the Space). Had the best wayfinding of any booth at CES—interactive totems and digital maps showed guests exactly where they were while countdown timers in different areas let folks know when the next presentation was going to start. Design: Kaz Ichikawa.
2. Audi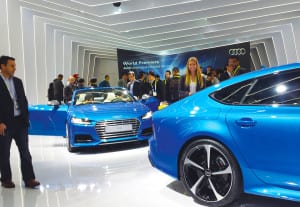 What a design—if every exhibitor took the look and feel of their CES space as seriously as Audi, this recap would be 200 pages (and we'd include Sharp in our coverage). Depending on where you were standing, the jaw-dropping caged metal exhibit was either airy and spacious… or private and walled. Inside, a tech lab showed off the latest and greatest tools and technologies being embedded inside Audi makes and models. The biggest spotlight was on the self-driving prologue pilot driving technology. Having a near enclosed pitch-black section in the rear of the booth housing an R8 added some mystique, although with so many sexy vehicles in the space, it may have been overkill.
1. Best of Show: Intel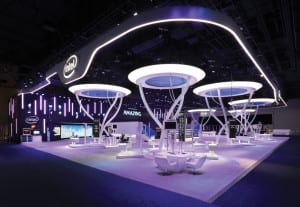 Was there ever any doubt? With an entirely new exhibit for 2015, Intel sent a simple message to thousands of other CES exhibitors: You can't touch this. Fact is, no other footprint had the strategy, the design, the simplicity and the engagement that Intel did—and no exhibitor spends as much time and energy activating CES. To all the companies that started CES planning last fall, you should be ashamed of yourselves. Intel started a week after CES 2014 ended. Get it? Got it? Good. Let's talk about the booth, people.
The massive footprint was created to bring to life Intel's shift to more of a "bold and unexpected" brand. As usual, the design was created around Intel's longstanding rules for CES—that people eat with their eyes, that a booth needs to be open/inviting and that there needs to be kinetic interactivity. The booth had six demo zones, each defined by a futuristic tree—or beacon, as Intel called them. Each zone had a dedicated brand ambassador talking about that specific area's products and tools. In the middle of the footprint was the booth's living room, a park-like center area with a stage for discussions and a modern take on bleachers for attendees to sit on. Above the stage, a social media ribbon showed off Intel content and trending keywords. Beyond the bleachers, a tech tunnel promoting Intel's RealSense technology mixed gesture and touch interactives and social share photos. Upstairs, 10 meeting rooms, a few lounges and a private social media command center in which the company's social team monitored trends and connected the booth's content to trending topics, hashtags and videos. And at a show where 90 percent of the booths are mazes, consider that amid the entire Intel booth's open footprint… there was one wall—"trust me, simple is hard," Intel experiential manager Victor Torregroza told us on a tour. Bravo. Design and Build: The Taylor Group. Technology: Milk Studios. Staffing: Professional Staffing Services. Activation: LeadDog Marketing.
Worst 50×50 Booth at CES 2015: iLuv
We only do this because we care. Sometimes you need some tough love. And iLuv… we need to talk about your booth, sweetie. The stark white 50×50 featured carpet that didn't line up, a hanging brand sign attached to what looked like a fishing pole, exposed wall seams and strange fabric (somebody told us it was toilet paper wrapped around the truss chains) hanging down from the rafters into the booth (see photo, above). The walls were wrinkled and had holes in them. The employee in the booth admitted the booth was four years old and probably needed an update? Ya think? Design and Build: Skyline.
Notes From The Show Floor
We liked: The use of matching faux wood on the floor and ceiling of the Hisense booth… the exterior of the iHome booth, designed with window displays like you'd find outside Fifth Avenue department stores… the central stage at the Ford booth, with discussions and panels that drew almost as many eyeballs as that new Mustang… TCL's glowing soft plastic exterior that looked more like the Coke pavilion at the London Olympics than a booth at CES… Under Armour's exhibit (Agency: George P. Johnson) at The Sands that combined high-tech kiosks promoting its Record app platform and a steady stream of sports celebs coming to sit on stage and chat… the outdoor "auto parking" demo lot in which Volkswagen let attendees get in cars that parked themselves…
…accessory company Fellowes' booth built around an actual skateboard ramp. Like, there were real dudes doing real flips in the middle of the booth (while using Fellowes' accessories)… the Facebook-owned Oculus Rift, which eschewed its usual private meeting space for a legit two-story booth in the middle of South Hall. Best parts? One, the private VR Gear rooms offering up one-on-one demos, built with glass windows so folks could watch from the outside. One-to-one-to-many. Also, Oculus required the download of an Oculus@CES app in advance if visitors wanted to take a demo of its new Crescent Bay prototype… solar charger device maker Waka Waka, which used its space (Agency: Sparks) at the Sands to raise awareness for its crowdgiving model: it donates one charger to Ebola workers in West Africa for each one sold. Amid a sea of exhibits, this one had a message that matters (and they were serving grilled cheese).
This story appeared in the Feb/March 2015 issue