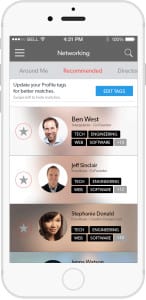 South by Southwest, and its conference and festivals spanning music, film and interactivity, is known for pushing boundaries and introducing trends. Especially when it comes to technology. At this year's SXSW technology was, in a sense, omnipresent as organizers conducted what they called the largest deployment of iBeacons yet at an event.
More than 1,000 proximity beacons were placed in and around hundreds of SXSW venues during its run, March 13-22, forming what were essentially micro-locations all over Austin. Working with the official app SXSW GO 2015, handled by Eventbase, along with partners Gimbal, RightRound and Urban Airship, the program was designed to enable attendees to make frictionless and relevant connections to content and to other people, based on where they were located.
"SXSW has always been about discovery—new brands, new films, new technology, and discovering new business connections," says Scott Wilcox, director-technology at SXSW. "Instead of just walking up to someone and hoping that you might have something in common, our attendees were able to discover the people nearby that can help them further their business goals. We think that helped make for a wonderfully productive experience."
How does it work? iBeacons, as Apple coined them, utilize Bluetooth low energy (BLE)—different from regular Bluetooth in that it involves small bursts of information designed specifically to not drain a device battery. About the size of a deck of cards, beacons transmit a signal that can reach up to 150 feet. A phone hears the signal and reacts to it, even if it's in a pocket—and even if an event app isn't open. Also referred to as proximity beacons, the notifications pushed to a phone are location-based. And, unlike GPS technology, it works indoors. All you have to do is switch on the device's Bluetooth setting and opt-in.
Here, three beacon-based program highlights from SXSW:
Relevant networking
A key feature of the iBeacon deployment was the attendee-networking tool called SXsocial. When attendees walked into a room, a beacon transmitted a notification to their phone, asking if they'd like to check in and see who else was in the room. From there, they received a scroll of profiles of people in the room with similar interests, based on tags (event, mobile, etc.) people selected for their profiles using the "Attendee Match" feature in the official event app.
Schedule notifications
In addition to a prompt asking people to check in, when attendees entered a venue they also instantly received a notification of what's on via the "Around Me" feature. This included what bands were playing at the time, what films were being screened, or what sessions were about to go on. While this is all information that is included in the app, the beacons delivered it seamlessly without users having to seek it out.
Audience engagement
Beacons also instantly asked attendees to join discussions in session rooms via the "Session Live" feature. Attendees entering the session room received an alert that asked them to check in and join a chat thread, or answer real-time poll questions, as well as see tweets coming in related to that session-specific hashtag. This removed the need for a speaker to spend the time to prompt attendees to comment or engage. Instead, the iBeacons let attendees plug in instantly. Frictionless, you bet.
This story appeared in the April 2015 issue