The venerable camping music festival outside Nashville serves up authenticity and positivity
If there's one obvious sentiment at Bonnaroo, it's that people are happy. Event staffers are happy. Campers, waiting in long lines and hauling in equipment for the four-day music and arts festival, are happy. And from what we saw, the brands activating were pretty happy, too.
Marking its 14th year June 11-14 at Great Stage Park, an ever-growing 700-acre farm in Manchester, TN, the Bonnaroo tradition of happy, open, hot (scorching hot), humid, dirty, funny, tasty, community-building, eye-opening and, most importantly, ear-opening experiences is still going strong. Founded and produced by New York City-based Superfly, the festival attracts a solid roster of activating sponsors that take advantage of long-haul engagements with attendees on-site—a virtual sea of millennials (about 85,000 of them) with a few surprising demos sprinkled in.
Long on EM's radar, we boarded a plane to Nashville, drove an hour southeast, bathed in sunscreen and spent a few days on "the farm," as it is lovingly referred to. What we found? At Bonnaroo, brands offered a boost of comfort in what's otherwise supposed to be a gritty-in-a-good-way experience. This is camping, after all. They offered stuff to do. We saw many an air-conditioned oasis, exclusive and intimate sponsored music performances, and festival flair, yard games and workshops. Engagement is at every corner, whether it's joggers taking part in the annual Roo Run 5K, the morning yoga group on the lawn, a four-course dinner benefitting a charity, or a surprise-and-delight appearance by a New Orleans-style brass band weaving its way through the crowds.
Put simply, there is so much to see and experience at Bonnaroo that it's possible no two attendees experienced the same trip. Meaning, there are plenty of niches to carve out, and plenty of opportunities for your brand to make some music.
Most of the activity on-site takes place in Centeroo, the main village gated by tap-stations that keep track of ticketholders entering and exiting via their RFID wristbands. Inside Centeroo: six performance stages, vendors; Bonnaroo's famous Ferris wheel, an inflatable waterpark; the Silent Disco; the Cinema Tent, home to afternoon movies, premieres and special appearances; and the renowned comedy festival at the Comedy Theatre that this year featured, among the roster of acts, Chris Hardwick and Jeff Ross. Camping pods, marked by soaring numbered balloons, surround Centeroo. Here, a taste of what was inside.
---
GNC
"LIVE LOUD, Live Well"
Located in Centeroo, Bonnaroo's main activation, event and concert space on the farm, GNC offered festivalgoers an air-conditioned space to recharge and refuel, and perhaps get over their hangovers. The enclosed footprint (with storefront windows and walls) featured a fully staffed product sampling and sales bar where attendees could try a host of GNC nutrition and wellness products. Big beanbags sat in a cluster in the center of the room and nearby, lounge couches and device-charging stations sat at the ready. At a GIF booth attendees could choose from a variety of Bonnaroo backdrops and then pose for a series of images that were stitched together like a flipbook. On top of that, there was a patio area outside with a white picket fence and party lights hanging above that offered outdoor games (foosball, skeeball, cornhole and giant Jenga), hammocks and daily activities, like drum circles. GNC also served as presenting partner of the first annual Roo Run 5K Race. Agency: Superfly.
---
KOHLER
"Shower Out Loud"
As the official showerhead sponsor of Bonnaroo, Kohler activated a shower experience in the 10 camping and lodging areas on the farm (474 shower stalls in all). The shipping container structures contained two long rows of private showers and changing areas.
For only $5 (half-priced during off-peak "happy hours") festivalgoers could shower and test out new Kohler showerheads. One of the showerheads called Moxie is Bluetooth enabled, so attendees could listen and groove to music while cleaning up. Open from 7 a.m. to 7 p.m. over the four days, staff handed out free drawstring backpacks containing lip balm, temporary tattoos and coupons as part of the deal. From sweaty and dusty to squeaky clean. We all thank you, Kohler. Agency: Superfly.
---
TEVA
"#Ready2Roo"
The venerable sandals brand nabbed a sweet activation space for the festival located in one of the campgrounds, or pods as they are called, called The Grind—a rustic barn with high ceilings, picnic tables, lounge seating and an artisanal coffee, pastry and cookie bar. (Frothyroo, anyone?)
Inside, Teva activated its #Ready2Roo Upgrade Lounge, where festivalgoers could pick up a Bonnaroo Survival Kit and other surprise and delights for wearing their Tevas. Attendees could reserve for purchase their very own limited edition Teva #RooShoes and DIY kit that included patches, studs, gems and thread to customize their sandals. On top of Teva's activities there, The Grind offered workshops and activities, from songwriting to Zumba to tie-dye t-shirt making. Agency: Becore.
---
FORD
"The Backyard"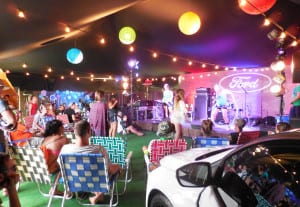 Located a stone's throw from Bonnaroo's famous Ferris Wheel, Ford activated a backyard-themed enclosed experience that also offered festivalgoers air conditioning. Much… needed… air conditioning. Inside the tented footprint: a performance stage, lawn-chair seating and picnic tables coated in chalkboard paint for doodling. There were yard games and exclusive, intimate performances from Bonnaroo comedians and musicians, in addition to prize giveaways and activities like hula-hoop classes (well attended, we might add). To get in, festivalgoers did a quick data collect on one of a dozen or so tablets at a shaded welcome desk to receive a rubber bracelet that blinked blue—a dual purpose giveaway to light up the nights with Ford branding during the concerts. One other cool detail: The brand gave away little seedlings it used for décor around the footprint on the last day of the festival. "Take home your little piece of Bonnaroo," a sign read. Nice. Agency: Team Detroit.
---
GARNIER FRUCTIS
"Bonnaroo Salon"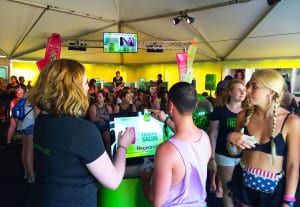 If it's one thing gals (and guys) desire at Bonnaroo, it's clean hair when possible and festival-dos. Hair care brand Garnier Fructis delivered. In this enclosed salon that was bustling every day—bursting at the seams actually—festivalgoers could get in line to register for a hair washing, festival braids and styling. The air-conditioned salon also featured a self-style station for quick touch-ups, cell phone charging stations, and temporary tattoo applications.
What we liked the most? The reservation system. Participants received a card with a code that was scanned before registering. They then sat in a waiting area at the center of the room to cool off before their appointment.  Screens mounted to stage lighting frame/trusses overhead displayed names in order of appointment. On top of that, the well-branded space was inviting, and despite the demand, organized. Agency: Amp Agency.
---
MTV
"Summer Pass"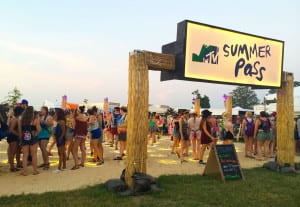 Adjacent to the Ferris Wheel was MTV's beach lounge experience, a beach club and hangout where festivalgoers could get custom body paint sessions, charge devices and snap pics at selfie mirrors, all while listening to djs spin. Like so many other experiences at Bonnaroo, the activation really came to life at night. In an art installation created by Jen Lewin (and presented by MTV), interactive disks that encircled the sandy footprint glowed and changed colors as attendees danced or stepped on them, creating a swirling light show. There were lifeguard stands all around the footprint, but even so, the view was stunning from any vantage point. Agency: Superfly.
---
NEW BALANCE
"Made in USA Craftsmanship Tour"
Located in the shopping/vendor area in Centeroo, New Balance's activation was an open-air workshop with laminate wood flooring and signage that emphasized the brand's Made in the USA messaging. At the front, visitors could take home their own piece of New Balance suede sneaker material, a square swatch that staff imprinted with the brand logo using embossing machines and affixed to a key ring. At another station, visitors could order up custom, screen printed Bonnaroo themed posters.
Toward the back of the activation was a timeline of New Balance as a company going back to 1906. Underneath it, a display case featuring a small portion of sneakers contained in collector Richie Roxas' inventory. He's been collecting since 1994. New Balance blended into the scene in this area successfully, and added a little industrial style to the row. Agency: Pierce Promotions.
---
ALEX AND ANI
"#StyledAtRoo"
Alex and Ani is an on-trend accessories brand, and was one of the more surprising additions to the activation landscape at Bonnaroo. In a tented 20-foot by 20-foot activation footprint, staffers checked in guests by registering (and having them agree) for news and updates from the brand. They received a metallic temporary tattoo of their choice and then proceeded to a craft table where they could choose from a variety of beaded and suede strands to create their very own festival headband. Attendees were encouraged to snap a selfie in a mirror and tag it. Agency: In-house.
---
RED BULL
"Red Bull Music Academy Bass Camp"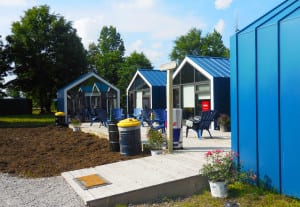 In addition to sponsoring a livestream of Bonnaroo on Red Bull TV, the energy drink brand for a second year activated the private Red Bull Music Academy Bass Camp, part of the brand's larger, worldwide Red Bull Music Academy program. The "village" featured permanent recording studios and living spaces designed for 20 artists handpicked by Red Bull to participate in daily workshops and hear lectures from prominent members of the music community. They also got to collaborate with each other and the lecturers, and record new music throughout the weekend. Additionally, Red Bull sponsored an after-hours RBMA stage for performances by the camp participants.
---
ANGRY ORCHARD
"The Challenge"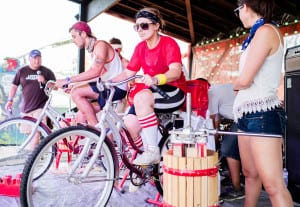 Generating awareness for its hard cider flavors, Angry Orchard hosted a 45-minute competition and activated a booth on the grounds. In the activation, consumers picked an apple (a magnetic one) off of a tree to reveal a number that corresponded with a prize. In addition, the brand hosted the longest pour relay competition and brought in a custom bike used to grind apples into juice for the game. Agency: Allied Experiential.
---
OTHER BRANDS
Oh yeah, there's more.
Miller Lite activated its New Music on Tap Lounge with a small, private performance stage and lighting frame/trusses. High top tables and comfortable seating dotted the footprint, and a banner along with jumbo misting fans, welcomed visitors.
Joules, British maker of trendy rubber "wellies" or rain boots, had a popular activation experience where festivalgoers could toss a boot onto a "bulls eye" a few yards away. "Welly Wanging," as it was called. Virtually everyone succeeded and walked away with a free pair. Interestingly enough, the activation walls featured really cool and cute graphics, but all other signage was done via construction paper and sharpie marker. No matter to this crowd.
Green Mountain salsa positioned itself right in the craft beer garden outside the craft beer tent, a ways from all other food vendors, to sample its product.
HBO in an under-the-radar activation next to The Other Tent (one of six stages on the premises) offered free Wi-Fi and a "Game of Thrones" photo activation—featuring none other than the Iron Throne. The network also hosted a viewing of the series finale.
Trojan… Oh, Trojan. We noticed you 15 minutes away from Bonnaroo's gates as we peered out from our car's windshield. Throughout the festival, the brand had a plane towing a banner overhead touting its "Bareskin" condom product.
---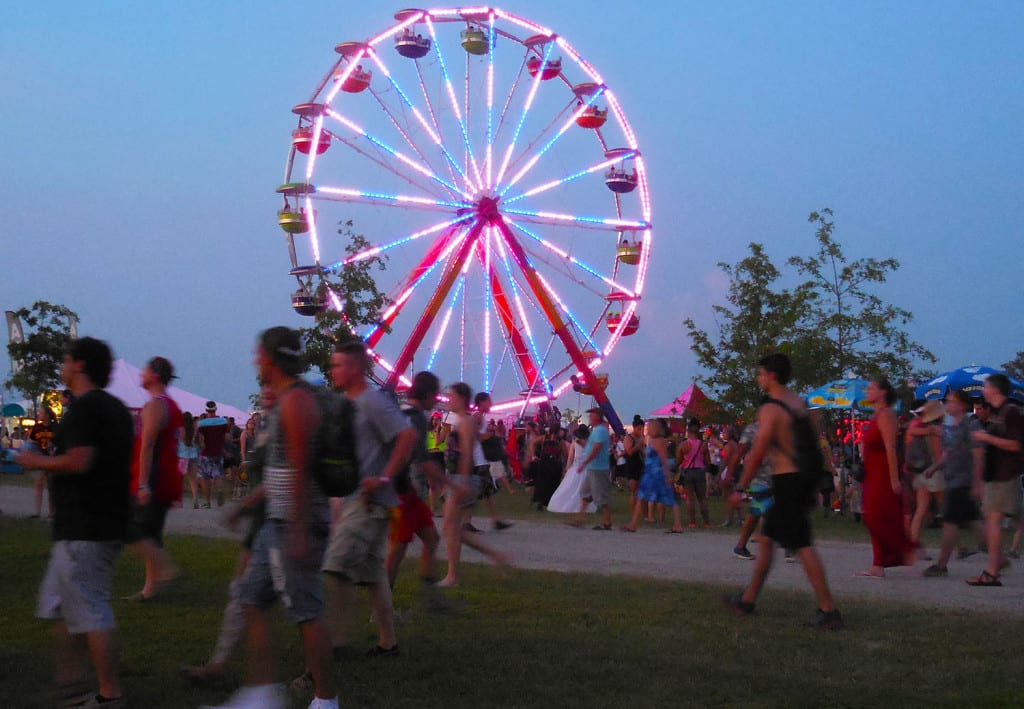 ---
TWO SURPRISING DEMOS ROO IT UP
Bonnaroo is surprisingly family-friendly—until about 8 or 9 p.m., when most of the headlining music is set to begin and won't end until the early morning hours. There is coexistence on this farm, and we submit to you the photographic evidence. (Hey, Honest Company or AARP… this one might be worth a one-day activation stopover.)
The Children
That screened-in baby pod, a blanket and stroller were all this family needed to spend a late afternoon napping in the shade and listening to performances nearby. We saw school-aged kids riding the Ferris wheel and picnicking with parents. And there was the seven-year-old kid who made headlines after he broke a Guinness World Record for most high-fives in an hour.
Granny Swagger
Can you say girls' night out? Bonnaroo's oldest attendees, these ladies have been friends for 50 years, according to multiple published reports. Several years ago one of them, who lives in Manchester, convinced the group to attend Bonnaroo together. And a Bonnaroo tradition was born.