Projection events have quickly gone from spectacle to strategy in just the past few years, transforming awe-inspiring light shows into buzz generating campaigns with unlimited viral reach.
Coca-Cola was one of the first to harness the power of projection when it decided to celebrate its 125th anniversary by wrapping all four sides of its 26-story Atlanta headquarters in a brilliant 3D display, one of the world's largest (Agency: Obscura Digital, San Francisco). Suddenly, this standard office building was transformed into a live and interactive event. Its attendees—anyone within eyeshot, and then, anyone with access to the web. The event's shelf life? Irrelevant.
Last month, CoStar Group, a Washington D.C.-based provider of real estate analytics and marketing services, held a special event for clients that included a 3D mapped projection to bring attention to its online commercial real estate marketplace LoopNet.com with the message "If a Commercial Property Isn't Advertised on LoopNet.com, it Might as Well Be Invisible." You guessed it—the display gave the illusion that a 12-story Los Angeles building had literally disappeared (Agency: Pearl Media, Fairfield, NJ).
The possibilities with projection are endless, yet it doesn't always mean mapping, going 3D and using skyscrapers. Beam's C by Courvoisier brand used mobile projection as part of a guerrilla marketing initiative in early 2012 to introduce its brand in key markets across the U.S. during big events like Super Bowl weekend (Agencies: Moderne Communications, New York City; Walton Isaacson, Chicago). Not a bad strategy to keep in your back pocket if you want to capitalize on an event where brands have already gobbled up prime real estate.
Projection strategies vary, as do budgets and concepts. Here, we give you an inside look at two brands' approaches—Verizon, to promote its FiOS services, and Ford Motor Company, to promote the relaunch of its Lincoln brand—how the projects came to be, as well as a few tips and takeaways.
Verizon FiOS
Verizon FiOS last April set out to incorporate a projection display into its Speed of Life Tour, a four-day program targeting consumers in Southern California markets where its internet, phone and TV service is available. While the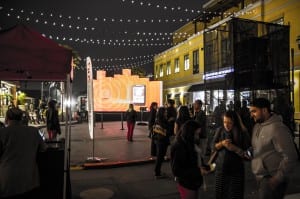 initial idea was to identify a high-rise building in each of the four city beach locations to display content about the product, the brand faced two issues—first, cost, as it would have required projection mapping four individual buildings; and, second, Southern California is not exactly known for its high-rises, especially near the beach.
The solution was to build a skyline structure that required only one mapped projection and that could be disassembled and transported from venue to venue (Agencies: Concept: BI Worldwide; Projection: Cue Labs, Minneapolis). The event footprint included tents where consumers could have hands-on experiences with FiOS and speak one-on-one with staff, as well as the skyline structure complete with a red-carpet viewing area. During each showing two consumers were invited to sit in director's chairs, eat popcorn and have their picture taken which was then included in the projection experience in real time. Afterward, they were given a QR code to access the video from the event microsite.
"These events were for new customers but also existing customers to see how the product has evolved or changed, because maybe they hadn't kept up with the new innovations," says Kim Cochran, director-marketing at Verizon FiOS California. "It was a way to stand out, to go in those high-traffic areas where the service is available and, for lack of a better word, make it a more in-your-face kind of thing, but fun. You could come and interact with the product as well as the street teams and that's really what made us want to go with [the projections]."
Since FiOS is all about technology, the high-tech nature of projection helped convey that product message to consumers in an engaging way that didn't require a giant hit to the budget. "New technology is expensive, so the hard part is forcing ourselves to try the new stuff and not fall to the tried and true, because the tried and true costs less and you know what you get for it," Cochran says. "This was a fun way to do it, to get the cost down and to be mobile."
About 8,500 eventgoers retrieved their content from the event microsite. All told, including social media impressions, Verizon was able to reach 1.8 million consumers through the Speed of Life projection and surrounding event activation.
Lincoln
Lincoln is a classic, premium American car brand, but it arguably has been represented, in consumers' minds at least, for many years as a service vehicle line that hasn't really stood out. Following in the footsteps of the Ford brand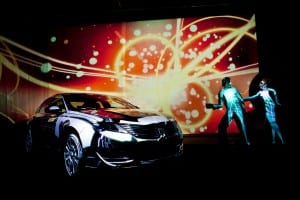 rejuvenation several years ago, Ford Motor Company set out to change this sentiment and to "reinvent the premium automotive marketplace" by relaunching the 90-year-old Lincoln brand as the Lincoln Motor Company with the all-new MKZ mid-size luxury sedan as the face of the campaign.
To bring the launch to life and to highlight the brand's renewed focus on style and technical innovation, the brand in December staged a press conference and nighttime projection event at Lincoln Center Plaza that involved mapping Avery Fisher Hall, a screened performance space, the MKZ vehicle itself and two actors—all as separate display components (Agencies: Artist/Curator: The Meta Agency; Art & Technology: Incredible Machines, New York City). The eight-minute projection told a story about a couple with the MKZ as a pivotal component of the plot. Features included the projecting of skeleton graphics and wardrobe changes onto the actors, the illusion of the vehicle moving against the backdrop, and a cool effect where the vehicle's "shadow" morphed to show an evolution of the brand's iconic
vehicles through the years.
For the Lincoln brand, projection offered an attention-grabbing opportunity to pique the interest of consumers, especially given the MKZ is the first of four new vehicles to be rolled out in the next four years.
"The launch of the Lincoln Motor Company in such a high visibility manner in New York this past December was to begin to get the brand's transformation into conversation with consumers and trend influencers," says Kim Cape, Lincoln brand marketing manager. "To best do this, we are engaging in creative and progressive projects and programs that make one stop and say, 'Lincoln did this? Wow, that's surprising. Wonder what else they're doing.' This is exactly the reaction that we had with the projection show at Lincoln Center."
To promote the performance, in addition to media alerts, brand ambassadors took to the city streets the day of the performance, handing out gift cards that included a special invitation. Hot chocolate and warm cookies were served as the projection display replayed every few minutes. Many stayed for multiple viewings.