"Game of Thrones" fans are a passionate bunch, so for its third annual Game of Thrones Exhibition tour, HBO amped up its footprint to create more opportunities for fans to snap and share photos, videos and other interactive experiences across their social media networks. The Game of Thrones: The Exhibition 2015 program kicked off in London on Feb. 9, and will travel to Stockholm, Tel Aviv, Madrid, Berlin, Amsterdam and Paris. At each stop, local HBO broadcast partners will offer subscribers and the general public tickets and exclusive access to the exhibition.
The Game of Thrones Exhibition invites fans to immerse themselves in the fictional world of Westeros. Attendees are first asked to register and "pledge allegiance" to their favorite character's house through a digital event companion called GOTExhibit.com. Once registered, they receive a video message from a character from the show thanking them for their bravery.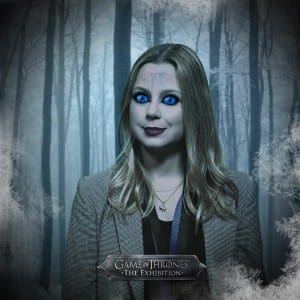 Inside, fans can explore scenes from the show and snap selfies with authentic props, costumes and weapons like the iconic throne. At a photo activation, attendees can transform themselves into a ghoulish White Walker through a CGI and facial recognition technology that delivers the photo right to their phones. At a video activation, fans can step in front of a fire-breathing dragon and instantly receive a video that depicts them being burned to a crisp. An Oculus Rift interactive from year-two of the program (Agency: Relevent, New York City), invites fans to put on a pair of goggles, step into an elevator and ascend the 700-foot ice wall featured in the show, and then experience the thrill (and terror) of falling once they reach the top. At the end of the experience, fans are rewarded with another special message from their chosen house's main character, and an exclusive blooper reel.
Rewarding fans and driving word of mouth is the central strategy for the three-year-old initiative, and this year's enhanced digital efforts were designed to help make it easier for passionate fans to share their excitement for the series and HBO.
"We earn a currency with our audiences and the fans that gives us more value than traditional advertising," says Elana Loewenthal, director of International Marketing at HBO. "We're giving them something to celebrate their fandom and the opportunity to get closer to the show that they love so much by seeing the artifacts straight from the set, and participating in interactive activities that really place them in the world of Westeros."
Loewenthal says that since its London event HBO has seen an increase in social engagement around the show. Agencies: PBJS, Seattle, Chicago; POKE, London; Publicis, London.