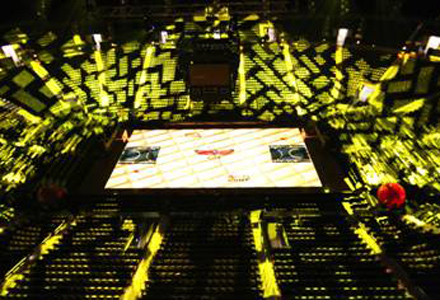 During the Atlanta Hawks vs. Cleveland Cavaliers game on Saturday Jan. 21 in Atlanta, the Georgia Lottery activated a 3D light show during halftime to introduce the new $2 Powerball game. The game was launched throughout the Lottery's more than 40 participating Powerball states on Jan. 15. This was the first time that any of the Lottery regions executed an experiential campaign to educate the public about the game, and the Georgia Lottery decided to do it during the basketball game to promote the program on a large scale to a diverse audience, and capitalize on its sponsorship.
The halftime show, which you can see on YouTube, was three and a half minutes long, incorporated six dancers and two mascots and ultimately created the illusion of breaking apart the basketball court's floor to display the journey of the Powerball through several gaming platforms and vacation retreats before arriving as a winning number in the iconic lottery machine. The light show was projected on the floor of the court and incorporated the dancers as moving parts of the machines. The Lottery's goal was to use the sports platform to engage with its target demo by creating a new experiential marketing angle.
"We have relationships with all of the local sports teams and every time we do an activation at a game, we look to highlight a key new product in a big way," Margaret DeFrancisco, president and ceo-Georgia Lottery, told Buzz. "We hope to build buzz about the Powerball game and the new jackpots, and we're hoping the other Powerball Lotteries will follow our lead to get the word out about the new features." Agencies: BBDO, Atlanta; Technology: Moment Factory, Montreal, Canada.