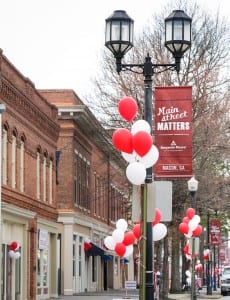 When residents and community leaders of Sea Bright, NJ, gathered on May 17 to celebrate the freshly painted storefronts along Ocean Avenue, they were among the latest of 20 cities to benefit from Benjamin Moore's Main Street Matters campaign. Main Street Matters is the paint manufacturer's largest effort to date to revitalize communities across North America.
"Main Street Matters is primarily a community relations campaign that we hope to build our brand in markets that may not be as familiar with us," says Kendyl Wright, experiential marketing manager at Benjamin Moore. "A lot of our dealers are on Main Street and our heart is in the independent business network. Our hope is that by shining a light on Main Street, we can shine a light on all independent business owners throughout North America."
The program kicked off last May in conjunction with Make It Right, a long-time partner of Benjamin Moore that was founded by Brad Pitt, who lent his voice to the campaign. A call for communities across North America to nominate their town resulted in hundreds of submissions. The entries were vetted and narrowed down to 144 communities. Online voting at paintwhatmatters.com and paintwhatmatters.ca determined the final 20 towns.
Benjamin Moore provides paint and supplies for facades, porches, railings, shutters and other exterior trims to cover approximately three blocks of each town's Main Street. Its color experts consult on the best choices to enhance the architectural style, regional influences and historic preferences of each community. Local Benjamin Moore retailers and field reps identify painters, photographers, carpenters and electricians from the community. Painting began last fall in Nyack, NY, then continued in January in Hilo, HA. So far, 15 of the Main Streets have been completed. The final one, in Halifax, Nova Scotia, will be finished by June 21. The program will relaunch in September with consumer nominations for another 20 Main Streets to be repainted next year.
Each community puts its own spin on the program. Some add community cleanups and small business seminars. Many Main Street businesses offer discounts on new signage and awnings. Some towns kick off the effort with a press conference; others hold mid-painting celebration events; others celebrate at the end. All of the celebrations involve local vendors such as bakers who create Main Street replica cakes as well as photo booths, djs, cookouts, free ice cream, discounts at local retailers and other giveaways. A scavenger hunt sends attendees to local businesses to identify the colors used on the buildings in return for a prize t-shirt. Local press outreach, storefront posters and Benjamin Moore's social media platforms (450,000+ Facebook fans and 58,000 Twitter followers) amplify the effort.
"The energy of the communities at these events exceeds anything I have ever seen, including celebrity events," Wright added. "They are so hopeful, excited, grateful and energized for what comes next for their town." Agency: Momentum, St. Louis, MO.