Whether you are a professional planner looking to infuse creativity into a corporate mixer, a startup company looking to "rub shoulders" with potential investors, or an entrepreneur pitching prospective partners, selecting a venue that will set you on the path to networking success is often the first and one of the most important elements in the planning process.  But, how do we avoid becoming overwhelmed by this key decision?
These creative tips below will ensure success at your next networking event:
Sync with Your Host
"In the past, finding one-of-a-kind spaces for networking events that would inspire communication and build professional connections was full of challenges.  Tech-forward platforms like Peerspace are engineered to create an efficient, ever-evolving ecosystem of idea exchange between space hosts and everyone who needs a unique venue—from the event professional to the entrepreneur" says Rony Chammas, CEO of Peerspace.  Browsing unique venues and leaning on the experience of space hosts will help you gather creative ideas, learn what is possible for a venue, and quickly hone in on spaces matching the aims of your networking event.
Intelligent Design
Communication and connection are the key priorities of a networking event, and the layout of a venue influences the way guests communicate.  Take a cue from tech giants and startups that design spaces to create "intentional collisions" between employees of different departments. Choose a space with a design that will encourage the type of communication necessary for achieving your networking goals.  A large, open space encourages casual conversations and mingling—perfect for creating opportunities for those important introductions.  A sectional space with comfortable alcoves will lead guests to gravitate toward more detailed discussions—perfect for pitching prospective partners.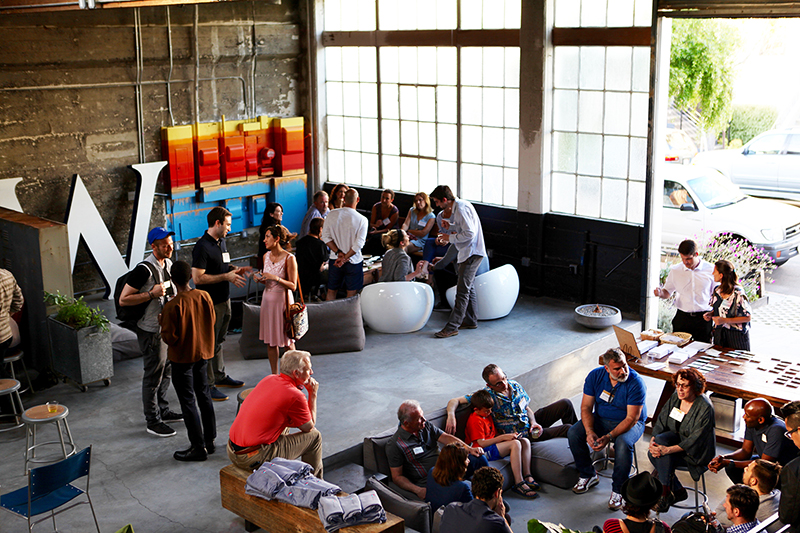 Link into Local Flavor
People often overlook the opportunities neighborhoods offer when planning a networking event.  "The unique neighborhoods where our spaces live are a tool for enhancing the style, brand, and ethos of individuals and companies" says Jai Singh, Head of Growth & Marketing at Peerspace.  A neighborhood rich in historical architecture encourages thoughtful discussion, a sleek, tech-centric, contemporary district instills confidence in potential investors, a pocketed community with distinctive, culturally significant structures provides a perfect backdrop to enhance the meaning at your event.
Symbiotic Logistics
Platforms like Peerspace make it easier than ever to find venues in industry hubs, and more events of all types are happening.  You have new possibilities to coordinate your networking event with large scale conferences, festivals, and other significant events.  Imagine the opportunity finding and booking a venue near SXSW in Austin can bring. By selecting a venue in an industry hub or large metro area and coordinating your calendar with other happenings, you supply opportunity and build motivation for maximum attendance.
Build the Buzz
The old days of basic ballroom events are quickly becoming a thing of the past, today, planners, companies, and individuals expect interesting, unique venues for networking events. A fully curated Caribbean style lounge with inviting outdoor elements sets a low-key tone and a relaxed, welcoming atmosphere.  An authentic converted Victorian home provides a fun formal backdrop encouraging guests to step outside themselves and feel royal for an evening.  Choose an out of out-of-the-box venue to set your industry ablaze in anticipation.
Discover more unique spaces for your upcoming networking events here.