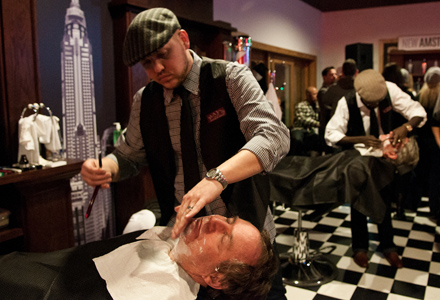 On Jan. 20, vodka brand New Amsterdam kicked off its old school barbershop experience targeting millennial males at the opening night party at the Slamdance Film Festival in Park City, Utah. The 10-foot by 20-foot experience features a dark wood bar, shaving stations and a shoe shine chair. It will be traveling to various markets in the coming months.
"We know that this type of old school nostalgic feeling is really on trend with the millennial male consumer," Gerard Thoukis, director of marketing for the spirits portfolio at Gallo Wineries, which owns New Amsterdam, told Buzz. "We see that in some of the TV shows today that have been successful, and in how the millennial consumer oftentimes dresses in major metropolitan areas. It's really about a downtown lifestyle and not an uptown snooty approach. It's very attainable and we feel it fits perfectly with the target."
At the events, brand ambassadors welcome consumers into the footprint with a New Amsterdam cocktail and then an offering for a shave, performed by local barbers in each city, and a shoeshine. Consumers walk away with cocktail recipe cards concocted by leading New York City mixologists and receive a New Amsterdam-branded manicure kit.
The brand is posting event information on Facebook, Twitter and Foursquare to encourage consumers to spread word of the experience. Agency: Rebel Industries, Los Angeles.