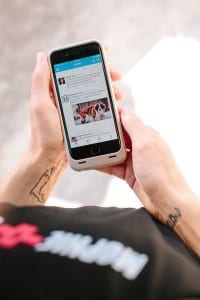 Mophie leveraged the help of the iconic St. Bernard dog to generate some pretty adorable brand awareness with a social stunt at South by Southwest in Austin, March 13-15. Partnering with the St. Bernard Rescue Foundation and a team of St. Bernards, a breed from the Swiss Alps originally bred for rescue, the mobile battery case maker set out to "save" attendees from dying device batteries.
For the stunt, Mophie set up a Swiss chalet-inspired lodge one block from the Austin Convention Center at Fifth Street and Trinity (think doggy dispatch center), where the St. Bernards (including puppies, guys) hung out. Media and passersby could stop in to see the dogs and learn about the nonprofit foundation, which helps rescue St. Bernards in need and places them in permanent homes. The program took place from noon to 7 p.m. each day.
To get a charge, attendees within range of the lodge were invited to tweet a screenshot of their device screen showing low battery to @mophie with the hashtag #mophieRescue, as well as their current location. Those chosen received a tweet reply from Mophie with a link to a GPS-based interactive map (handled by Glimpse), which allowed them to follow their four-legged rescuer in real-time, via a dog icon on the screen, as it was dispatched and en route with Mophie products. A handler from the foundation accompanied each dog on the trips.
"We're always looking for a unique way to activate at SXSW and stand out from the crowd; all the attendees there are going to trade shows, panels and seeing brand activations, there's so much to take in and in the meantime, their batteries are constantly draining," says Mike Iwamasa, associate director of brand marketing at Mophie. "This was a win-win story where these St. Bernards were rescuing SXSW attendees and, in turn, attendees could rescue these St. Bernards." Agency: The Brand Amp, Seal Beach, CA.
Photo courtesy: Mophie