Fruit of the Loom last month promoted its no ride-up boxer briefs by creating a fictitious brand of plastic pants that showcased the benefits of its undergarments. The spoof campaign, which was designed to poke fun at underwear brands that use sex appeal to sell their products, began with a TV spot demonstrating how Fruit of the Loom used transparent plastic pants to test the stability of its no ride-up boxer briefs. From there, the brand unleashed the tale of an eccentric fashion designer, Frank La Rant, who was so inspired by the brand's ad that he launched "Plastique"—his own line of high-end plastic pants.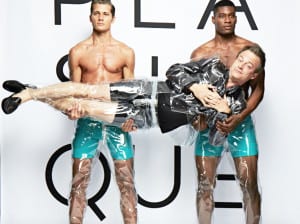 Fruit of the Loom then released a documentary on La Rant, along with Plastique fashion ads, digital ads and a web experience that allowed consumers to explore the collection of pants and download the season's lookbook. Shoppers could even engage with the brand and the designer himself through fabricated social media accounts. All the while, Fruit of the Loom denied its affiliation with the new brand, maintaining that it was confused by La Rant's attempt to make plastic pants en vogue.
Fruit of the Loom then launched the experiential portion of its campaign, setting groups of male models loose in two of the country's fashion capitals—SoHo in Manhattan and Rodeo Drive in L.A.—donning Plastique pants with Fruit of the Loom's colorful no ride-up boxer briefs underneath. The models engaged with passersby and turned heads at every corner for the guerrilla stunt.
"Fruit of the Loom is a very light-hearted brand and Plastique is an opportunity to have a bit of fun," says Bryse Yonts, brand communications manager at Fruit of the Loom. "The boxer brief is fully visible underneath the plastic pants, which gave consumers the chance to see the product in test as [the models] were walking around and demonstrating, but also to showcase the fun and vibrant print and color story we offer with those boxer briefs."
As anticipated, the stunt generated an abundance of organic chatter on social media, which allowed the brand to further engage with consumers via Plastique's social media accounts, rounding out the overall experience. The results verified the success of the activation. According to Yonts, the program had nearly double the engagement rate of an average retail campaign, proving it really is what's underneath that counts. Agency: Crispin Porter + Bogusky, Miami.
Photo courtesy: Noam Galai/Getty Images for Fruit Of The Loom