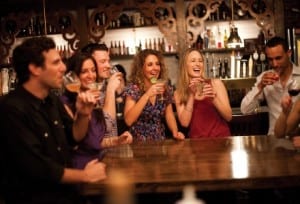 Venerable dating site Match.com has been making love connections among singles through a 100-percent online platform since 1995. But last June, the brand forged a new path in matchmaking with The Stir, a comprehensive live event program that, to date, has attracted 225,000 attendees.
The scale of this program is impressive. As Match breaks it down: 2,850 events; 14 events a day, 75 events a week, 320 events a month, all activated in collaboration with more than 1,200 venues and partners including names like Sur La Table and House of Blues. What began in 20 cities grew to 82 cities last September, and its leadership has even more grand plans in mind. Speaking of leadership, it may come as a surprise—or, it may not—that one of the brains behind this web of events holds a master's degree in engineering and logistics from the Massachusetts Institute of Technology and has experience in launching start-ups.
"Match is focused on helping single people meet other single people and form relationships, and inevitably you do that offline, and we felt that bringing together offline experiences to support the online brand is a fantastic way to get people to connect, and meet," says Luke Zaientz, Match.com's vp-events.
Lighting a Match
Live events certainly support the mission—in fact, the brand tested live events approximately five years ago and ultimately put them "on hold" until just the right moment. But they are also supporting Match's bottom line. In the first quarter of 2013, the brand saw an eight percent lift in subscribers. To date, that's 1.9 million paying members. How does it all work? Zaientz describes the events in three flavors:
Happy Hours are informal gatherings, designed for a few hundred attendees that are open to subscribers, their friends, and registered members (registered users can browse profiles and create one of their own, but they can't communicate with other members unless they subscribe, and pay).
Activities and Trips are for subscribers only and include cooking classes, pet-centric outings, hiking and sports games, and are designed for between 20 and 60 attendees.
Sponsored Events are "special experiences" like the night before Valentine's Day this year, when Match partnered with Banana Republic for in-store "love events" for subscribers­. The night featured cocktails, catered food, a dj, shopping and gift bags. This summer, Match.com is hosting five Grand Marnier-sponsored mixology events with all the trimmings of the "love events," plus a little more production value. (It's an area the brand plans to expand on this year).
Online to Offline
When logged in to Match.com, users can click the Events tab and, depending on profile aspects such as interests, age, location and sexual orientation, a selection of relevant upcoming events will be displayed.
Ideas for events come from coordinators assigned to each region of the United States who travel, check out aspirational venues and chat with locals to see what people like to do. The brand also sorts through a bevy of in-bound requests from venues or partners looking to host The Stir. Events are planned on a month-to-month basis and are staffed accordingly. Venue partners will often run events. For Happy Hours, Match may turn to a staffing agency partner. For the brand's "bold-flavored" sponsor events, Match works with event production agencies.
And if you're wondering what all this means for the Match.com site, well, all roads seem to lead right back to it. The brand's mobile app pushes things along, offering attendees event updates and drink specials and the ability to check-in to events and see who else has checked-in. A post-event section on the app allows attendees to view profiles of those who checked-in, to make it easier to follow up with someone they met, or were hoping to talk to at an event.
Match emphasizes, however, that it doesn't want too much tech at The Stir.
"We get approached by different technology partners all the time around bringing in more smartphone apps and different technologies to our events," Zaientz says. "I really love that the events create an atmosphere where people can just put down their technology and actually talk to each other. The focus has really been on connection, communication and keeping it as organic and authentic as possible."
Which makes sense. Why introduce different technologies when The Stir app supports the larger mission? Technology often helps brands collect data, and in the case of Match, it has everything it needs to know about its users. "The site is really the backbone and surrounds the live events on all sides," Zaientz says.
Making Plans
In addition to hosting more big brand-sponsored events, Match is planning this year to expand on the event invite parameters. One such initiative is an invite-a-member program, where members can invite other members—and friends—to events. Match is in effect, becoming a bona fide social network for singles.
"This changes the paradigm a lot, when you can start crafting what your evening is going to look like by bringing together a bunch of people you might be into," Zaientz says. "There's really no other experience anywhere that allows you to do that."
Another big initiative: Getaways. Match envisions it as a natural travel-based extension of The Stir. As attendees start to recognize familiar faces at events and form communities of friends, they can start vacationing together.
While Match receives a tremendous amount of information in post-event surveys from attendees, the data point Zaientz ranks the highest, on top of the connection rate and the venue quality (which are up there) is the return rate. Currently, about 40 percent of attendees return to attend new events—a pretty, darn good rate.
"It would be easy for me to create this very basic homogenous event that was the same around the country and appealed to one type of person, but because Match.com is member-based, because it has a lot of different people with different tastes, we have to create things that appeal to those people," Zaientz says. "So, this variety of event types and categories and price points and addressing different age groups and different seeking, and across 80 different markets—there's a lot of complexity to that. But we relish the challenge and it's been fun."
It's safe to say he takes his martinis stirred, not shaken.
Photo courtesy: Simon_sees/Flickr
This story appeared in the October 2013 issue