To strengthen its sponsorship of collegiate sports, LG returned to the NCAA Final Four Fan Fest April 3-6 at the Indiana Convention Center in Indianapolis, IN, with a brand new footprint. Different from previous years' experiences surrounding LG House, and products displayed in a home environment, the new 4,500-square-foot LG Training Facility was designed like a state-of-the-art university athletic training facility that gave fans the chance to be "recruited" by LG and learn how to "Do Game Day Right."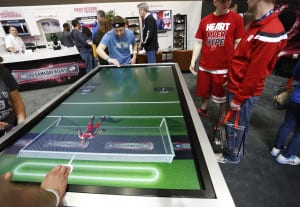 The refreshed experience was located in the Final Four Fan Fest zone, previously called Bracket Town. It began in a lobby where consumers registered for RFID wristbands and linked them up to Facebook and Twitter if they chose. NFC technology served as the backbone enabling all photos and videos to automatically post to social. (This allowed LG to track interactions, too).
After registration, consumers or "recruits" headed into the Player's Lounge, where they hung out on leather couches and interacted with LG products via a touch-screen game table, a tutoring center and kitchenette as well as a dj area, which featured LG's Music Flow speakers. LG integrated G Flex 2 mobile devices and LG curved OLED TVs into a gaming station in the space as well.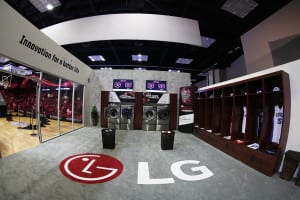 Fans continued into the Locker Room for a "pre-game experience" that featured glossy oak lockers stocked with uniforms, and a custom-built digital interactive called the Speed Cycle Challenge, which put a twist on LG's laundry division's marketing messages "save time" and "larger loads." Consumers had 20 seconds to throw as many mini basketballs into an LG laundry washing machine in a head-to-head competition. The appliances were configured with sensors hooked up to a digital scoreboard that counted the number of "shots" made.
Over in the private Practice Gym, more than 25 cameras (LG G3 Mobile Phones) captured consumers doing their best dunk in 4K on an official NCAA Final Four basketball hoop. In the Film Room, they then reviewed their footage via a 105-inch Ultra HD 4K TV. Dunk highlights streamed from the gym courtesy of an LG/GoPro 4K rim cam.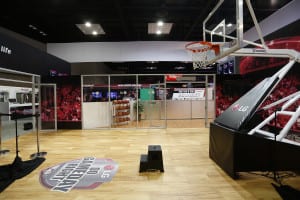 At the conclusion of their "official visit," consumers were escorted out of the training facility through the Hall of Champions. The last engagement: a custom-built digital prize wheel where every fan spins using LG's gesture control TV remote. What they landed on dictated the prize they won including microfiber cloths, lanyards with ticket holders, compression sleeves, sweatbands, headbands and $50 Lowe's gift cards.
"Research has shown that when fans know about our affiliation, when they engage with our product, they are almost three-times more likely to purchase—that was a huge stat for us, and it really told a big story as we entered renewal with the NCAA sponsorship," says Michelle Donovan, director-consumer promotions and sponsorship at LG Electronics USA. Agency: Advantage International, Norwalk, CT.
See also:
• Sports Sponsors Turn To Digital Activations