Following a dramatic rebrand this summer, Lean Cuisine on Oct. 26 activated an art installation at Grand Central Terminal's Vanderbilt Hall aimed at reducing the negative emotions and anxiety women associate with the bathroom scale. Artist Annica Lydenberg helped bring the brand's new messaging to life, which is shifting away from "dieting" and instead "advocating for healthy lifestyles," by painting hundreds of bathroom scales that were mounted to a wall stretching the length of the venue.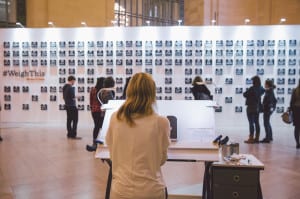 The program began with a call to action on Lean Cuisine's social media channels, where consumers were invited to tweet the brand what's important to them and to truly "weigh what matters." Those messages were collected and painted onto individual scales by Lydenberg. On the activation day, consumers could stop by from 9 a.m. to 7 p.m. and contribute additional messages, which Lydenberg then added to the installation. Lean Cuisine captured addresses of participants in order to send them their personal scale afterward.
Elsewhere in the footprint, a big screen that displayed a montage of the scales and a promo video the brand pushed out on social in July asking consumers to #WeighThis. Bloggers were brought in to talk about their reactions to weight and to reflect on what matters in their lives. In addition, one woman that was featured in the video came back to react to the growing installation.
"Our target hasn't changed, but what we've done is acknowledge that she participates in a much larger life than just eating lunch or dinner with Lean Cuisine," says Julie Lehman, director-marketing at Lean Cuisine. "Through our work we found that our consumers are very busy women who don't prioritize themselves and often don't value all the work that they do in their lives, and so this was about going much deeper to get a better understanding of what makes her tick and the choices that she's making."
VIDEO: Lean Cuisine Asks Consumers to Share How They Want to be Weighed