To promote itself as the best option to fly from New York to Amsterdam (and beyond), KLM Royal Dutch Airlines hosted a three-day pop-up at Openhouse Gallery in the SoHo neighborhood of Manhattan. From June 25-27 the airliner set out to put its personal and cultural stamp on the air travel experience, targeting consumers and press, and corporate and VIP guests via private events.
Experiences included a four-hour live art installation by Dutch artist Merijn Hos, who created KLM-inspired illustrations on posters that consumers took home each day. Consumers could listen to Dutch djs and artists from a private listening booth that helped bring KLM's music sponsorships to life (KLM is the official carrier of the "World's Best DJs," sponsor of dj Hardwell's world tour and sponsor of the EDM Sensation Music Festival in Amsterdam.) Each day starting at 5 p.m., the pop-up transformed into a club with Dutch djs Regino, Aleppo and JoeySuki spinning beats.
KLM partnered with Heineken (made in Holland and served onboard) to provide free beer. The brand recorded 800 bottles of Heineken consumed over the three days. Tied to this, a special happy hour giveaway featuring a travel package with round-trip airfare for two from John F. Kennedy Airport in New York to Amsterdam, hotel accommodations and tickets to Sensation. On the gastronomy end, KLM brought its onboard offerings to life with daily waffle happy hours featuring free Dutch coffee and stroopwafels by Eat.Dutch.Waffels.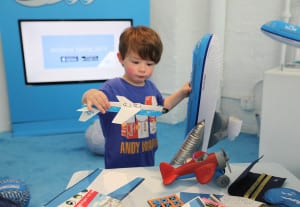 To help amplify the campaign, KLM launched an Instagram contest promoted with a photo activation on-site. By tagging posts with #KLMPOPUP, consumers had the chance to win free branded merchandise. Other giveaways included the "cycle miles contest," where consumers raced for 60 seconds on stationary bikes. Those who went the furthest distance won a pair of economy tickets, while second and third place winners scored air miles.
Completing the experience were showcases of the airliner's business class seats, and a kids area inspired by KLM's unofficial mascot "Bluey" the airplane. The Kiddie Korner featured kid-friendly refreshments and activities like paper airplane making, airplane balloon modeling and face painting.
"We wanted to engage and share our core attributes as a fun and friendly brand while also highlighting our cool and innovative culture as the flag carrier airline of the Netherlands," says Marnix Fruitema, svp at North America Air France KLM. "SoHo provided us with a hip, high-traffic neighborhood and a natural connection to part of what Dutch settlers once called 'New Amsterdam.'"
The KLM pop-up engaged more than 5,000 consumers, and recorded more than 95 million earned media impressions and more than three million social media impressions.