With beautiful, warm weather upon us, take your outdoor events to the next level this summer by bringing the comforts of the indoors – out. Trends to play up this season include: transitional furniture, bold yet classic color pallets and patterns, Mediterranean influences, and bringing indoor comforts outdoors.
Work these hot trends into your next outdoor brand event of the season: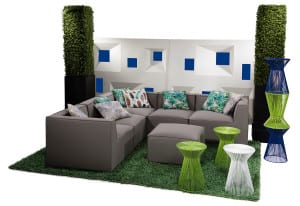 Seamlessly transition between indoor and outdoor event spaces. For trade shows or events that have both interior and exterior components, leverage the outdoors as an extension of the indoor event space. Bring more sophistication to the outdoors with furnishings that mirror interior styles. Versatile furniture will allow for lounging, networking, and socializing. Utilize modular and functional furniture to fit any patio, lawn or pool deck. CORT's new Dune sectional in a warm gray tone is the perfect gray neutral to serve the canvas for any summer color pallet.
Play with color all over your event. Blue is all the rage this summer and can be incorporated in any event theme. Make your event sultry and seductive with deep hues of blue, paired with green jungle patterns and palm accent pieces. Stay classic and chic with antiqued white and blue, playing with clean lines and crisp summer linens. Use accent pieces to bring in the colors. Go beyond throw pillows and play up the seasonal colors with CORT's new outdoor wire tables in green, blue and white. Vibe cube ottomans provide versatile, vibrant outdoor seating in summer hues and can be easily moved around for casual networking. For functional, visual interest, use lighted plastic orbs, cubes, tables and columns.  These LED lighted pieces help set the mood and add additional color when the sun goes down. Some options from CORT are battery operated to allow for lighting away from electrical outlets.
Go Mediterranean for an easy, chic feel. Highlight the lush life of summer with Tuscan-style gardens that make extravagant greenery the centerpiece of any outdoor gathering. Black and white with punches of color provide balance and fun against a backdrop of beautiful florals. Channel the French Rivera by mixing furnishings with wood tables and benches and finish with marble table tops. Add a hint of romance by incorporating hanging gardens and bringing in ornate florals for your hedges.
Bring the amenities outdoors. Provide more shade than you think your guests will need. The weather can be unpredictable, and a sweltering afternoon can ruin the upbeat vibe of even the most extravagant event. If you don't have lots of covered patio space, be sure to place large umbrellas over seating groupings, dining and bar tables to keep your guests cool and comfortable. Be sure to place bug spray around the tables and have plenty of citronella candles flickering, adding to the ambiance and protecting your guests from mosquitoes. Provide water stations throughout the venue, offering guests water infused with citrus or fruits so they can stay hydrated. Guests can help themselves without lining up for the bar and the stations look gorgeous when paired with linens.
Delight your guests by making your outdoor event space as extravagant and amazing as your indoor space. To learn more about CORT's event rental collections, visit www.CORTcortevents.com.
—Kevin Dana, CORT