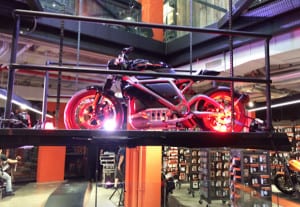 Harley-Davidson is on the road again, this time with more than its "hogs," black leather jackets and rebel attitude. The iconic American motorcycle brand this summer launched the Project LiveWire tour, a 30-city summer test-ride tour of the beta version of its new electric motorcycle, the LiveWire. The goal of the tour: to collect consumer and dealer feedback that will be used in the development of the bike. Those in event marketing might call it the Harley-Davidson Live R&D tour.
"Typically in the past, we would have taken prototypes of design vehicles in a research environment, gotten the right audience in the room and get their input, much like a panel-type of survey," says Steve Piehl, manager of event strategy for North America at Harley-Davidson. "This is the first time we have ever built motorcycles that are not production, motorcycles specifically to allow people to test ride them and give us input."
Two fleets of 11 LiveWires are currently touring the country, hitting Harley dealerships in the east and west, where consumers can go for a ride and fill out surveys with their feedback or give it in person to an on-site interviewer. "We will use that to guide whatever we decide to do for future product development, whether it is this motorcycle or a variation on it, and to see whether there is a market for an electric motorcycle or not," Piehl says.
Some of the learnings are evident in the trucks hauling the bikes, which Piehl describes as the most sophisticated display truck it has ever built, and perhaps one of the most sophisticated in the country. "It has the charging capability for 11 motorcycles that have to plug into 220 power when traveling and when they are parked," he explains. "It also has to have that capacity outside the trailer." The truck is heated and air-conditioned to keep the bikes within their required temperature range, and it powers the entire experience.
"We can go out in the middle of the desert and set ourselves up and run this whole project," Piehl says. "It takes everything to the next level."
Harley dealers are pretty energized about the tour as well because it is bringing in new customers and offers a view of where the company may be headed. "This is a future view from Harley that we don't often get to talk about because usually we only talk about product that is currently in the market," Piehl says. "We have given them a glimpse into our product development center by bringing this motorcycle out."
Harley's product development team, product planning team, insights group, p.r. and social media teams and event marketing group are all involved in the tour. "This is probably the closest we have all worked on a single project," Piehl says. And probably the most revved up, too. Agency: Mirrorball, New York City.