In an effort to make your exhibit partner selection process less painful and more informed, we recently served up our fourth Fab 50, the only editorial listing of top exhibit builders in North America. This year's coverage not only included quick information bites about each company, its culture and capabilities, but also took a more in-depth look at some of the most intriguing exhibit case studies of the year. Here, we take a look at six eye-catching installations, from the sweeping "Z" of Zimmer Biomet at the American Academy for Orthopaedic Surgeons Annual Meeting, to Nike's "Icebox," a floating gym activated on a barge docked in Chicago.
Merger Mania: New and Old
Client:  Zimmer Biomet
Exhibit Partner:  Catalyst Exhibits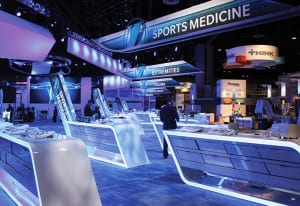 To introduce the merger between Zimmer and Biomet at the American Academy for Orthopaedic Surgeons 2016 Annual Meeting, Zimmer Biomet required an exhibit design that encompassed its new beliefs and brand, while using the past Zimmer color scheme. The challenge was to convey to customers, new and old, what had happened and how it would affect them. Zimmer Biomet also needed to address how it would maintain loyalty from both sides of the merger, as well as instill the confidence needed to create new relationships
Acknowledging the need for clear navigational points and beacons of information, the exhibit design employed a layered approach, from the sweeping Zimmer Biomet "Z" at the highest level in the space to the area designation signs hung vertically above their specific products. The signs were an important element, as many of them represented products from both former companies. A two-story information structure at the forefront of the space served as a welcome to attendees and a place to learn about the new merger. A brilliant LED screen at the mid level streamed messages about the new direction of Zimmer Biomet. The message was clear, and clearly heard.
---
LeTV Star
Client: LeTV
Exhibit Partner: Derse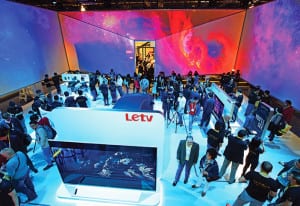 Exhibiting for the first time in the U.S., LeTV needed an experience that would position the company as a major player in the U.S. tech industry at CES 2016. With only one month before the show and a production deadline over Christmas, LeTV selected Derse as its comprehensive agency to manage its entire presence at CES.
LeTV's 50-foot by 60-foot exhibit enticed traffic flow and sparked spontaneous engagements. Projection mapping created defining walls and a large overhead presence. Attendees were immersed in any one of the new products, from wearing virtual reality headgear to congregating around one of the exhibit's main attractions—the Aston Martin demonstrating LeTV's auto connectivity display.
LeTV attained measurable success in cost-savings, brand awareness and lead generation. Derse reduced production time and costs by using projection mapping technology. LeTV captured 1,067 leads, 25 percent of which were its target audience of buyers, distributors, press/media and store and product managers. LeTV's International Press Event drew 300 in-house attendees, and the event was broadcast across 24 countries.
The partnership with Derse proved that working with a single agency can reduce costs, improve communication and solidify a brand message.
---
Living Large
Client: Howard Hughes Corp.
Exhibit Partner: Freeman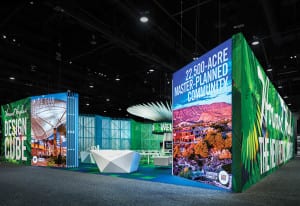 Howard Hughes' mission as a developer and operator of master planned communities and mixed-use properties came to life at the International Council on Shopping Centers RECon show for the real estate community in a breakout design that aligned with the corporation's "Make Extraordinary" campaign.
By day, the exhibit was a meeting space. At night, it became a party space with a dj, sound system, hospitality bars and more. Giant 15-foot-tall seamless video screens promoted Howard Hughes messaging and new property developments. High-end designer furniture accommodated private meetings within the space. Vertical metal slat frames created visual interest in the interior as the green palette of the slats flowed with a gradient of color from front to back, and depending on where you were standing, looked like a solid color. As you moved, you would see that there were slats offering views of movement and activity.
The interior walls were translucent Plexiglas, allowing for a glimpse of movement within the meeting rooms. Carpeting was custom-designed and printed on textured material. Video technology seamlessly occupied approximately 800 square feet of vertical wall surface.
Visitor comments were very favorable, and the image of the corporation was elevated to high-design status unlike ever before.
---
Show Spectacular in the Auto Space
Client: Fiat Chrysler Automobiles
Exhibit Partner: George P. Johnson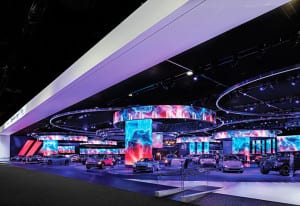 Fiat Chrysler Automobiles (FCA) was ready to turn heads at the 2016 North American International Auto Show (NAIAS). It had successfully united two internationally respected companies into one, and the proof was rolling off the production line with new vehicles from some of the most respected automotive brands: Jeep, RAM, Alfa Romeo, Chrysler, FIAT, Dodge and Mopar.
To tell the story of each brand, highlight the power of the collective and increase dwell time, GPJ created a spectacular show choreographed throughout a 60,000-square-foot technical wonderland.
Developed in partnership with Spinifex, the GEARS concept showcased the unique personalities of seven FCA brands in a cohesive space that connected them through a spectacular array of LED screens, light rings and multi-channel audio, forming a "Kinetic Canopy" that intelligently moved light and sound above and between the brands like an energy field. The symphony of light resembled a finely honed machine with each of the brands' "gears" interacting with one another. The brands then took their turns drawing energy from the canopy to fuel a show that featured their key stories and products. The multimedia show engaged customers in a rich, first-hand experience of the product offerings within each brand.
---
Super Savers: Water Works
Client: TOTO
Exhibit Partner: GES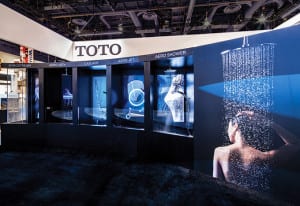 TOTO launched new water-saving products, reached loyal followers and untapped audiences at KBIS, the Kitchen & Bath Industry show, through live demonstrations of its toilet and shower technologies, and drove sales by inspiring its target demographic with the depth and breadth of its product portfolio.
Branding incorporated into the exhibit through vinyl logos applied to the perimeter and full-bleed lifestyle graphic murals helped soften the look of the walls and create an inviting exterior. Strategically located breaks in the walls enabled traffic to flow into the booth while creating key points of engagement where staff could qualify leads as attendees entered the exhibit. A large fabric structure at the core of the exhibit emphasized TOTO's Tornado Flushing Technology. This wow-factor display, which utilized projections to create movement and physical presence, was popular with attendees who used the structure to take selfies. Sixty-five-inch video screens behind each live shower display demonstrated the technology used in that particular shower.
The exhibit was a memorable success. TOTO received more than 300 completed customer surveys; captured 1,429 qualified leads; garnered more than three million total social media campaign impressions and received the highest share of voice in its competitive set at 44 percent.
---
Activating a Cold Climate
Client: Nike
Exhibit Partner: Tangram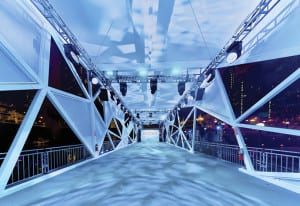 Nike launched a month-long social media campaign, #GetOutHere, which was intended to encourage the everyday athlete to exercise outdoors, even during those chilly winter months. To end the campaign with a bang, Nike issued a challenge of a different sort by having Tangram create an outdoor gym as an ideal way to close the show. The result was the "Nike Icebox," a floating gym activated on a barge docked alongside Chicago Riverwalk that hosted free daily workouts for the public Dec. 9-12.
The white, open-air structure allowed foot traffic to look in on the complimentary exercise classes instructed by Nike trainers. The space was large enough to accommodate 75 attendees per class who went through six stations around the perimeter that included speed ladders, box jumps, rope slams, goblet squats and other tests of one's endurance. Blue and white lights throughout illuminated the studio and gave it a futuristic feel. The outside featured Nike's iconic "swoosh" logo, as well as the trending hashtag, #GetOutHere. The activation also promoted Nike's Hyperwarm line of apparel, which is meant to be worn during outdoor workouts.
The barge took the gym concept to a whole new level—and a pretty cool one, at that.
This story appeared in the August 2016 issue