Highlights, Insights and The Best Stuff Seen and Heard at EventTech 2014
For one hearty bunch of learners, Day One at EventTech 2014 kicked off with two pre-conference workshops: a "right brain" session on creating better ideas and a "left brain" session on thriving in the digital age.
In the right brain workshop, Shawn Coyne, author of "Brainsteering: A Better Approach to Breakthrough Ideas" helped attendees lay the groundwork for creating their own "idea factory." (Don't look for any outdated "brainstorming sessions" from these attendees anytime soon). For left brainers, author and marketing expert David Rogers 
shared insights from his book "The Network Is Your Customer: 5 Strategies to Thrive in a Digital Age." Top among them: brands today must have a "customer network strategy" that matches their customers, their business and their brand's objectives.
With brains full and appetites for the learning that was about to take place fully whetted, EventTech early birds converged for the first time on the sprawling EventTech Campus for the opening reception. Attendees grabbed a drink and, as they reconnected with industry friends, got the first crack at all of the cool tools and technologies that came to play at the show—more than 58, in fact.
New this year, Event Marketer Editor & Publisher Dan Hanover offered attendees 25-minute guided "TechTours" of technologies in The Campus. The first 25 attendees that signed up could grab a cocktail, put on a noise-canceling wireless headset and then follow along as Dan gave them intimate introductions to the social media amplifiers, the apps and interactives providers on campus. We're walking… we're walking.
Day two at EventTech 2014 kicked off with a keynote with none other than the Mentos guys. Yep, those Mentos guys—the ones who dropped a handful of Mentos into a bunch of two-liter bottles of Coke and then watched as the first viral video hit took off like, well, an explosive bottle of Coca-Cola. Fritz Grobe and Stephen Voltz have since become two of the most foremost experts on viral videos and shared with EventTech attendees key insights from their latest book, "The Viral Video Manifesto."
---
"All the techniques we've seen for decades on TV and film, when it comes to viral video those techniques actually get in the way." —Fritz Grobe, 'The Viral Video Manifesto'
---
As attendees got their breakfast on (dang, those burritos were good, right?), Grobe and Voltz gave everyone a behind-the-scenes look into the four secrets to creating viral videos, and why marketers must forget everything they know about TV video production if they want to be successful in the digital realm. Attendees were even treated to a live stunt featuring several stacks of Post-it notes (watch the video of the completed project here).
After the keynote, we kicked off a block of 30-minute sessions broken up by a quick coffee break, and then settled in as subject-matter experts from across the industry gave attendees deep dives into subjects ranging from building branded videogames and strategizing event spaces for social media displays to integrating iBeacons, holograms, and biometric scanners into events. One session summed up all the technologies you're not using, but should be. Another helped attendees master the art of taming big data and using it to create more profitable events. And those are just a few of the 18 action-packed sessions from the morning.
Over a lunch of short ribs, polenta and a tasty mini-dessert plate we celebrated the winners of the Event Technology Awards. And then we all spent the rest of the day packing in yet more learning, topping it off with some drinks on Campus before everyone headed out for a night on the town in Sin City—and a stop by the Totally Mod EventTech Late Night party at the Neon Museum, brought to us by our friends at Thuzi. What was everyone wearing? A custom EventTech t-shirt, of course, thanks to Family Industries who provided attendees with a live t-shirt silk-screening experience during the evening reception.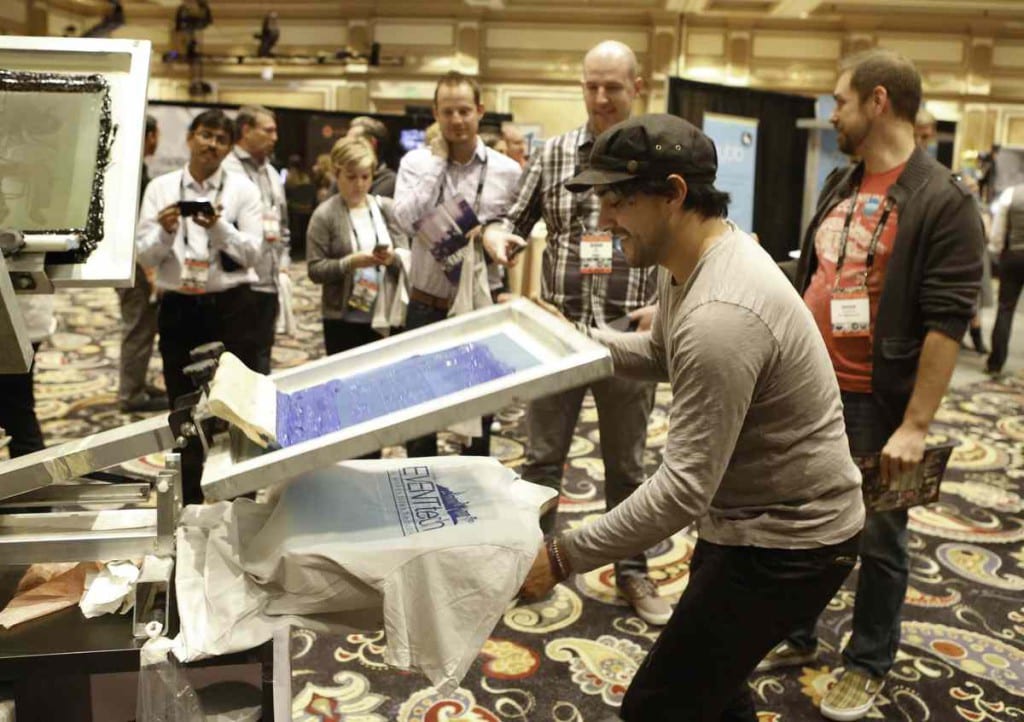 With so many interactive and educational experiences to choose from (we're talking more than 50 in one day, folks), we know that it was a tough choice for those at the show. So we've picked the best quotes and insights from each one to make sure that even if you weren't there, you got a taste of the action.
Enjoy, and we'll see you here again this week for our final recap.
---
---
On Viral Video Best Practices: "Give us one moment or more of real human reaction, some uplifting, positive moment of humanity to connect with." –Fritz Grobe, Author of "The Viral Manifesto."
"Design to delight. Don't just add technology for technology's sake. Try to think of ways you can really delight attendees and reach them in those moments that matter." –Gianna Cardinale Gaudini, Marketing Events Manager, Google
  *     *     *
"Attendees want to feel engaged, not just talked to." –Wilson Tang, Experience Design Director, FreemanXP
  *     *     *
"Make sure the same tools you put in hands of subject matter experts, sellers and attendees at events are tools that can be leveraged in the real world. We try to make sure the narratives and storylines, the elements that go into the event based tools, can go into real life selling situations." –Kurt Miller Senior VP, Strategy + Planning, George P. Johnson
  *     *     *
"The whole event was established from the client's point of view, not IBM's point of view. We certainly have our strategy. We certainly have our technology. But we were able to interact with all of this content through a set of conversations. …We've really turned and changed our strategy to embrace much more of a dialogue format." –Teresa Cook, Director-Demand Systems, IBM
  *     *     *
"Three things to keep in mind when creating a virtual reality experience: quality is king and continues to be king; make sure what you're doing feels authentic for the brand; and make it awesome—you have to continue to innovate and raise the bar." –Dan LaCivita, President, Firstborn
  *     *     *
"As the concept started leaking out inside Caterpillar, we had people calling us saying, 'You can't play Jenga with your machines.' We pushed the boundary of our brand and that's one thing I recommend you do. Think about what you do and push it right to the edge. I have a nickname now as the 'Resident Lunatic' because I pushed the brand as far as we can." –Archie Lyons, Creative Director, Caterpillar
  *     *     *
"You name it, we measured it. We measured visits and views and bandwidth and check in and posts and networking and location and heat maps and traffic patterns and webcasts. But what we really accomplished and what we can really speak to is our return on our objectives. We created a community, we created a new standard for digital engagement at McDonald's and we did it in a new way." –Lisa Fingerhut, Engagement Manager, McDonald's
  *     *     *
"There's so much emphasis from artists and managers on number of followers and we say to them, the followers will come. If you go on tour and your music is successful, people will propagate the channels. If you have them there and you don't give them anything to do it's a complete waste of time. A million, or 5 million or 35 million—it doesn't mean anything if you're not engaging those fans with content that's building loyalty with them. And this is exactly the same with brands. A million people doesn't mean anything if only four or five percent of them are interested in anything being put into those channels." –PJ Loughran, ECD/EVP of Strategy, Superfly
  *     *     *
"It's sort of like the infomercial says, 'Set it and forget it.' The same thing needs to be said for data." –Ben Grossman, VP/Strategy Director at Jack Morton Worldwide
  *     *     *
"User input leads to machine output—this is the basic premise here. The Twitter vending machine is one iteration of this but, literally, the possibilities are endless." –Matt Brown, Director Digital Production, Legacy Marketing Partners
  *     *     *
"I can tell you that the fastest rising sponsorship objective among decision makers is access to content; we want to be able to have compelling content that we are never going to be able to develop ourselves." –Jim Andrews, Senior VP/Content Strategy, IEG
  *     *     *
"I love the fact that data is a trend, but the fact of the matter is big data has led to some big expectations and, in turn, some bad habits on the behalf of marketers that we need to break." –Elena Klau, Senior VP/Strategy & Insights, Momentum Worldwide
  *     *     *
"It was a very compelling argument: You give me a dollar and I can return a dollar fifty in value." –Renee Stratulate, Data and Measurement Strategist, Cisco
  *     *     *
"The golden ticket is giving someone something exclusive and letting them decide how to share it." –Mark Anderson, Chief Experiential Officer, Omelet
  *     *     *
"It's important to make sure the approach is measurable from the beginning." –Mike Clow, VP, Data & Analytics, FISH Technologies
  *     *     *
"Test, test, test. Rehearse, rehearse, rehearse." –Jeff Sasz, Producer, agencyEA
  *     *     *
"Geolocation is becoming even more important in terms of social measurement." –Lu Nguyen, VP, FISH Technologies
  *     *     *
"The average smartphone user checks their phone 150 times per day (according to Mashable)" –John Murcott, ceo, Crowdster
  *     *     *
"Google Glass can be useful as an enhancement at a live event in a number of ways but it is not a requirement." –Jay Cormier, SVP, Lintelus
  *     *     *
"Everything we know about video from TV is wrong. Those techniques get in the way and numb us into a lethargic stupor. The rules for viral video are the same as those for a good circus act. This is vaudeville, a street corner act. Viral video should be unedited, unfiltered, and show real people having real reactions to real events." –Justin Garrity, SVP, Postano
  *     *     *
"When it comes to influencer marketing, Facebook still wins. Everybody influences somebody. There are different types of influencers, not just bloggers only. Brand advocates share with their social circles of friends, family and colleagues." –Susan Frech, Founder and CEO, Social Media Link
  *     *     *
"For any event or experience, answer two questions for your audience: 'Why should I care?' And, 'What do you want me to do about it?'" –Mark Baltazar, CEO, Broadstreet
  *     *     *
"QR codes aren't dead. They just smell funny… The only limitation with QR codes is your imagination. Don't get hung up on QR codes as an old technology. Use them in new ways." –Kevin Gillespie, VP, General Manager, BlueWater Technologies