From the creators of EventTech, the industry's largest learning lab on event technology and live events, we bring you EventTech 411, our monthly roundup of new and cutting-edge event technologies. In this installation, we look at attendance and ticketing solutions for event organizers. Whether you're trying to retrieve lost registrants, re-engage past attendees or efficiently oversee exhibitors and guests, these digital platforms will help get your event management tactics down to a science.
1. EventNinja
Who: EventNinja
What: This newcomer is a ticketing, sales and analytics solution that tracks attendees' event behavior to help brands re-engage them.
How it Works: The platform allows event organizers to identify and categorize which individuals attend the brand's events via money spent, how often they attend, demographics, social influence and other indicators. It also identifies which attendees are slipping away and uses targeted messaging and invitations to reignite their interest. Users can also involve attendees, speakers and sponsors in feedback loops, making it easy to recommend similar events and reward (or surprise and delight) past attendees with discounted tickets.
Product Features:
• Allows for searching and filtering of all event attendees
• Indicates who the most valuable attendees are
• Links to social media accounts
• Sends targeted messages and invitations
• Add-ons include a widget, ticketing platform and customizable charts
Cost: The basic plan costs $10 per month for up to 100 attendees, while the unlimited plan costs $29 per month for an unlimited number of attendees. A free 30-day trial is also available.
Who's Using it: Hipsters, Hackers & Hustlers used EventNinja for TECHtoberfest 2015. IncuBus Retail also used the platform for its Mentor Social, along with launch events and campaign closing parties.
More Information: eventninja.io
2. Event Master
Who: SpinGo
What: SpinGo's latest offering, which launched in February, is an event management platform that combines ticketing and scheduling offerings with management solutions for volunteers, contractors, panelists and other event attendees into one platform.
How it Works: The platform offers secure online ticketing for attendees that uses a single page to take them through the entire purchasing process, and reduces long wait times at events through its ability to scan multiple tickets simultaneously. It also provides a single digital entry system for an event so that organizers can easily schedule (public or private) meetings, meals, special sessions and other event-related affairs. A single dashboard allows for management of volunteers, guests and exhibitors in one location.
Product Features:
• Built-in app enables organizers to send private messages conveying important information
• Allows volunteers to pick up or drop assignments from within the app
• Reporting feature enables organizers to track attendance, sales and trends in real time
• Uses the latest ticketing technologies, including Passbook, MMS, Epic Photo and RFID
• Manages logistics like vendor and special guest contracts, payments and equipment
• Allows for creation of event-specific apps
• Celebrity Management System coordinates airport pick-ups, flight information, expenses and other logistics
• Can include interactive venue maps
Cost: Users get the entire Event Master platform for the price of a ticketing fee, which costs 99 cents for the first $10 and 25 cents per $10 increment after that. (In other words, if the ticket price is $10, the SpinGo fee is 99 cents, while if the ticket costs $20, the fee is $1.24.)
Who's Using it: SpinGo's Event Master product is brand new, meaning there aren't many examples of big names leveraging it just yet. The platform could be a good fit for brands that sponsor high-profile events like the Sundance Film Festival, where celebrity appearances need to be managed as part of the activation.
More Information: spingo.com
3. Hot Leads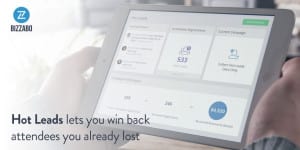 Who: Bizzabo
What: A tool available on Bizzabo's event planning platform that helps event organizers market to potential attendees who abandoned the registration process but may still be interesting in attending the event.
How it Works: After identifying the individuals who did not complete the event registration process, Hot Leads follows up with targeted emails to attendees offering an incentive to complete registration. A reporting function helps organizers analyze the success of their efforts by providing information such as the number of registrants recovered, and if applicable, the amount of revenue that was recovered.
Product Features:
• Identifies all lost registrants
• Offers targeted discounts or rewards to lost registrants
• Platform it serves provides other event marketing tools and features
• Identifies amount of revenue recovered through attendee re-engagement
Cost: Pricing is based on a variety of factors, including the number of events organizers execute per year and the number of event planners who will be using the platform.
Who's Using it: Hot Leads is a brand new feature, but Bizzabo's event planning software has been used to manage events including Social Media Marketing World, the Dublin Web Summit, MobileBeat and the Grow Conference.
More Information: bizzabo.com
See also:
• EventTech 411: Aerial Devices and Social Sharing