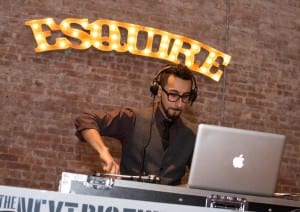 Style events aren't just for female fashionistas. The recent explosion in the menswear blog community is proving that guys, too, are becoming more interested in discovering brands, developing their personal style and enjoying a shared experience while doing so. To that end, Esquire magazine and sister brand Esquire Network, a lifestyle channel for men that launched last September, over the May 17-18 weekend teamed up for SHARP: The Man Event, a pop-up at 82 Mercer Street in New York City's SoHo neighborhood.
Created by menswear design scout and organizer Adam Eisenhut, the free event showcased more than 50 emerging brands and designers, all to celebrate "Man at His Best." Activations on-site included an Allen Edmonds shoe-shining station, a Harry's grooming station, Birchbox skin care demonstrations, David Lane Design leather sewing and monogramming, and an art installation specially curated for the event by Uprise Art Gallery featuring artists Mitch Paster and Ashok Sinha.
The Esquire brands offered their own lounges, complimentary Intelligentsia Coffee and Tea, food, Ping-Pong, music and giveaways. A preview party for press, influencers and VIPs held the night before featured sponsors Patrón and Allen Edmonds. Stars of some of Esquire Network's original programs attended including Spike Feresten, a former writer for "Seinfeld" who stars on the network's "Car Matchmaker," and Omar Miller and Andres Izquieta from "Weekend Fix."
"The key for us as we are evolving and developing our audience is we have an 80-year equity in the Esquire magazine brand, which is really great. So this is about awareness, bringing all these brands together, offering our audience an experience they can share together, and creating one unique voice between the magazine and the network," says Deena Stern, svp-marketing and digital at Esquire Network.
The event also offered another touch point to offer to advertising partners like Allen Edmonds, says Jack Essig, svp, publishing director and chief revenue officer at Esquire. "They're advertising in the magazine, advertising on our website, advertising on Esquire Network, but then reaching their target audience at a fun event where consumers can come in and try on shoes, because once they do that, it rings the register."