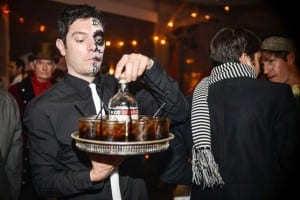 Espolón tequila on Nov. 1 hosted 200 New Yorkers at Green-Wood Cemetery in Brooklyn, NY, for a live theater-event experience celebrating the Mexican holiday Dia de los Muertos (Day of the Dead). Similar events also took place in Austin, Los Angeles and San Francisco, as the first in a series of arts-related event experiences Espolón plans to commission that feature emerging artists across disciplines. The film footage will be used for original content on the brand's digital channels.
The production, titled "Memento Mori," directed by Winkel & Balktick and performed by Third Rail Projects theater troupe, centered on a "Romeo and Juliet"-style love story that dealt with the holiday's concepts of life and death. Attendees, influencers who were provided little information other than an address to meet at, became active participants throughout the three acts of the show, which included a dinner and after-party.

"There are hundreds of Day of the Dead celebrations throughout the United States, both from those who are closely tied to their Mexican ancestry and those who wish to learn about a fascinating culture," Kathleen Schuart, director of white spirits at Campari America told Buzz. "This year, in our relentless quest to deliver transformative experiences to consumers, we saw a great, creative and unique opportunity with 'Memento Mori' to celebrate Day of the Dead differently, and at the same time, to be able to tell the story of the true and authentic meaning of this iconic holiday." Agency: Mirrorball, New York City.