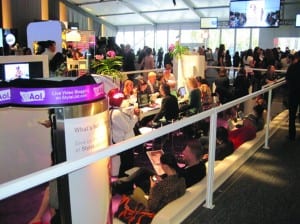 AOL
The iconic Internet gateway brand courted the ever-present members of the fashion press with a media lounge, sunk into the floor a few steps and situated at dead center of the traffic flow. Constantly overflowing with writers eager to take advantage of the Wi-Fi and a power hookup, the lounge was a big hit, and easily the busiest brand show in the space. There was a video activation booth, where bloggers were invited to do a 30-second report on the event, but there seemed to be little interest, except as a bonus spot to sit.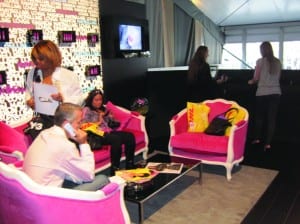 Maybelline New York
OK, it looked great. It was a two-level structure with a product display on ground level and an iPad, Wi-Fi and comfy couch-equipped lounge up top, but trying to interact with the brand felt a little like asking the coolest girl in school to dance in eighth grade: it was difficult to do and she might not even notice that you tried. It was a clear case of form over function here. It was nice to sit in the lounge and rest the aching dogs, but unless guests were willing to wait forever to be approached, it would be easy to miss that Maybelline had provided the lounge.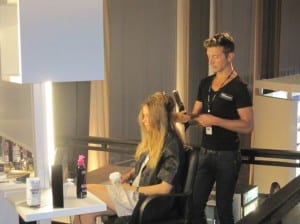 Tresemmé
Now here was a double-decker with some purpose and a flair no attendee could miss. Looking like the maître d' at Cipriani, a brand ambassador greeted each passing attendee and invited them into Tresemmé's black and white, well-lit space for a sit down. Inside, a professional fashion photographer offered to shoot guests as they took a whirl down a mock runway. Participants received a photo and a post-pic goodie bag. Upstairs, stylists at three stations were doing blowouts and touch-ups for all comers, though most were women exhausted from a long day of judging haute couture.
Fiji Water and Muscle Milk
The protein-rich drink brand was the official non-water drink of the event, and went simple for its activation. It would have been effective, too, if the target audience had been attracted to scantily clad, busty female models offering samples of the drink.
Fiji was the official water, and everyone was rehydrating. The brand went with strategically placed refrigerators and recycling bins, but little other presence. And with no aqua-alternatives, maybe that was all it needed.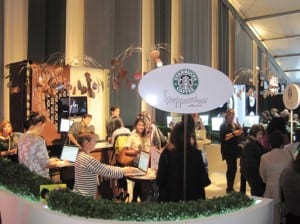 Starbucks
With a very busy mini-'bucks dishing out free bottles of mocha and vanilla Frappucinos, Starbucks was ever present on the floor. Thanks to its having the only physical, staffed booth by a liquid refreshment provider, Starbucks' frappes were everywhere you looked inside the tents. In fact, the brand's café tables were doubling as overflow from AOL's media lounge, and members of the press were hanging out and thanking the Seattle brand for the much-needed caffeine all week. Unfortunately, its bottles had to be recycled in Fiji Water-branded bins. Awkward…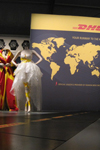 DHL
In one corner of the sponsor activation area, official logistics provider for IMG Fashion Week DHL set up a faux runway as a visual representation of its slogan, "Your runway to the world." On the runway was a shipping box full of DHL's iconic red and yellow uniforms and two mannequins tulle-d out in dresses made out of shipping materials—one of bubble wrap and the other in DHL's signature red and yellow colors. The mannequins were a tie-in to the brand's print ad campaign that features models wearing a variety of haute couture dresses made entirely out of packing materials. EM