To the naked eye, it was just another exclusive New York City tasting event. Exquisite food. A who's-who of trendsetting chefs. High-end goodie bags. There was even a price tag of $75 a ticket, and a limit to only 100 VIP guests. Yet despite all appearances, this wasn't just another foodie event. It was a brand-sponsored TV series premiere that, in an interesting twist, charged attendees for the chance to preview, taste and experience its season sneak peek.
The brand was Bravo, and this July, it partnered with Chase Sapphire Preferred to give fans of its "Top Chef Masters" series a first look at the new season… through food. The premiere event offered unique dishes that would be featured in the show's new season, and the chance to meet influential celebrity chefs and critics, all in an experiential environment.
Ticketed events like this one are just one example of a "pay-to-play" strategy that many brands are leveraging because they attract an audience of fans already engaged with the brand, or, attendees more likely to engage deeper because of the investment they've made. LEGO has taken this approach for the last four years with its touring, ticketed KidsFest event. And this year, fruit pouch maker GoGo squeeZ re-engineered its mobile tour strategy, steering toward more events that consumers paid to get into to. It's not all about the Benjamins, baby, but in some instances, it helps. Here's how, and why.
Finding the right fee structure
Bravo's ticket revenue was not used to offset costs. Chase's sponsorship helped do that, as the brand leveraged the event to offer 50 Sapphire Preferred cardholders VIP treatment through the card's rewards program. Instead, all proceeds from ticket sales were donated to the food rescue organization City Harvest, which boasts its own repertoire of fund-raising tasting event partnerships. The organization already had the capacity to handle ticket transactions, a bonus from a logistical standpoint (SoHo Experiential, New York City, handled).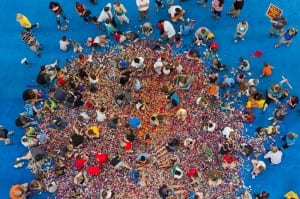 LEGO's ticketed KidsFest supplements a robust mobile tour and activation program. The event visits about seven cities a year and takes place in large-scale venues. Thus, to help cover the investment, the brand charges a fee. The first KidsFest held in the brand's home state of Connecticut in 2009 included an expo with vendors that helped offset the overall cost, allowing LEGO to offer a lower-priced ticket. The results were interesting.
"We literally had a six-mile backup on Interstate 91 going into Hartford, and we had no clue that was going to happen," says Vincent Rubino, senior manager-event marketing at LEGO. "We had a three-hour-long line of people standing outside to get in. And then, we hit capacity and the fire marshal said we couldn't let anybody else in. It wasn't a good experience for our fans."
The next year LEGO ditched the expo and upped the ticket price to what is now $20 for adults and $18 for kids. Tickets admit guests to one of several four-and-a-half-hour sessions or "waves" scheduled throughout the day. It's still a great bargain for families. "Ultimately, we want people to say, 'I could have never done this with LEGO had I not come to KidsFest,'" Rubino says (LIFE Marketing & Events, West Hartford, CT, handles).
Making sure there's bang for the buck
For the "Top Chef Master's" premiere, Bravo built a lookalike show set. There were food stations where each chef served up samples. High-end decorative accents dotted the venue space, such as rich "Bravo Blue" carpeting, white leather furniture and overflowing food tablescapes with real food items (later donated to City Harvest). Bravo also toned down the branding, ditching signage for lighting concepts that illuminated the series name on walls, and incorporated the logo on accessories such as napkins and ribbon. In addition to samples, there was passed food and cocktails.
"The food took the center stage; everyone expected 'Top Chef Masters'-caliber food, and that's what they got," says Lily Yao, director-consumer marketing and events for Bravo at NBCUniversal. "I think a lot of consumers, especially the ones that go to a lot of tasting events, were able to tell the difference between this event and other events."
And don't forget the goodie bag. During the event, consumers tested their senses at a scent station featuring all the spices the chefs used in their dishes, and information on origin and suggested use. Later, attendees took home a branded spice kit containing the 12 spices, as well as recipe cards for all dishes, in a high-end, reusable shopping bag. Spices are not cheap, so not only did the giveaway tie appropriately to the show, it was also something of value to the consumers.
Aligning with the right partners
A team of "squeeZ Squad" influencers helps sample GoGo squeeZ at more than 500 small events annually, but to supplement that sampling with deep engagement opportunities, the brand activates an annual mobile tour. Since GoGo squeeZ is considered a premium product, the brand wanted to make sure the tour targeted a demographic that made sense.
"One of our big learnings from 2012 is that when you activate within a paid event, you get a little bit more of a discerning group of consumers," says Lauren Doyle, manager-brand activation for GoGo squeeZ at Materne North America.
But you have to make sure the paid event you partner with aligns well with your brand and what you want to accomplish on-site. At Taste of Atlanta in October, for instance, Doyle says the sponsor crowd, understandably, was quite crowded (about 25 food and beverage sponsors, alone). Unlike a more curated music or lifestyle festival, this ended up feeling more like renting real estate. Consumers paid between $30 and $85 for tickets. "While we were not in a competitive space, attendees were buried in samples and so the interactions… were much less dynamic," she says.
A later activation at the Life is good festival in Canton, MA, was a more costly sponsorship buy-in, but brand presence was smaller and more exclusive. Two-day tickets sold for between $65 and $120.
"[Attendees] were definitely influencers, early adopters; they were active families, and you knew you were getting people that were there that wanted to be there and made that sacrifice," Doyle says.
Sometimes, you can put a price on happiness.
Ticket image: Flickr