There is always an element of risk when it comes to launching a new event program. But it can often be even more challenging to build on the success of that program's first few years. Sure, it's going great, but which parts of the activation should be expanded in the coming year to gain maximum ROI? Which metrics do you look for to gauge where to grow and where to go? And what strategies should you embed in your program to help you assess how to make the next iteration even more successful?
Freixenet, Hyundai and EA (Electronic Arts) know a thing or two about new programs that are going like gangbusters. All three brands recently took a successful tour and grew it in innovative ways that keep the core of the event's strategy intact while expanding on the things that make it special. Here, we take a look at what tools they used to do it.
Freixenet
Social media is a great help in promoting and documenting the success of a tour, especially when a benchmark doesn't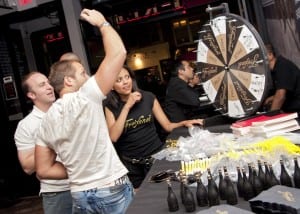 necessarily exist. When Freixenet in 2011 launched its food truck tour Tastings and Tapas, which highlighted the brand's Spanish sparkling wine Cordon Negro cava, the social media data literally came rolling in (Agency: Sawtooth, Red Bank, NJ).
"We just saw such a lift in consumer awareness via this amazing social community that we only thought we could just keep up with that brand awareness," says Alma Hunter, manager-consumer marketing at Freixenet. "We recorded over a million impressions, we saw huge spikes in daily page views on Facebook and we went from no fans to—in the blink of an eye—4,000 fans, which, for a brand like us, are huge numbers."
For this year's tour, Freixenet reworked its strategy to offer a more focused message, moving away from the food truck model and relaunching with the MINI Cooper, a well-established showcase vehicle. The MINI Mobile Tour launched on Sept. 6 in Boston, making a stop in Houston before wrapping up in Miami on Nov. 25. The black and gold tour vehicle stopped at retailers, nightlife and brunch locations offering samples as well as the opportunity to win prizes. The tour also included a QR code-driven scavenger hunt for consumers with a two-year lease on a 2013 MINI Cooper as the grand prize.
"Freixenet is a lifestyle brand, it's a brand that pairs well with food, but we didn't want to make it about the food, we needed to make it about the Freixenet, about the cava," Hunter says. "The truck worked well as a mobile billboard, but we needed a different angle and so we went smaller and decided to give it a twist with the MINI."
In its first 60 days on tour, the brand's impressions were already up 60 percent. And sales figures are also revealing, Hunter says. "We were in Boston and Houston and we're going to hit Florida and we're already noticing double-digit increases in our retail business. We haven't even launched in Florida yet and we're up 22 percent in one of our retailers there."
Hyundai
Hyundai Motor America measured the success of its 2011 Re:Mix Lab tour, featuring the launch of the Veloster, through engagement and social interaction, as well as in earned media (Agency: H360, New York City). Through the inclusion of RFID at two events, Hyundai achieved more than 2.6 million Facebook impressions, says Sandy Belvedere, senior group manager-experiential marketing at Hyundai Motor America. By the close of that tour, Hyundai recorded more than 100 million media impressions.
"At the end of the year, we knew we had not only built equity in the Re:Mix brand, but we had something pretty exclusive," Belvedere says. "We are tracking metrics through Facebook, Twitter and Instagram and already this year we have exceeded all expectations, with two of our biggest events yet to come."
This year's Re:Mix Lab tour began on Aug. 3 and ends Dec. 9 with events centered around food, live music, lectures and special exhibits. The tour has grown to include more cities and features three showcase vehicles modified to represent a lifestyle theme, as well as a sweepstakes component. Guests can instantly share their experiences on Facebook through interactive RFID bracelets. Building on the success of aligning with existing events, Re:Mix Lab launched in Chicago at the Hard Rock Hotel, a block from Lollapalooza. It stopped at Austin City Limits and then went on to the Seattle Auto Show on Nov. 17.
"We think those are the winning combinations—multiple days and a way to activate when something else engaging is going on, something that is in alignment with the enthusiasts we are trying to reach," Belvedere says.
EA
With its FIFA mobile tour now in its fourth year, EA has quite a bit of data at its disposal that it can use for shaping future iterations of its program (Agency: rEvolution, Chicago). For example, sell-through data revealed that buyers of the FIFA title had an affinity for its other title, Need for Speed. So this year's tour, which launched Sept. 22 and ended Nov. 25, became the EA Soccer & Speed Tour, which featured both games.
"For us, we win when we can get our product into the consumer's hands," says David Pekush, manager-senior global product marketing at EA. "Consumers know what they're looking for in a video game and if they can actually feel it and interact with it, then we know we can win. The best way for us to do that, really, is a mobile tour, because we can go where our consumer lives and we can give them an interactive experience—and we know that will result in sales for us."
EA's secret weapon of sorts is telemetry data from videogame users. The brand can target areas where many users live, as well as areas where they may lack in users. The brand took that data, overlayed it on a map and used the information to help it determine where to go. As a result of the maps, it decided to double the size of the tour in an effort to penetrate all of the "hot spots."
This year EA is in 65 cities and has expanded its tour to include college campuses and MLS games. It added one new vehicle to its fleet and is making improvements to its tour in real time, adding an iPad component in October so consumers could purchase the game on the spot.
Just one week after FIFA Soccer 13's release, EA sold just north of 350,000 units, up 42 percent compared to last year. "We can't put it all on the mobile tour, but we think that's a large part of it because we're really trying to attract new people to our franchise," Pekush says. EM