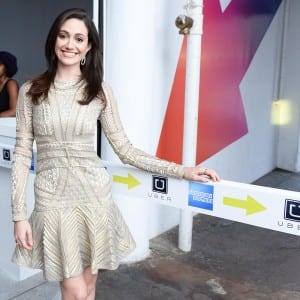 American Express and Uber on June 10 celebrated their new partnership with a launch event that transformed three stories of New York City's Hudson Mercantile building into a garage-inspired space for the evening. The affair paralleled the three levels to the partnership, which was announced the day before the event and gives American Express card members the opportunity to use or earn their loyalty reward points via the Uber iOS app for on-demand transportation.
It also offered the press, American Express card members and influencers who attended one heck of a good time. A toll gate at the entrance raised and lowered to let guests pass through, setting the tone for the evening. Additional elements included drinks served out of the trunks of tricked-out Uber cars, cocktails with names such as the "Pick Up" and "U Turn," a "Reserved Parking" VIP seating area as well as break dancers, a performance by "electro-funk" duo Chromeo and a helicopter drone flying above the rooftop after party taking pictures.
"Our goal was to educate business and technology press about this first-ever mobile loyalty platform that we created together and leveraged our technologies to do so, but there was an important brand story that we also wanted to tell in a way that was creative and compelling," said Amy Marino, director of 360-degree communication strategy at American Express.
Marino detailed the three levels of the partnership: the business relationship between the two companies; the in-depth technology integration of the rewards program into the Uber app; and the Sixth Star Awards program, which each week will reward the highest-rated Uber driver with $1,000.
An upscale, sleek lounge vibe incorporated the Uber vehicles, including one used as a photo booth against a New York City skyline and another as a dj booth. The second story offered more of a pumped-up dance party scene with a stage where actress Emmy Rossum, host of the evening, introduced Chromeo. Following that, guests attended the rooftop after party that featured a helipad and a classic New York skyline view, as well as the helicopter drone.
"American Express and Uber are known for elements of surprise and delight, which we made sure to integrate at every turn," Marino said. Production and Design: ExtraExtra, New York City; Public Relations: PMK-BNC, New York City.